As marketers, we hear it all the time, "content is king." Our buyers are spending more and more time online reading blogs (you're here, aren't you!?) and sharing what they're reading on social media, so producing new content on a regular basis not only helps to create awareness of your brand, but to educate prospects.
These days, buyers do the majority of their education on their own, culling information from your website and social shares, trying to make an educated decision on whether to purchase your solution before ever engaging with anyone at your company.
In fact, according to Corporate Executive Board (authors of the Challenger Sale), 57% of the buying process is over before the buyer talks to a sales representative. This means we need to change the traditional ways that we interact with our prospects. So having the right content to help them self-guide their buying decision is important.
The phases of a typical prospect buying process looks like this: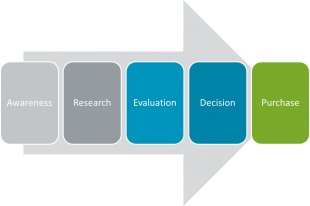 Awareness: The prospect is starting to understand their pain, but they may not understand which solutions will help them.
Research: The prospect is learning how to solve their pain and understand what solutions are available.
Evaluation: The prospect is evaluating solutions based on their established buying criteria.
Decision: The prospect has chosen which product or solution is going to help them solve their pain.
Purchase: The prospect purchases your product or solution.
Creating targeted content for each stage of this buying process is essential for educating your prospects on the problem, your product as their potential solution and the benefits they receive from using your product. Your content can be used on your website and in your lead nurturing campaigns and should help guide the prospect through their buying decision.
One of the biggest benefits our CodeArmor Intelligence customers receive is that the leads they generate have already gone through stages 1-4 of the buying process. These leads are aware of their problem, did their research, evaluated solutions and decided on a solution.
They are even using their chosen solution in their everyday projects, the only problem is, they haven't paid for it yet! By knowing who these users are, CodeArmor customers can reach out directly to convert them into paying, loyal customers or by using CodeArmor Control they can send them targeted in-application messaging. Imagine that – it's like having the ability to lead nurture, but directly from within your software!