SBOM Management
Gain Transparency and Actionable Insights into the Complexity of Your Software
SaaS solution that tracks all the components in your software, regardless of where in the supply chain they originated
Insights for SBOM Management
Control open source, third-party, and commercial component use throughout your software supply chain.
Revenera SBOM Insights give you the ability to manage security and legal risk by operationalizing your SBOMs in the cloud.
Image
Construct Your SBOM in the Cloud
Get inbound unification of SBOM parts across multiple data sources. Build a complete, accurate SBOM to manage legal and security risk.
CONSTRUCT
Software Producers
Third-Party Code
OSS Projects
Internal Shared Modules
Internal SCA Scans
Image
Control What's In Your SBOMs
The software supply chain is complex. SBOM Insights allows you to pull in SBOMs from external sources and across your enterprise, review and refine SBOM parts, and remediate issues quickly.
REFINE
Ingest SBOMs
Reconcile SBOM Parts
Refine SBOM Parts
Manage SBOM Part Relationships
Review SBOM Parts
Remediate SBOM Parts
Image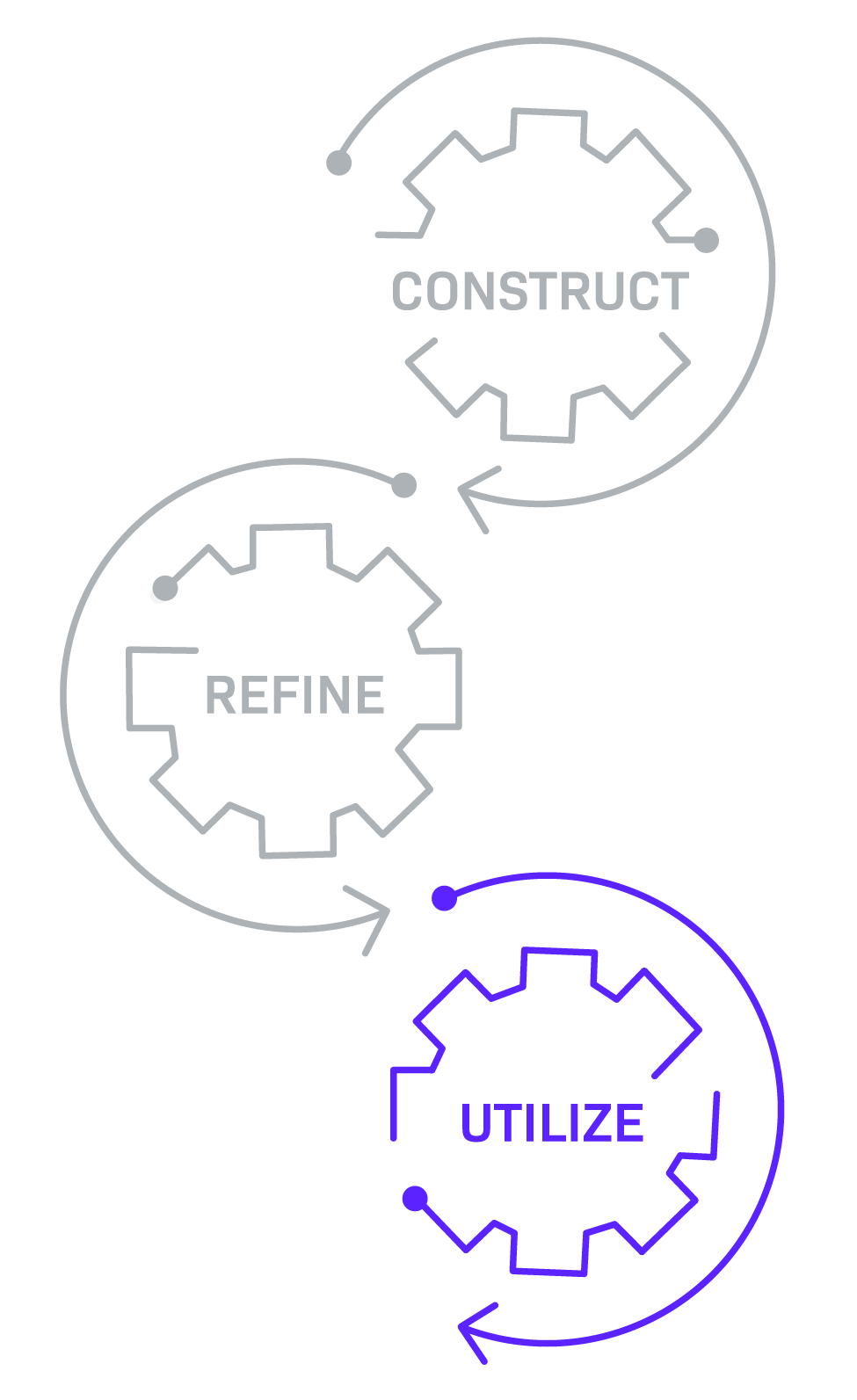 Fulfill Outbound SBOM Obligations
Put the data in SBOM Insights to work for better business outcomes. Generate compliance artifacts, assess your legal and security risk, and understand your usage trends.
UTILIZE
Generate Compliance Artifacts
Assess Legal & Security Risk
Review Alerts
Perform Impact Analysis
View Usage Insights
View Trends
MANAGE THE COMPLEXITY OF YOUR SOFTWARE SUPPLY CHAIN
Track all the components in your software, regardless of where in the supply chain they originated—both inside and out of your organization:
Software producers

Third-Party Code

OSS Projects

Internal Shared Modules

Internal SCA Scans
The first step in compliance is building an SBOM. Know where all components exist in software applications and where they came from to effectively manage legal and security risk.
Unify All Your SBOMs
Revenera's SBOM Insights ingests from a wide range of data sources, bringing together all SBOMs across your organization into a single actionable view.
Play Video
A trend I recently observed is customers going from inquiring about the existence of an open source SBOM, to now requiring the delivery with each release. SBOM Insights will play a critical role in filling in this gap.
Mark Gisi Director, Open Source Program Office, Wind River
or more of the components in a single software application do not originate from the vendor selling that software solution
items in a single application didn't originate with you
increase in third-party items found in a single application over prior year
of organizations were impacted by a software supply chain attack
security vulnerabilities per audit project
of organizations will produce or consume SBOMs in 2022
Source: Revenera 2021 Audit Services
Image
Easy Ingestion of SBOM Parts Across the Enterprise
Collect your SBOM parts from multiple sources in a wide range of formats from across your enterprise—inside and out. SBOM Insights ingests data easily from some of the most popular tools, as well as various industry SBOM generation tools.
Create an Actionable SBOM that Delivers Insights
Organize and refine all your SBOM parts. Perform automated reviews, identify compliance issues, and manage remediation work to address security vulnerability, license compliance, and operational risk issues. Create compliance artifacts and meet your legal obligations of customers and downstream supply chain partners.
Image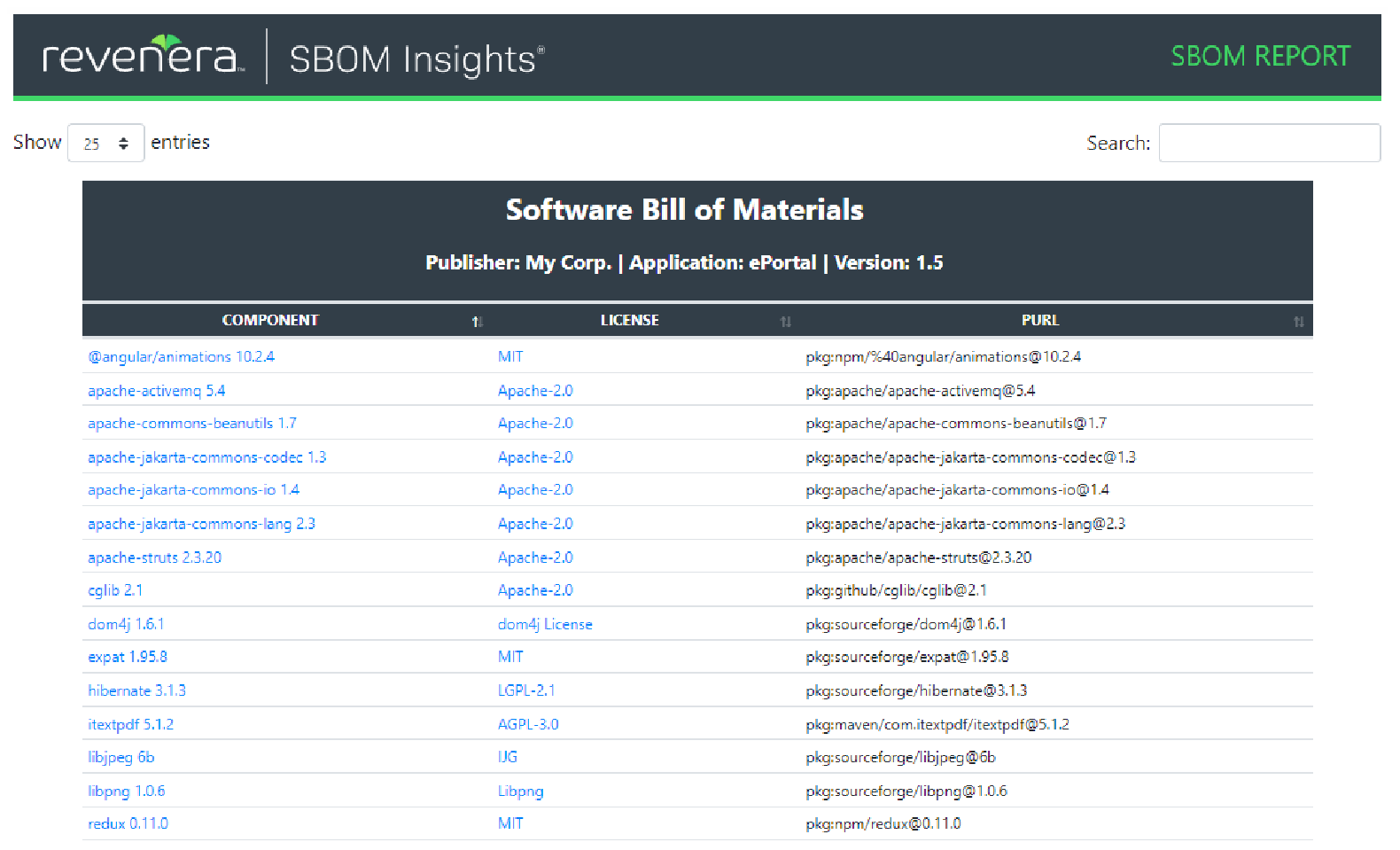 Image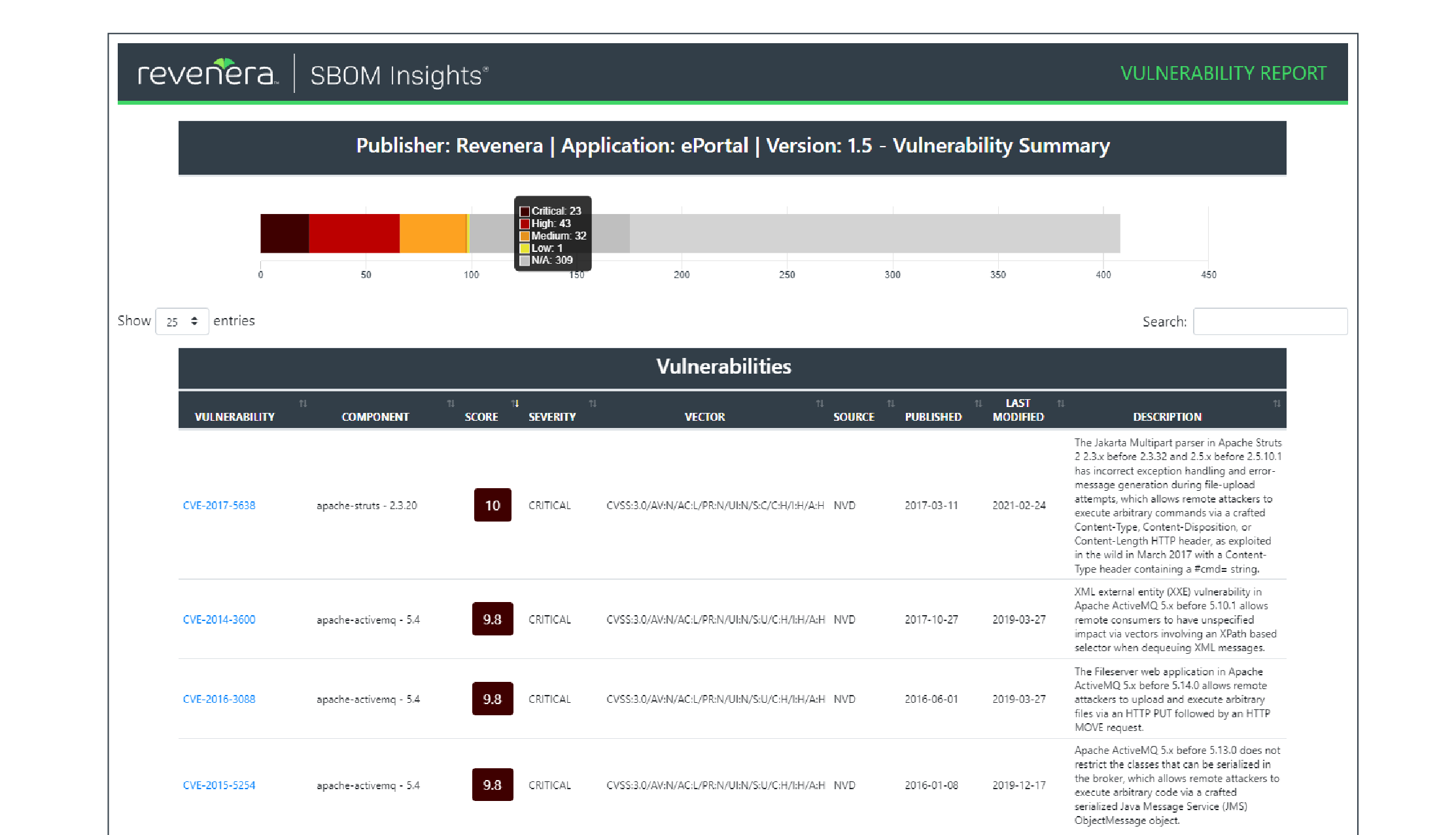 Expand Your Perspective for Continuous Risk Assessment
Get ongoing risk assessment for license compliance issues and security threats to meet the needs of your legal and security teams. Continuously assess risk across your portfolio of software applications and the supply chain.
Export a Unified SBOM
Deliver a single, unified SBOM—expanding the level of transparency into your applications beyond just the code you control. Produce compliance artifacts, third-party notices, and security reports.
Image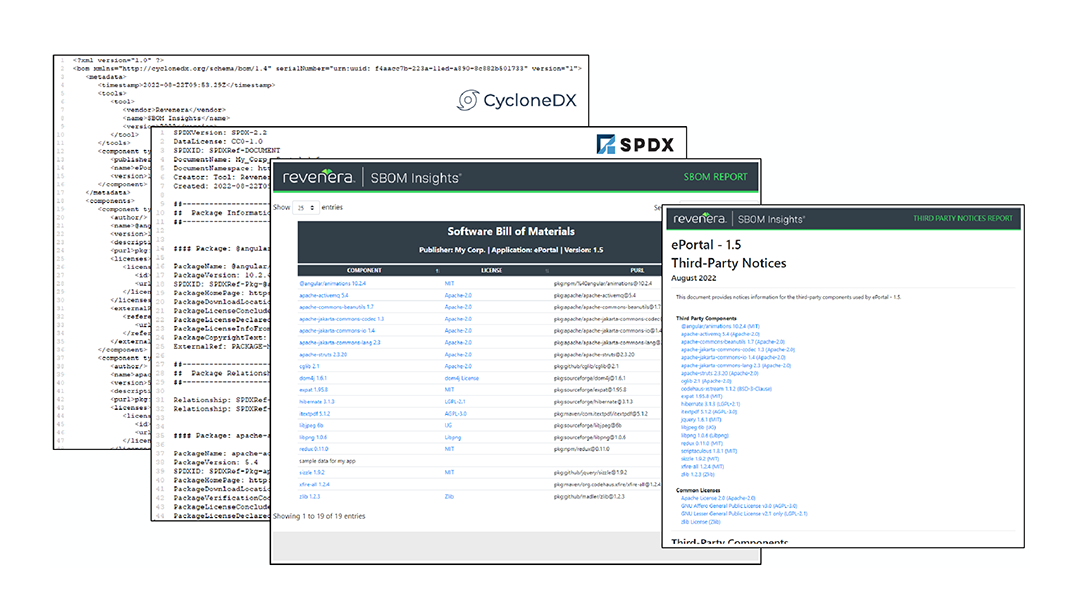 Analyze and Act on Your SBOMs with Intelligence
SBOM Insights supports the aggregation, ingestion, and reconciliation of SBOM data from various internal and external data sources, providing the needed insights to manage legal and security risk, deliver compliance artifacts, and secure your software supply chain.
Image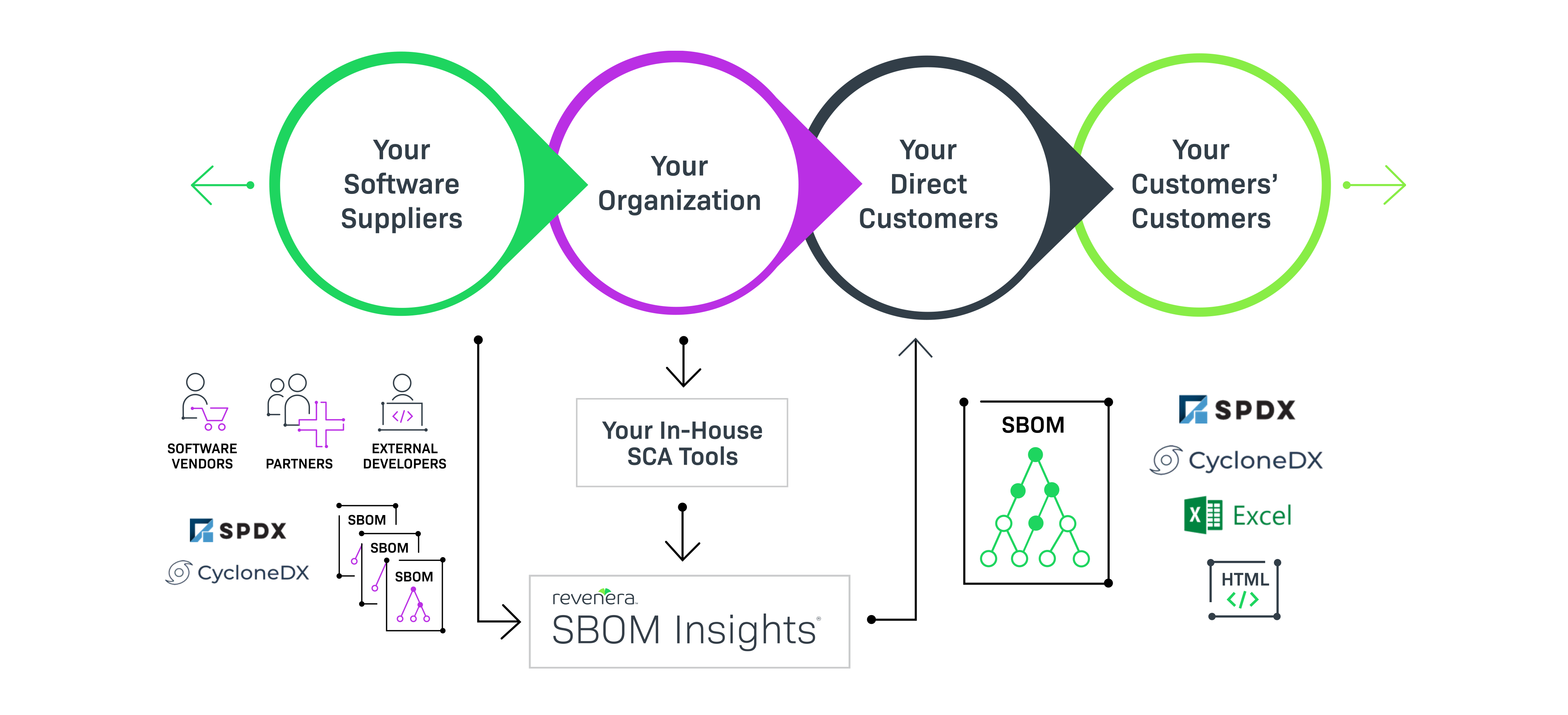 BENEFITS OF SBOM INSIGHTS
Manage a complete Software Bill of Materials (SBOM) in the cloud

Ingest data from a wide range of sources, unifying internal and external SBOMs across your organization into a single actionable view

Generate compliance artifacts for customers and downstream supply chain partners

Provide full visibility to all third-party components to designated users within your organization and externally at any time.

Ingest SBOM data from partners, vendors and suppliers in SPDX and CycloneDX formats

Reconcile and normalize the data into a single hierarchical SBOM
With SBOM Insights you get complete SBOM management in the cloud, the ability to import and reconcile data from multiple sources, customizable monitoring and alerting capabilities, issue review and remediation, and data insights for better business decisions.
Contact Us