Image

Entitlement Management Software Solutions
Entitlement Management: Efficiently Operate Your SaaS, IoT and Software Business
A successful software business needs an efficient operations center – a central entitlement management back office for your software, Software as a Service (SaaS) or Internet of Things (IoT) and embedded software solutions.  Revenera's FlexNet Operations entitlement management software allows you to manage devices, customers and their usage.  You can automate software operations processes like version upgrades, customer notifications and software delivery, all based on customer entitlements. Control all monetization models for your software products and devices – connected or disconnected - in a central place, regardless of deployment options.
Know what your customers own, and what they are using. Monetize software and devices effectively and manage compliance and customer growth. FlexNet Operations supports all monetization models – from more traditional perpetual models to flexible subscription and pay-per-use models.
Image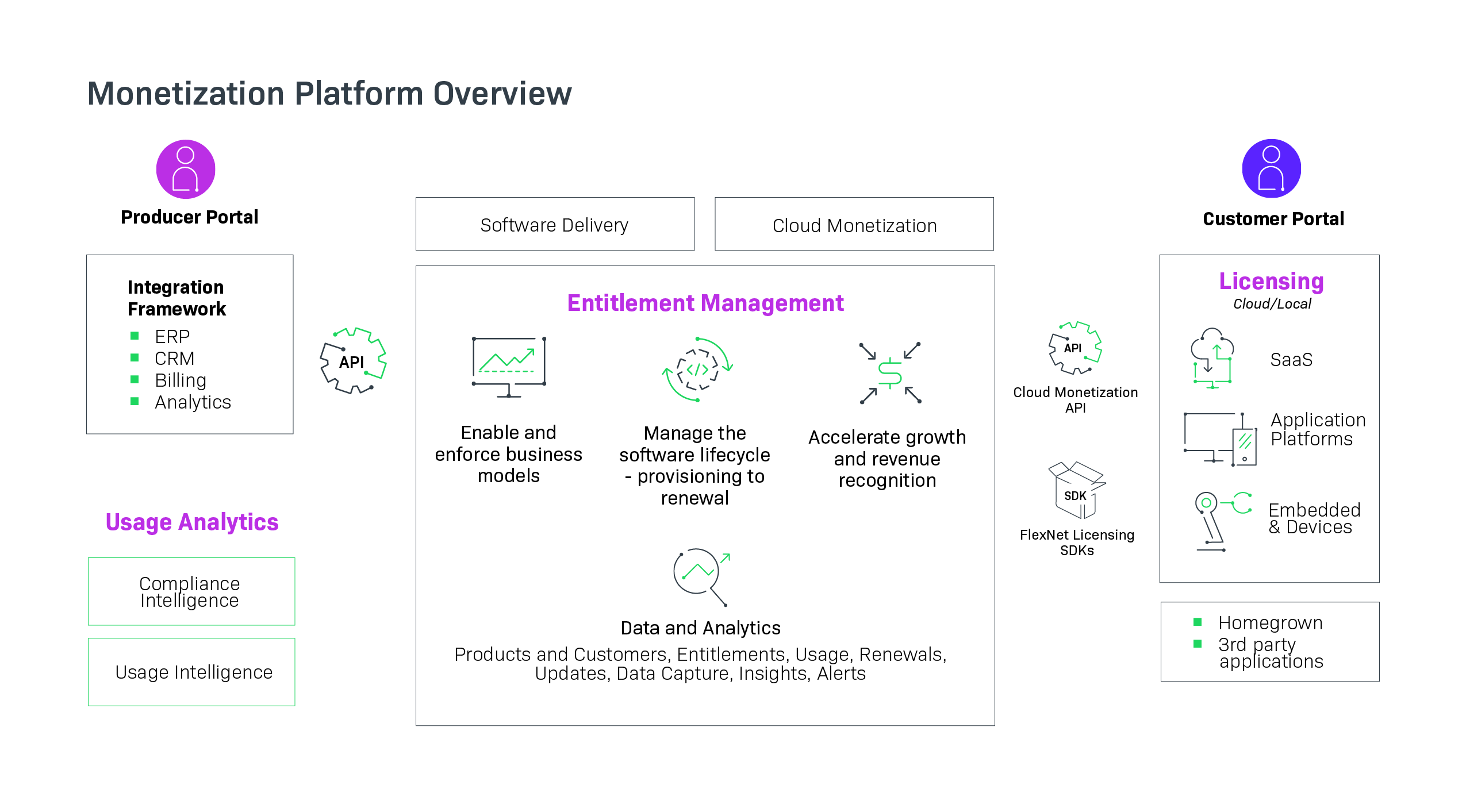 Revenera Entitlement Management Software Solution - license, delivery, update and analyze your software products based on customer entitlements
WHAT REVENERA ENTITLEMENT MANAGEMENT SOFTWARE SOLUTIONS CAN DO
GROW SOFTWARE REVENUE:
Capitalize on new revenue opportunities
Optimize the trial to buy process
Maximize revenue from upgrades and renewals
Reduce churn and drive upsell/cross-sell initiatives based on usage insight
RUN A SUCCESSFUL SOFTWARE BUSINESS:
Manage your on-premises, Cloud, SaaS, virtualized and embedded apps in one central software monetization back office
Track and manage license compliance and measure usage
Dynamically create product configurations (like standard and light versions) and change features on demand
Make strategic decisions for future product development and pricing based on customer and product insight
Streamline operational processes and automate transactions, notifications and reports
REVENERA ENTITLEMENT MANAGEMENT HOSTING OPTIONS
FlexNet Operations is a cloud solution managed by Revenera. We offer hosting options in North America and Europe, in Revenera data centers or on AWS. Our offering is tailored to the needs of global software suppliers, delivering on your data residency, performance and scalability requirements. To find out more, contact us.
Monetize What Matters
See how software suppliers benefit from a central view of their customers, across all products - SaaS, on-premises or embedded.
Play Video
Case Study
Ikon Science Elevates the Customer Experience
Ikon Science implemented Revenera's Software Monetization solution to enable customers to choose license models that work best for them and offer a smoother and efficient license provision process.
Report
Revenera Monetization Monitor: Software Monetization Models and Strategies 2021
Read the 2021 edition of Revenera's research report on global software monetization and deployment models and strategies.
DATA SHEET
FlexNet Operations
Efficiently operate your SaaS, IoT and software business.