ENTITLEMENT MANAGEMENT SYSTEM
Streamline Your Processes and Gain Actionable Insights with FlexNet Operations
Complete visibility of customer entitlements across SaaS, on-premises, embedded, and hybrid deployments can empower data-driven decisions to grow recurring revenue.
FlexNet Operations – Entitlement Management System
Centralized Entitlement Management Across All Deployment and Monetization Models
FlexNet Operations enables you to monetize your software, manage compliance and support customer growth. It facilitates all monetization models—from traditional perpetual licenses to flexible subscription, consumption, and pay-per-use models – while also integrating and automating parts of the quote-to-cash process to expedite revenue recognition. 
The robust entitlement management system allows you to streamline back-office infrastructure by centralizing fulfillment and data collection processes for your entire product line, providing a 'single pane of glass' for 360-degree visibility into customer entitlements across every deployment – SaaS, embedded, on-premises, and cloud.
FlexNet Operations empowers you to: 
Improve the customer experience with self-service activation and clear usage reporting
Boost retention and grow recurring revenue with automated alerts to flag churn risk
Gain usage insights to learn key value drivers and better inform roadmap planning
Accelerate time-to-market with standardized processes across your product line
Add features on demand and enable flexible pricing and packaging options
Deliver updates electronically
Image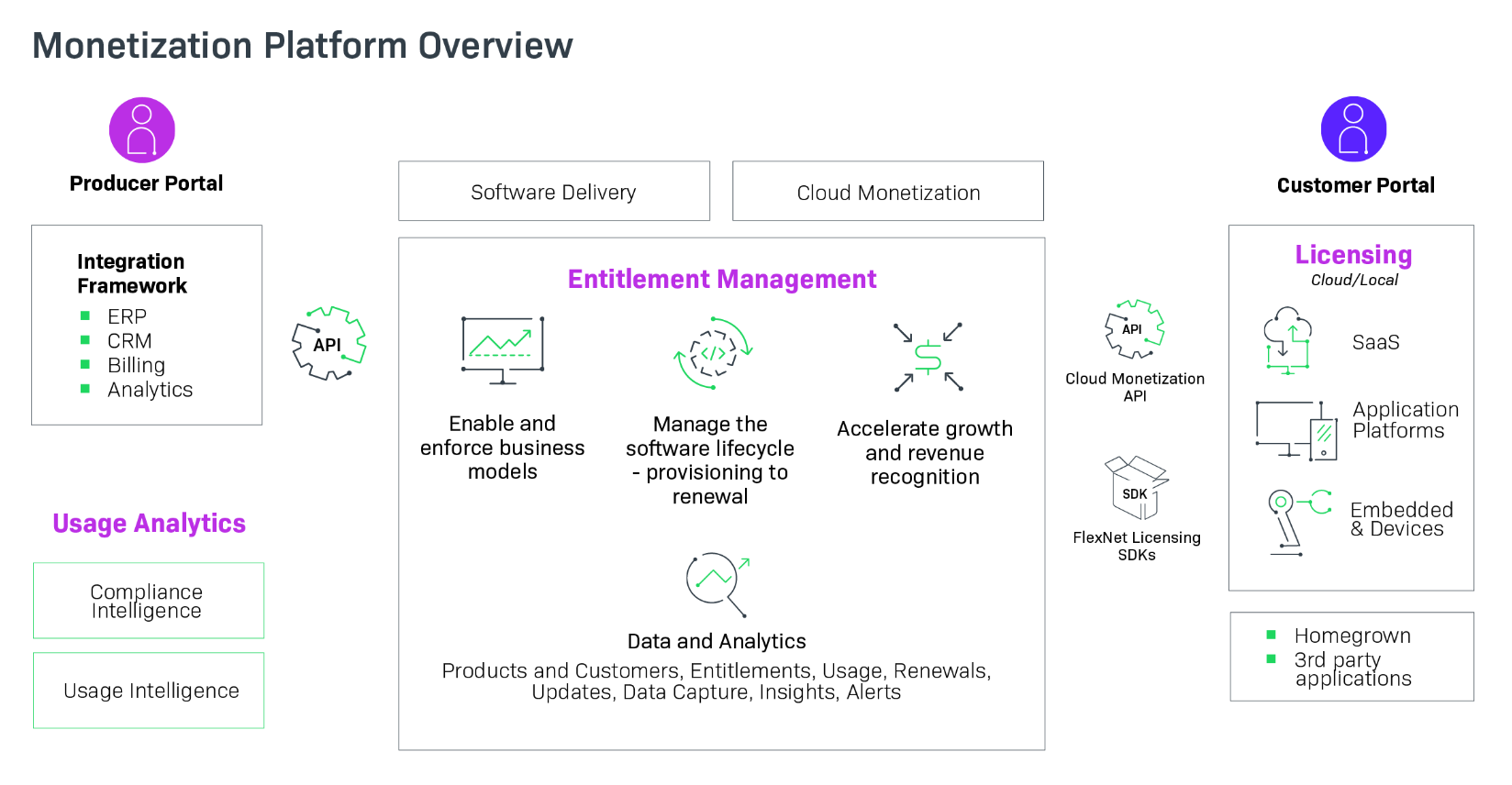 FlexNet Operations - license, deliver, update and analyze your software products based on customer entitlements.
Most application producers don't get how critical licensing and entitlement management is for revenue generation—we weren't going to make that mistake. Revenera has been right there for us.
JOSH HARTUNG CEO, POLYSYNC
Software Monetization Best Practices
Revenera's fully integrated license and entitlement management system supports the dynamic nature of software entitlements, allowing you to customize product configurations and feature bundles for specific use cases.
Self-service functionality also ensures end customers can directly administer use rights, controlling access as needs dictate and reducing support calls in the process.
Consolidating multiple entitlement management systems into a single platform enables you to gain actionable insights, providing usage transparency for consumption models and aiding renewal management across your product portfolio.
 
KEY BENEFITS OF FLEXNET OPERATIONS
Rapidly embrace new business models with support for all monetization strategies
Maximize revenue from existing customers by identifying upsell opportunities
Streamline and automate back-office processes with standardized technology
Remove silos by centralizing disparate entitlement management systems
Measure usage as a basis for pricing
Enable end customer self-service
Optimize the trial-to-buy process
Track and manage compliance
Protect software IP
For us, the immediate win is customer experience. Our customers have access to everything, whenever they need it, and pay only for what they use. It's a long term strategy focused on our customer's success and Revenera's solutions give us the data we need to execute it.
ERIK DELOREY DIRECTOR OF PRODUCT MANAGEMENT, EMPIRIX