SOFTWARE MONETIZATION PRODUCTS
Entitlement Management - FlexNet Operations
Grow Subscriptions and Recurring Revenue with Entitlement Management for SaaS, IoT and Software Businesses.
Entitlement Management with Revenera FlexNet Operations
Centralized Management and Insights Across Deployment and Monetization Models
FlexNet® Operations enables you to monetize software effectively and manage compliance and customer growth. It supports all monetization models—from more traditional perpetual models to flexible subscription and pay-per-use models. FlexNet Operations empowers you to manage entitlement management and the corresponding software delivery, update and licensing processes for embedded, on-premises, SaaS and cloud solutions:
Track and manage compliance
Measure usage as a basis for pricing
Optimize the trial to buy process
Dynamically create product configurations (like standard and light versions)
Change features on demand and monetize premium features
Know exactly who is using what so you can monetize effectively
Packaging, pricing, deployment and provisioning options are always changing. Customer use rights (entitlements) change as well—assets move within the company as customers upgrade or downgrade their packages or they go through M&A or divestitures. FlexNet Operations manages the dynamic nature of software entitlements. You get the needed insight to make the connection between your software products, your devices, your customers and their usage.
Image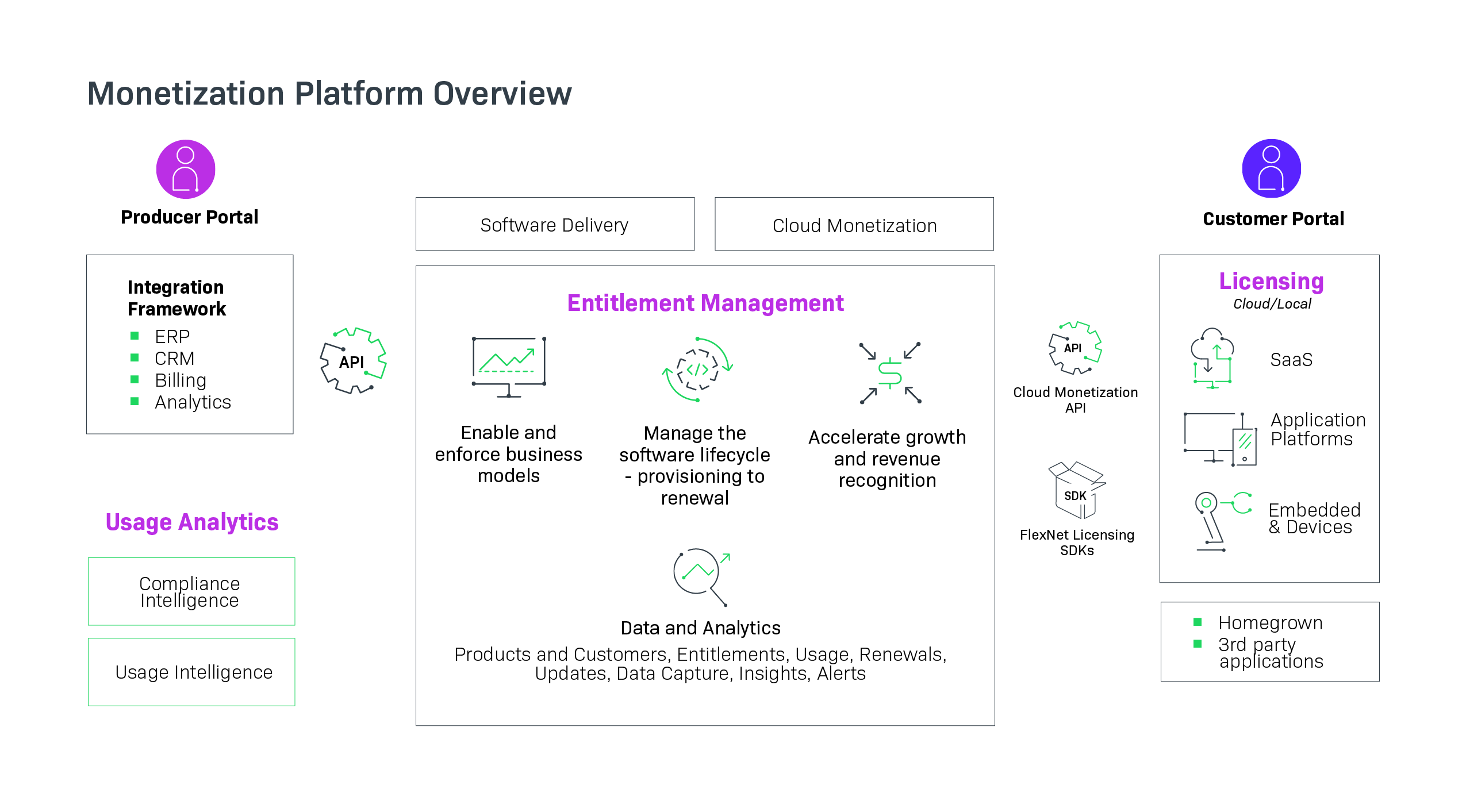 FlexNet Operations - license, delivery, update and analyze your software products based on customer entitlements
FLEXNET OPERATIONS KEY BENEFITS
Embrace new business models
Maximize revenue from existing customers
Streamline back-office processes
Innovate and evolve products quickly
Protect software IP
Case Study
Ikon Science Elevates the Customer Experience
Ikon Science implemented Revenera's Software Monetization solution to enable customers to choose license models that work best for them and offer a smoother and efficient license provision process.
Report
Revenera Monetization Monitor: Software Monetization Models and Strategies 2021
Read the 2021 edition of Revenera's research report on global software monetization and deployment models and strategies.
DATA SHEET
FlexNet Operations
Efficiently operate your SaaS, IoT and software business.