SOFTWARE MONETIZATION PRODUCTS
Software License Compliance - Compliance Intelligence
Compliance Analytics to Detect, Identify and Convert Unpaid Software Use
Revenera Compliance Intelligence
Generate New License Revenue from Software Piracy and Overuse
Globally, 37% of users are not paying for software making it a $46.3B problem. But eighty-three percent of these unlicensed users in mature markets are legally-inclined victims of software piracy who will pay for software. Compliance Intelligence (formerly Revulytics) helps software suppliers systematically monetize the unpaid use of their applications. When software suppliers detect and identify this unpaid use, they can act on this forensic evidence to power their compliance and revenue generation strategies.
Compliance Intelligence detects, identifies, and reports on organizations using your software without paying for it. Infringements are transformed into actionable leads for your sales and compliance team through our proprietary federated database system. Leads are delivered right to your existing CRM or a force.com instance and flexible controls provide role-based access to authorized internal and external users.
Converting unpaid users is an untapped revenue stream. Our customers - from the largest EDA, PLM, and engineering software providers, to smaller prosumer software vendors - have generated $3.6 billion in new license revenue since 2010 using this approach.
Image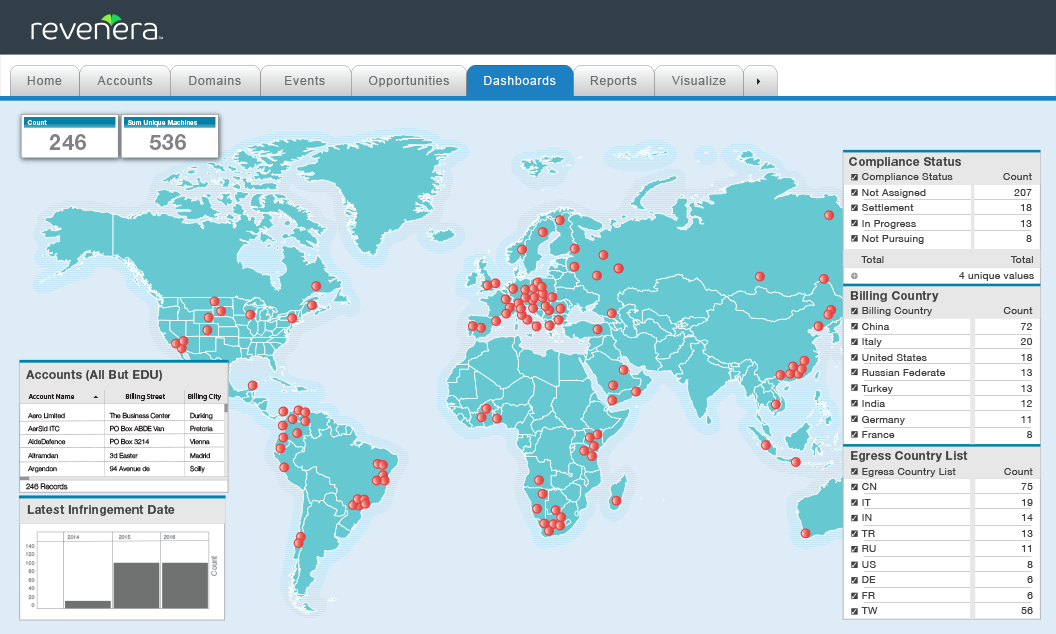 Compliance Intelligence (formerly Revulytics) detects and identifies global software license compliance infringements.
Monetize the Misuse of Your Software:
Generate new license revenue
Identify unpaid use with confidence
Uncover and validate infringer identities
Enhance data with wi-fi geolocation
Make data you're already collecting more actionable
Act on Verfied Misuse of Your Software:
Uncover infringers globally, from software pirates to license overuse and misuse
Infringement data is transformed into fully resolved organizational identities to accelerate qualification for sales and compliance
Improve the data you're already collecting on infringing organizations such as activation, licensing entitlement, and other telemetry data. Leverage enterprise-class technology including Force.com and Tableau, integrated with your CRM, licensing, and BI processes to drive operational efficiency. Reach out and convert leads with your internal teams, or leverage our revenue services for assistance in converting pirates in countries where you may not currently have a local presence
We're achieving all the things we set out to do. We're realizing revenue, we're reducing our piracy problem, and at the same time we're maintaining strong customer relationships. We've never had to take legal action, and as often as not, we get a thank you for 'bringing this information to our attention and giving us the opportunity to resolve it.
Lead License Compliance Investigator Global Provider of EDA Software
Data-Driven License Revenue
See how Compliance Intelligence enables you to convert unlicensed users to paying customers.
Play Video
Accelerate identification of infringers
Qualify compliance leads with confidence
Prioritize your best revenue opportunities
Partner with dedicated data experts
Bring your own telemetry data
Better identify and validate infringing use
View a centralized platform for visibility and control
Reach and educate unpaid users
Target conversion offers
Optimize ecommerce campaigns
Drive conversion by changing application behavior