Once again, we've compiled aggregate Revenera Compliance Intelligence data to produce our annual list of the Top 20 Software License Misuse and Piracy Hotspots around the globe for 2023.
If you're not familiar, Compliance Intelligence enables software suppliers to detect, identify and report on the unlicensed use of their applications so they can monetize license overuse and piracy.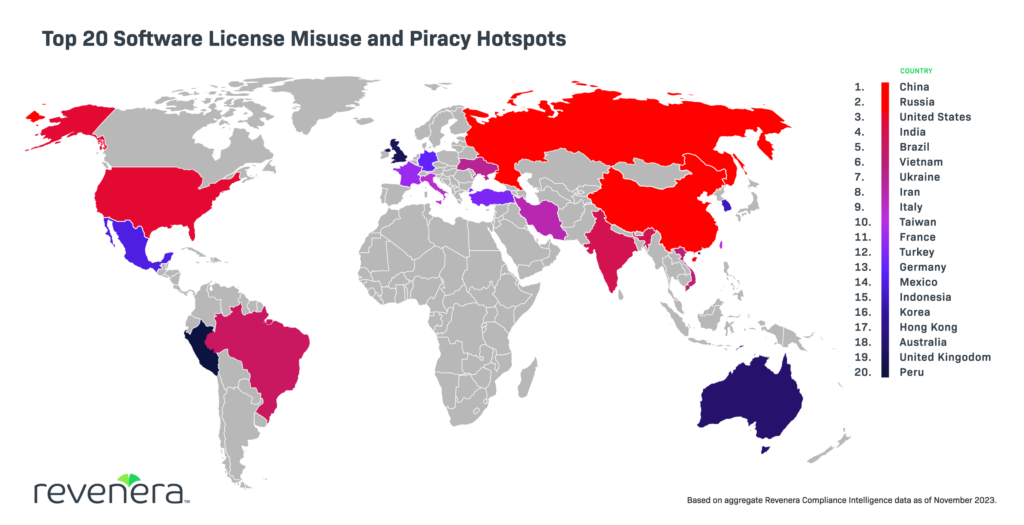 These are the top 20 countries using pirated software as of November 2023:
1. China
2. Russia
3. United States
4. India
5. Brazil
6. Vietnam
7. Ukraine
8. Iran
9. Italy
10. Taiwan
11. France
12. Turkey
13. Germany
14. Mexico
15. Indonesia
16. South Korea
17. Hong Kong
18. Australia
19. United Kingdom
20. Peru
Converting Software Pirates to Paying Customers
As reported in the Monetization Monitor survey of 454 global technology leaders, 40% say software piracy is a major problem in 2023, which is more than double the 17% reported last year.
When we look at countries in the Top 20 with strong IP laws and a track record of successful license compliance programs (and exclude the BRIC countries), and cross-reference them with the latest BSA Global Software Survey calculation of the commercial value of unlicensed software, there is a $16.2 billion new license revenue opportunity for software suppliers.
Regional strategies to generating revenue from the unlicensed use of software yield the best results. Traditionally a softer approach works well in North America and western Europe, but we are increasingly seeing that this approach is also effective in other regions like India (be sure to watch our roundtable discussion on software piracy and license compliance for more details).
Read More:
How to Stop Software Piracy
Pursuing Software License Compliance Globally
Let's take a closer look at the top four countries on our list this year.
Software Piracy in China
In our video podcast,
Chris Bailey, Principal, Rouse Consultancy in Shanghai and Landy Jiang, Partner, Lusheng Law Firm in Beijing, shared how foreign software companies have been quite successful using China's courts to achieve win rates of 85.3%. Even with China's Personal Information Protection Law (PIPL), the use of software telemetry data in China plays an important role in securing evidence preservation orders. The courts in China don't like lots of procedure and aim for settlements, so it is important to implement best practices including:
Building a reputation for enforcement and it will make compliance work easier
Being prepared to use telemetry data and be ready to engage experts or appraisal institutes to explain telemetry data
Approaching targets professionally but show you are prepared to sue
Leaving a gap between last negotiation and launching action to keep the element of surprise
Keeping the door open for face-saving settlement – most cases settle, sometimes just before court hearings
Software Piracy in Russia
I don't want to ignore Russia but given the current political status and realities it is a more challenging region than in the past. While Russia has seen successful software license compliance results, it is difficult to monetize the unlicensed use of software with the various restrictions on doing business there. I can't tell you what your legal obligations are but collecting more infringement data is always useful.
Software Piracy in the United States (and Western Europe)
While it may not be surprising to see China and Russia on top of the list, you may be more surprised to see the United States in the #3 position. The BSA's most recent Global Software Survey revealed that 37 percent of software worldwide is unlicensed and the BSA estimated that the commercial value of unlicensed software worldwide was $46.3 billion.
But what do those numbers mean to building a license compliance program? The BSA pegs the commercial value of unlicensed software in North America and Western Europe is $19 billion. The interesting takeaway here is that this number represents 41 percent of the global number, despite these regions having lower than average piracy rates (16 percent and 26 percent respectively). This is a significant opportunity for revenue generation in regions where the rates of converting pirates to paying customers are high.
Based on the BSA's estimates for the countries appearing on Revenera's Top 20 (based on actual use of unlicensed software), there is a $16.2 billion opportunity for software suppliers in these countries in North America and Western Europe.
Watch Now:
See how Bentley Systems use Compliance Intelligence to grow revenue
Software Piracy in India
Over the last decade data-driven letter campaigns have been the most common and effective way of pursuing compliance in India to convert infringers into paying customers, but Covid has had an impact on this approach. As a result, a pre-litigation mediation strategy is being used even more often and seeing positive results.
Software suppliers are filing civil complaints in the courts and providing software telemetry data as evidence, which has enabled greater success in attaining injunctions. With an injunction in hand, suppliers have greater leverage and are able to quickly negotiate settlements. This strategy also establishes a strong precedent for a supplier's reputation on enforcement that puts teeth into future letter campaigns.
Use of Unlicensed Software in Sanctioned Destinations
Iran moves up five spots to #8 this year, which may or may not come as a surprise since Iran is a sanctioned destination. Having access to license infringement data like this makes it easier for software suppliers to track and address these issues, especially in cases where licensed customers have installed software in countries like Iran in violation of their license or export control laws.
Data-Driven Software License Compliance
Armed with actionable compliance data, software suppliers are in a better position to prioritize their efforts to convert overuse and piracy and adjust their regional programs based on the trends that they are seeing.
The bottom line? Compliance Intelligence data has supported customer compliance programs generating more than $3.9 billion in new license revenue since 2010.
This year's Top 20 shows that the opportunity to generate new license revenue is significant. Want to learn more about your own opportunity? Check out our content on What is Software Piracy? and be sure to download Best Practices for Assessing Your Software Piracy Risk or contact us about monetizing unlicensed use today.