In an increasingly challenging economy, technology companies need clear visibility into where revenue leakage occurs. Software usage data and compliance intelligence can provide essential insights that identify losses and help businesses convert piracy into profit.
The final report in the Revenera Monetization Monitor 2023 series examines software piracy, misuse, and overuse. This report outlines how data-driven and usage-based monetization strategies can help prevent revenue leakage, and the headline results are significant: 
Piracy is a major problem for 40% of respondents, up from 17% in 2022
Misuse is a major problem for 30%, up from 20% last year
Nearly 10% of respondents report that piracy, overuse, and misuse is responsible for losses of more than 30% of revenue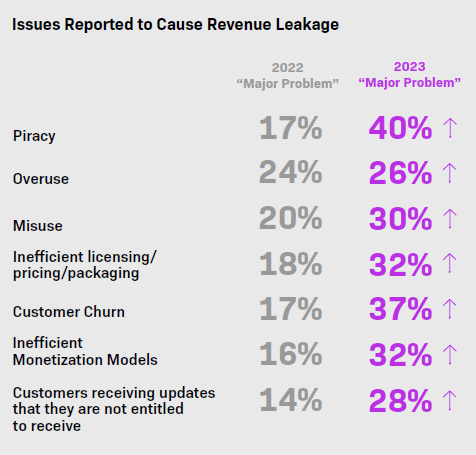 These findings demonstrate the lack of visibility that many producers encounter, highlighting the need for greater education on how to stop software piracy with compliance monitoring, analysis, and actionable insights to reduce revenue losses.
Let's dive further into the report.
The Landscape of Revenue Leakage
In addition to piracy, overuse, and misuse, all other causes of revenue leakage are on the rise.
Inefficient licensing/pricing/packaging and inefficient monetization models were each reported as a major problem by 32% of respondents, roughly twice as high as previous figures. Customers receiving updates they're not entitled to receive has also doubled from 14% to 28% – exposing a need for improved software delivery practices.
Interestingly, the widely recognized challenge of customer churn being reported as a major problem has jumped from 17% to 37%, which is still lower than software piracy at 40%. While the figures are high, the fact that there's growing awareness of piracy is good news, as Revenera's Software Piracy Stat Watch indicates a $16.2 billion revenue opportunity in countries with strong IP laws and a track record of successful license compliance programs.
The first step toward recovering revenue leakage is to clearly understand how it occurs. Yet, for many companies, visibility is an area they continually struggle with. Especially when it comes to unlicensed use; around 15% of suppliers don't know how much revenue they lose to piracy, overuse, and misuse.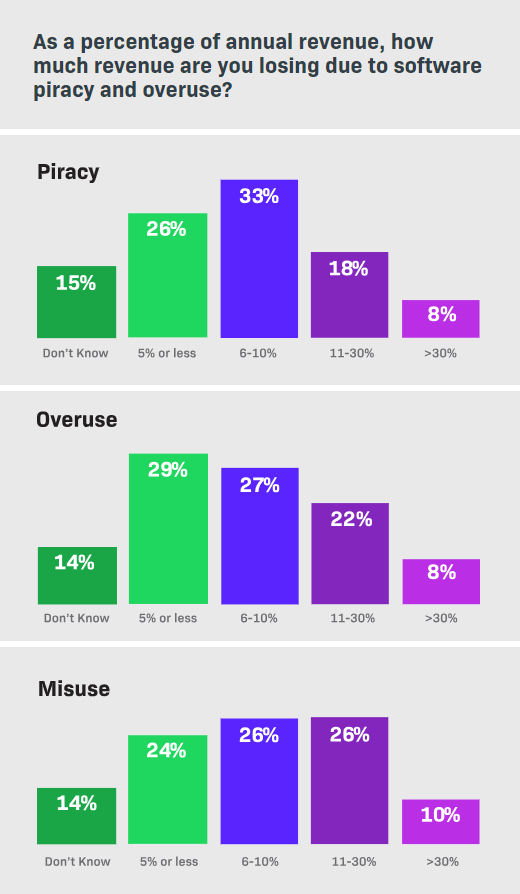 A lack of visibility leads to companies losing sight of their clients, allowing unlicensed use to occur and revenue to leak.
Companies that implement usage-based pricing models, such as elastic access, can continually track usage, allowing them to pinpoint leakage, develop recovery strategies, and refine programs before significant losses occur.
Webinar: How to Build a Compliance Program to Generate Revenue
Methods of Tracking Software Piracy, Overuse, or Misuse
There are several leading strategies to identify revenue loss from unlicensed usage. For example, anecdotal reports from Sales, telemetry, and regular audits are used by 52%, 34%, and 50% of respondents, respectively. Yet, 21% of surveyed businesses have no insight into piracy, overuse, or misuse.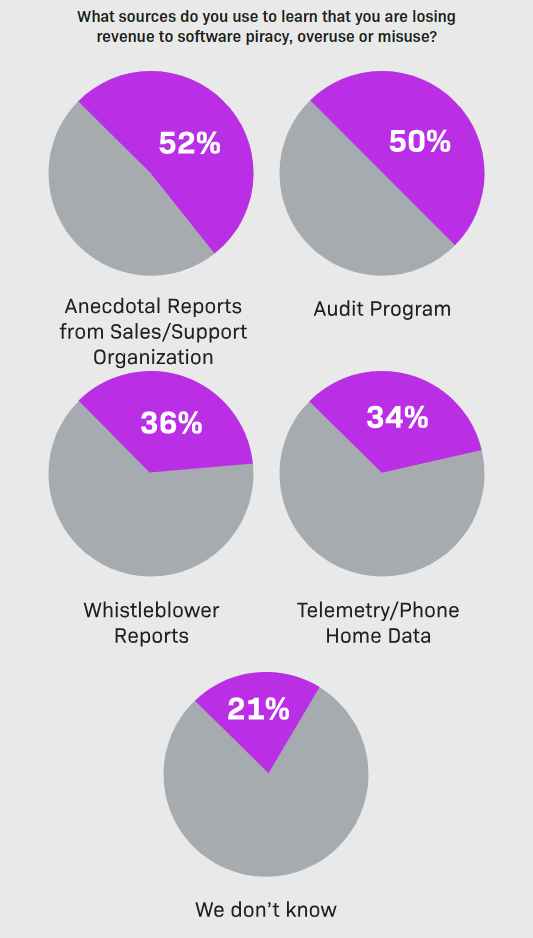 This lack of visualization is a driving factor for many technology companies that are seeking to alter their product monetization strategy. 37% cite eliminating revenue leakage as the primary cause for their change. As usage-based monetization models have better visualization, they are crucial for identifying and neutralizing software piracy, overuse, and misuse.
Delivering customers a report on their own usage analytics helps to fortify a connection between price and product offering. By demonstrating the value of the service to a client, software suppliers can strengthen their customer relationship.
Especially in times of economic uncertainty, demonstrating the value of software to the customer helps to improve relationships, minimize losses, and reduce revenue leakage. By turning to usage-based monetization and the insights it produces, software producers can pinpoint the reason for revenue leakage and formulate strategies to remedy this problem.
The more usage data your software can gather and the greater degree of visualization it can offer, the more prepared you will be to identify piracy and compliance issues and resolve them.
To learn more about the latest industry trends in software compliance and piracy, please download the full Monetization Monitor report.