Leveraging Data to Support a Portfolio of Engagement Strategies
Both parties in the IT buying process desire a fair deal based on value, but too often wind up feeling exposed due to complexity, uncertainty, and risk surrounding software assets over time. Traditionally ISVs have relied heavily (or even exclusively) on a single-threaded approach to remediating the problems posed by the IT buying process. In that vein, the most commonly accepted industry approach is arguably the audit. However, ISVs should explore a portfolio approach to monetizing their software. A portfolio model would yield greater overall flexibility in navigating the spectrum between the sins of the past (revenue recapture) and the forward business relationship (sales enablement), and would break that "one size fits all" paradigm of audit for everyone.
Compliance Analytics and Software Usage Analytics data (and core competencies in leveraging that data) are the backbone for any ISV in building a more diverse portfolio of engagement strategies to monetize its software. Data provides a deeper level of quality within any particular approach as well as for the implementation of a greater diversity of engagement strategies as part of an integrated portfolio. For purposes of this post, we will focus on leveraging compliance analytics data for the broadest impact to any program.
Compliance Analytics Data – What Is It?
So what is compliance analytics data? It encompasses various specific forensic information documenting how the software is deployed and used within the IT estate. The type of information can include product names, quantities, license keys, the authenticity of the license, the scope of use, locations, and other elements that the vendor wants to track. Compliance Analytics data can be gathered through different means including platforms like Compliance Intelligence and on a more limited basis through on-premise SAM tools. Compliance data can be collected through real-time telemetry or in batch processes as part of an engagement, with both configured to address concerns involving privacy and security.
Compliance analytics data can provide a variety of useful insights to the ISV when assessed for legitimacy, analyzed for trends, compared to known entitlement data, or ultimately placed in the context of the broader business relationship. Of note, but for perhaps a different post, would be the enhanced value when compliance analytics data is paired with software usage analytics data. A knowledgeable, skilled partner could assist an ISV in mining this data – and building overall best practices – to support multiple engagement strategies within the framework of a portfolio in monetizing the ISV's software. Those engagement strategies would include among them anti-piracy, audit, compliance, and sales enablement.
Portfolio Approach: An Integrated, Multi-threaded Engagement Strategy
A multi-faceted engagement strategy increases ISVs' ability to engage and therefore broadens the overall addressable market available to the functional team responsible for monetizing the business. Traditionally, that team is narrowly focused on a single-threaded engagement strategy such as audit. The following graphic illustrates the broad components within an integrated portfolio engagement model spanning the spectrum of revenue recovery activities to selling into the ongoing business relationship.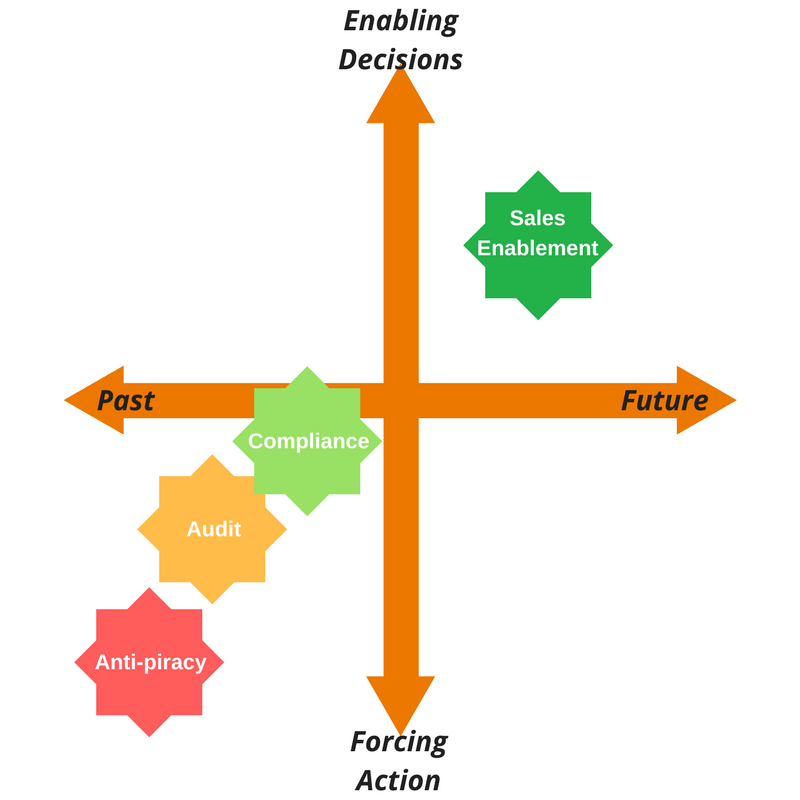 Figure 1: Engagement Strategies
Prior to discussing how you might leverage compliance analytics data in the context of these four engagement strategies, it would be helpful to first address the basics and background of each category in more detail.
Anti-piracy – "Crime and Punishment"
With anti-piracy, the focus is on illegal and/or otherwise counterfeit software. This approach is historically exemplified by the Business Software Alliance (BSA) and the Software Industry & Information Association (SIIA), which promise financial rewards for whistleblowers who provide incriminating information about piracy within their employer or partner organizations. Anti-piracy efforts have traditionally involved the software publisher working alongside law enforcement agencies, or filing lawsuits that typically invoke the U.S. Copyright Act or similar legislation in other countries. Resolution often includes penalties in addition to forcing the customers to purchase any pirated assets.
Audit – "Atonement"
By contrast, the general focus of audit is on unlicensed software, not counterfeit software, and revolves around validating the deployment and use of the software in the licensee's IT estate. Therefore, this approach typically does not engage law enforcement agencies and does not typically impose legal penalties. Rather, ISVs involve their own staff or leverage third-party firms – invoking the audit clause in their software license agreements – to audit the customer's IT estate against their entitlements. In the event of an over-deployment, the customer is typically required to 'true up' using list prices, back support, interest, and the cost of the audit – all in accordance with the audit clause in the underlying agreements.
Compliance – "I'm OK, You're OK"
Compliance is similar to the audit approach in that the focus is again on unlicensed software.  Hence ISVs will similarly use their own staff or leverage third-party firms to conduct license reviews of their customers. However, this approach is a 'kinder, gentler' one. The audit clauses in software license agreements are often not formally invoked though they may be referenced. The review is performed in a more amicable manner than an audit with consideration given to the customer – including potential deference on the timing of the work or the reliance on data provided by the customer. In the event of an over-deployment, the customer is often given the chance to true-up without penalties, leverage existing discount levels, or even offered the opportunity to de-install the over-deployed software.
Sales Enablement – "Let's Get Together"
Sales enablement is a recent – and not yet widely adopted – engagement strategy. However, it offers the opportunity to reframe the value delivered and to enable improved decision-making between the parties. The focus here is to provide timely, complete, and accurate information in relation to the IT estate, the purchase history, and customer's business requirements (past, current, and future) for the relevant IT assets (hardware and/or software and related maintenance). The point of the engagement is to underpin a more accurate, objective and holistic foundation of information on which to engage in a discussion. However, it is important to note that this engagement is not constrained in application to enforcement. Rather, the objective is to enable sales with relevant, timely information to better serve their customers.
Leveraging Compliance Data to Support a Portfolio Approach
In discussing compliance data as a complement to each of the four engagement strategies, we can frame categories of data for broader context and discussion. Four that are relevant would be:
'Hard' Compliance Data – Data that provides a concrete, forensic evidence of either express infringement or clear unlicensed deployment and use of the software. Compliance analytics data from platforms like Compliance Intelligence falls into this category.
'Suspect' Compliance Data – Data that is not as clear and convincing as 'Hard' Compliance Data but that, nonetheless, can be of value in assessing the overall context. This includes compliance analytics data that is good, but not clean enough to warrant immediate outreach. It could, however, lead to an audit to validate the findings.
General Risk Indicators – Often referred to as profiling, this category includes known indicators that provide context for assessing a licensee's potential challenges surrounding either illegal or unlicensed software. These indicators may include, but not be limited to, the size of the company, geographic locations, the presence of internal controls, purchase history and buying patterns, maintenance status, technical support call logs, and merger or divestiture activities.
Business Data – Other general data that helps inform and strengthen the overall understanding of a customer's past, current, and future use of the software (e.g., financial data, TCO calculations, etc.). ISVs that have implemented software usage analytics may leverage this intelligence to paint a more complete picture.
One can utilize compliance analytics data – both 'hard' and 'suspect' – to support all four engagement strategies. Compliance analytics data certainly has a place in the context of the three revenue recapture strategies (i.e., anti-piracy, audit, and compliance) but can lend additional insight as part of the sales enablement strategy as well.
Anti-Piracy
Leverage 'hard' compliance analytics data for targeted transactional outreach to specific licensees or prospective customers for the express purpose of commercially resolving those identified licensing gaps (e.g. replace counterfeit software with genuine software).
Audit
Leverage both 'Hard' and 'Suspect' compliance analytics data as a complement to other general risk indicators as part of the overall targeting framework for a programmatic audit program (the point of which is to make more rational and informed decisions regarding those licensees submitted for an audit).
This data can also provide a deeper level of understanding of the aggregate detailed assessment of the deployment and use of the software within the IT estate during the audit.
Compliance
Similar use of compliance analytics data as with audits; leveraging both 'Hard' and 'Suspect' compliance data to augment the overall existing selection framework.
This data can also provide greater understanding of the aggregate detailed assessment of the deployment and use of the software within the IT estate during the license review.
Sales Enablement
Leverage all data to place sales at the table in a more informed capacity and to establish an accurate, complete foundation of information to support better decision-making between the parties – and enabling sales to present more relevant proposals based on the customer's precise business requirements.
Moving Toward a Diversified Service Portfolio
All of the engagement strategies discussed here are legitimate activities. They are complementary as a portfolio because they each have a different purpose and serve unique objectives. Anti-piracy efforts address the ability to enforce and protect the business. Audit and compliance offer similar (but unique) capabilities to objectively validate the business.
Sales enablement creates a fact-based, objective foundation on which to sell and drive the business. There is a common DNA in the core competencies across all these activities in licensing, pricing, compliance, asset management and sales. But ISVs need not limit themselves to a single-threaded approach to cultivating their business and can increase their overall impact by developing a multi-faceted capability.  A sturdy foundation of information, such as that provided by Compliance Intelligence and Usage Intelligence from Revenera, is a key element supporting the people and process across every one of the approaches discussed here.
Given the unique nature – and infancy – of sales enablement as an engagement strategy, it is worth offering a few additional comments. Sales enablement is a value-added service to provide relevant, complete, and accurate information upon which a meaningful commercial discussion may occur between the ISV and its customers.  Therefore, sales enablement operates in an interdisciplinary context to support the composite sales team (e.g., sales, technical consultants, deal teams, sales management, executives).
The access to present a more holistic, fact-based, and credible baseline of information provides a significant advantage to the ISV, particularly in competitive scenarios. In addition, it often leads to the identification of additional sales opportunities that were only partially framed, were not previously known, or were sub-optimally sized. Having good, reliable information can also significantly shorten the sales cycle via more credible, defined proposals. Given the customer-centric focus, sales enablement is not a static activity. There is a premium placed on continued innovation of new deliverables to drive additional value into the sales process. In addition to evolving qualitative elements on the value proposition and scoping, the engagement model is dynamic as well. Asset management may be tailored to support the objectives and scope in question and is not a 'one-size fits all' mode.