Given how often antivirus applications appear in our weekly Top Ten Torrents, we thought it might be interesting to dig a bit deeper into this category. We see these titles almost weekly among the most pirated software and they are often released in a pack with activation keys for a number of different antivirus software products.
Why is pirated antivirus software so popular? One reason is that people like free software. This may be even truer for "insurance" applications like antivirus software which has a long history of piracy – people know they need it and it is important to protect their computers, but they do not want to spend money on something they may not use everyday.
What's interesting is the fact that so many vendors actually offer free versions of their antivirus applications, yet the full versions remain among the most pirated.
Antivirus Market Leaders
Let's start by looking at the market leaders in the space. OPSWAT (a software company that provides solutions to secure and manage IT infrastructure) released a report on the antivirus market in January 2014, presenting both the worldwide antivirus vendor and product market shares:
Antivirus Vendor Market Share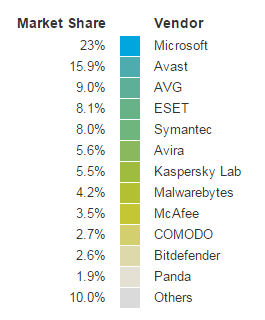 Antivirus Product Market Share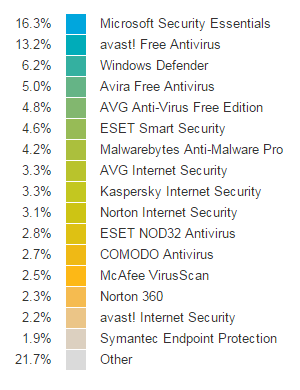 It makes sense that Microsoft occupies the top spot for vendor market share because Microsoft Security Essentials is a free product and Windows Defender is included with Windows 7 and Vista (and is available as a free download for other versions of Windows).
Looking at product market share is also interesting: the top five products are all free versions and many of the other products have free versions (e.g., Malwarebytes, AVG, Comodo, and avast!).
Piracy Availability and Popularity
For our research, we looked at the availability (the number of seeds) of different antivirus products on several different torrent sites and then factored in the popularity of the torrent sites (highly visible sites versus underground sites, for example) to add a weighting factor. Here's what we found: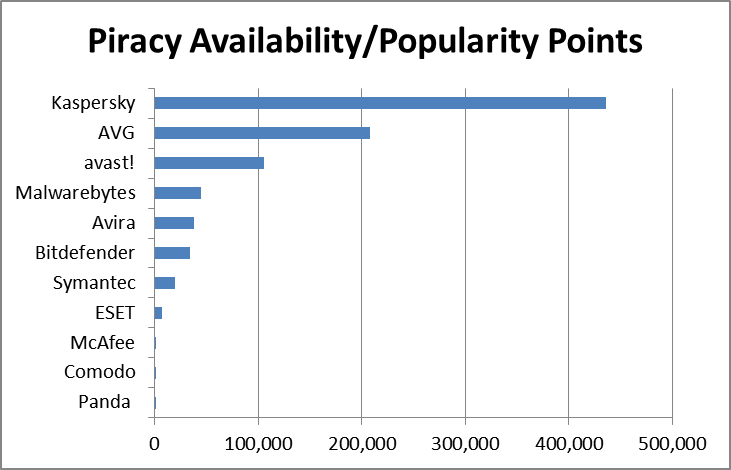 Two things jump out immediately:
Market share leader Microsoft is not on the list of top pirated antivirus products
Kaspersky – in the middle of both the worldwide antivirus vendor and product market share lists – tops the list of pirated antivirus products
Microsoft gives all of its antivirus applications away with its operating systems or makes them available for easy download. It makes sense, then, that Microsoft does not appear on the list of top pirated antivirus applications.
Kaspersky, on the other hand, offers free 30-day trials of its software, but does not offer a free version. It is not surprising, then, to see Kaspersky as a popular pirated antivirus application.
What may be surprising are the cases of avast! and AVG. Both of these vendors offer free versions of their software (and are in the #2 and #3 spots respectively for vendor market share) but they are in similar spots on the list of top pirated antivirus applications, too.
However, you may recall Avast's experience of seeing a single license of its software used by 774,651 people despite the existence of a free version of its software. This behavior makes sense when you consider the three different types of software pirates (pirate-inclined, opportunistic and legally-inclined). In mature markets, more than 80 percent of pirates are "well-intentioned victims" of piracy. They are "opportunistic" – bargain hunters looking for the best deals, or they are "legally-inclined" – unknowingly and accidentally using pirated software.
Lastly, longtime antivirus vendors Symantec and McAfee are in the lower halves of both the market share and piracy lists. This may seem strange since both were one time market leaders, but it does corroborate a point we often make: popularity is a strong indicator of piracy demand.
Our list shows the true popularity (and brand loyalty) among end users toward their antivirus applications. While they can use the free versions, the adopters and the crackers know that there is greater value in the full versions of the products. There is popularity among the adopters (via torrents and The Pirate Bay) and the crackers themselves (Scene releases). Both the initial adopters (the "pirate-inclined") and the tech savvy users are driving the list of the most popular titles.
The Curse of Being Popular?
Product popularity is both a blessing and a curse. Yet, the difference in outcomes for vendors is whether they ignore piracy as a cost of doing business (or call it "viral marketing"), or if they treat piracy as an untapped channel for revenue. In the case of antivirus vendors who sell most of their software online, the ability to reach, educate and convert pirate users through in-application messaging can significantly drive new revenue and lift conversion rates.