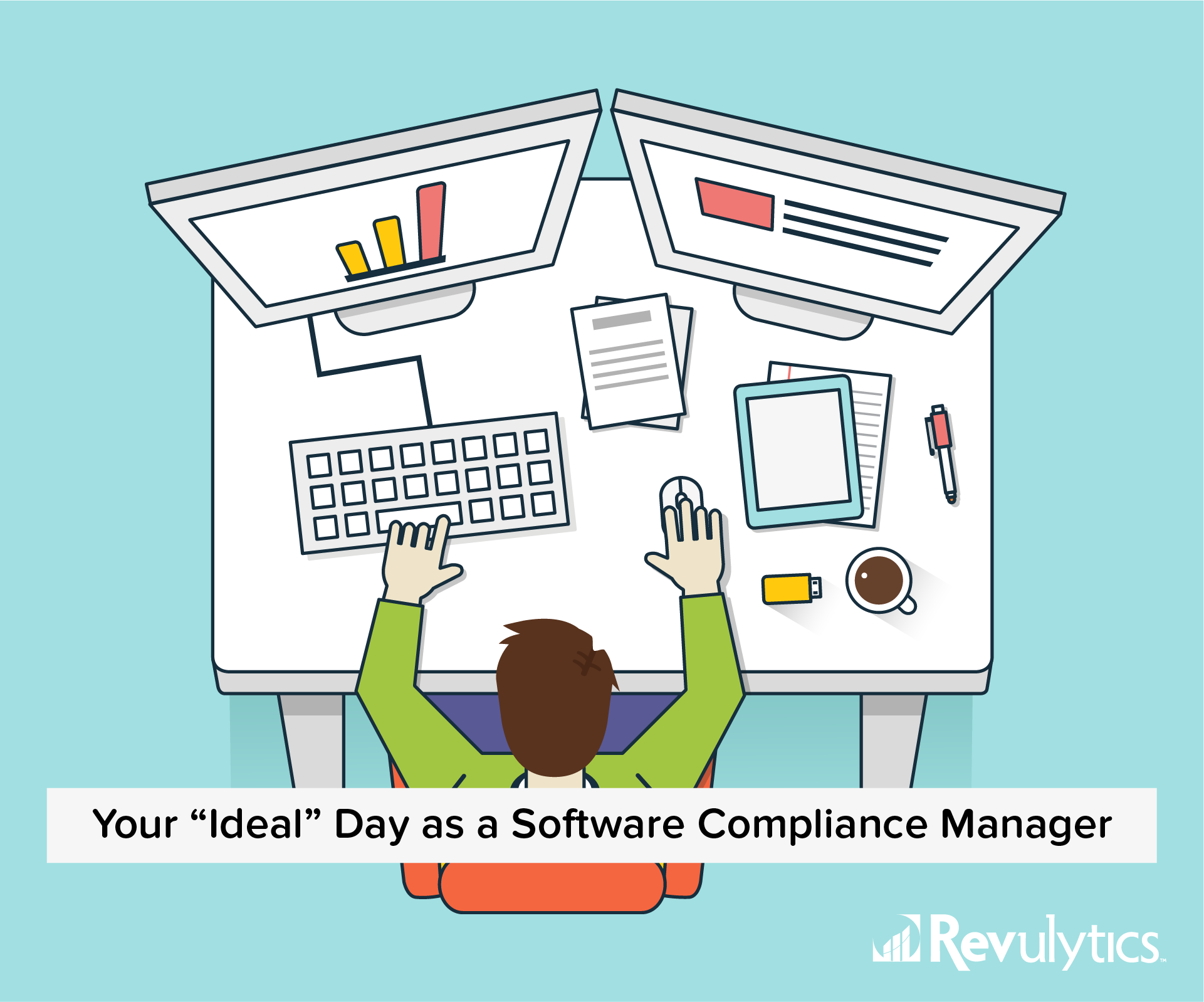 Efficiently moving cases to action
With conventional compliance management systems, it can be difficult to organize and manage the cases you're pursuing – especially as you scale, and must share just the right information with sales teams, distributors, external revenue recovery services, and local legal representation in your client's country. In this post, we show you a more efficient, automated, and scalable way to move cases to action.
Mapping leads, and integrating with CRM
It starts with mapping leads to accounts. If you're using Compliance Intelligence, it's extremely easy to integrate your compliance toolset with your CRM system. This means you can instantly create a new prospect account from within Revenera, as soon as you've identified infringement by someone you don't already have a relationship with.
It also means that whenever Compliance Intelligence identifies possible abuse, overuse, or infringement by a customer or prospect who's already in your CRM system, you can explore your account information from within your Revenera dashboard.
Without leaving your Revenera dashboard, you can also provide information about the infringement to whoever is already responsible for this account – whether that's a salesperson, or a regional distributor, or partner somewhere you don't sell direct. As needed, you can provide specific guidance about how you want them to engage the client (and, as we'll discuss in Part 5, track their progress).
Sharing the right information – and nothing else
Compliance managers often run into a problem at this stage. They want to give sales teams, distributors, or compliance partners enough information to engage customers and settle the case. But they don't want to provide indiscriminate access, and might even wish to temporarily hold back some information associated with this client's infringement. With Revenera, you have all the granular control you need.
For example, you can provide a stripped-down "investigation interface" with access to individual accounts; or certain types of data associated with one account; or to appropriate levels of data for every account your salesperson or channel partner is responsible for. Or, if you'd rather your salesperson or partner stay out of your compliance systems altogether, Revenera makes it easy to package and export just the right information, with just a few clicks, using tools like Tableau or Conga.
Using automated templates you can quickly and easily generate PDFs, spreadsheets, or other documents that enable prospects to self-audit. When they see information like egress IP and MAC addresses, they quickly discover that you're telling the truth – and that's often enough to spur action. However, you haven't exposed all your data: you retain leverage you might need later.
Automating Salesforce.com linkages
Revenera is built on the popular Salesforce.com platform, using Salesforce's Force.com APIs and development tools. If, like many software companies, your case management system also runs on Salesforce.com, you can benefit from "Salesforce to Salesforce" native data sharing relationships. Now, it's even easier to map an account in your compliance dashboard to your CRM or case management system. You can share top-level account information, while all lower-level details remain in your compliance dashboard; or you can use auto-forwarding to represent the account in your case management system for action, and get feedback whenever action is taken.
Many Revenera clients work with our partner, the Software Compliance Group (SCG), to enforce their enterprise licenses worldwide. These connections are completely automated: as soon as a compliance manager clicks "Accept" to release an opportunity for action, it's forwarded into SCG's case management system, and assigned to the right individual, with usage data details extracted for use in SCG's first prospect communication. SCG provides a web portal that you can use to see every action and communication. While we highly recommend SCG's services, the same automated best-practice workflows can be built with Force.com if you don't. Tasks that formerly required clumsy emails and attachments – or switching between multiple incompatible systems – can now be handled instantly.
Once you launch a case, you need to track your progress. In the final blog entry of this series, we'll take a closer look at the easiest and most productive ways to do that.
A short "P.S." for B2C/prosumer software companies
So far, we've focused primarily on expensive B2B software sold by sales teams, distributors, and partners. But if you offer B2C or prosumer software, it might not be practical to personally contact every infringer. That's where Piracy Response and in-app messaging comes in – and it's built into Compliance Intelligence, so you don't need a separate solution.
Doubtless, some B2C/prosumer software pirates will never pay. For them, the fun's in downloading your software from BitTorrent, and feeling like they've put one over on you. But some of your infringers simply searched for you on Google, and arrived at a piracy portal instead of your free trial download page. Some were simply confused. Some actually paid, thinking they'd stumbled into an especially great deal. Some are using devices where somebody else installed the software months or years ago. Maybe, given the chance to steal, some were tempted into doing so. Regardless, many of these people will pay if educated appropriately.
Revenera Piracy Response lets you start with gentle messages that their software is pirated, then gradually escalate your response, and can even turn off features or transform your software into trialware. Using in-app messaging alone, we've seen some clients achieve 11% conversions on their pirate base – and that can add up to significant revenue.
Read the entire Imagining Your "Ideal" Day as a Software Compliance Manager series