You have likely seen the news about Boeing's $17 billion deal with Iran Air for 80 aircraft, but have you wondered about what it means for software vendors? While there is some uncertainty around whether the deal will withstand the scrutiny of the incoming president, it does offer some interesting lessons about readiness to enter new markets. Regardless of the industry, companies are always looking to new markets for expansion opportunities. Whether it is a new vertical or a new geography, you need to be armed with data and intelligence to drive your strategies before you are ready to take off in a new market.
While international sanctions against Iran may have only been lifted earlier this year, that does not mean that Iran was not a consumer of software before then. Vendors that have implemented a compliance analytics approach have seen that despite the sanctions, pirated versions of their applications are being used in Iran (aggregated Compliance  Intelligence data places Iran in the #4 spot on our list of "Top 15 Software License Misuse and Piracy Hotspots."). In many cases, vendors have used Piracy Response functionality to control the behavior of those applications to ensure that their products will not run in Iran.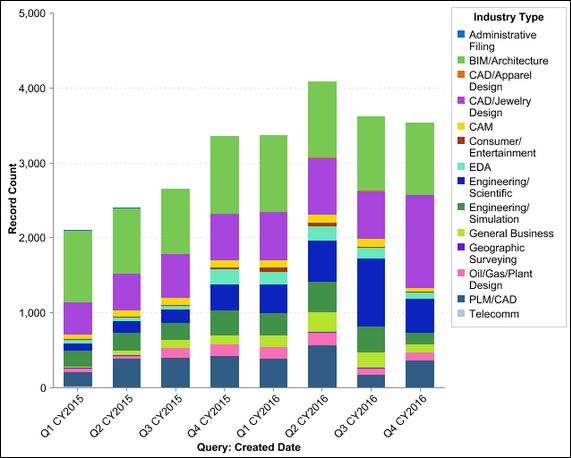 But now that the sanctions have been lifted, when is the right time to enter the Iranian market, and how should they develop and prioritize their go-to-market strategies? Armed with insights from Compliance Intelligence, vendors are able to take a data-driven approach to market entry. Insights from our Data Optimizer show that a wide range of pirated software is already in use, showing demand in the market. Even better, this data is actionable: vendors are able to identify which companies in Iran are using their software, how long they have used it, the number of machines using it, and more.
It is relatively easy for an aircraft manufacturer to identify prospects in a new market – there are only so many purchasers for their goods. Software vendors have a more challenging task, but one that is made easier when they have data on who is already using their applications, the frequency of usage, and penetration within identified organizations. These insights go beyond opportunities in Iran and have enabled our customers' successful entry into new vertical markets when they saw significant adoption in areas where they did not expect it. Learn more about insights driven by compliance analytics in our webinar on software piracy trends and see how you might use data to expand into new markets.