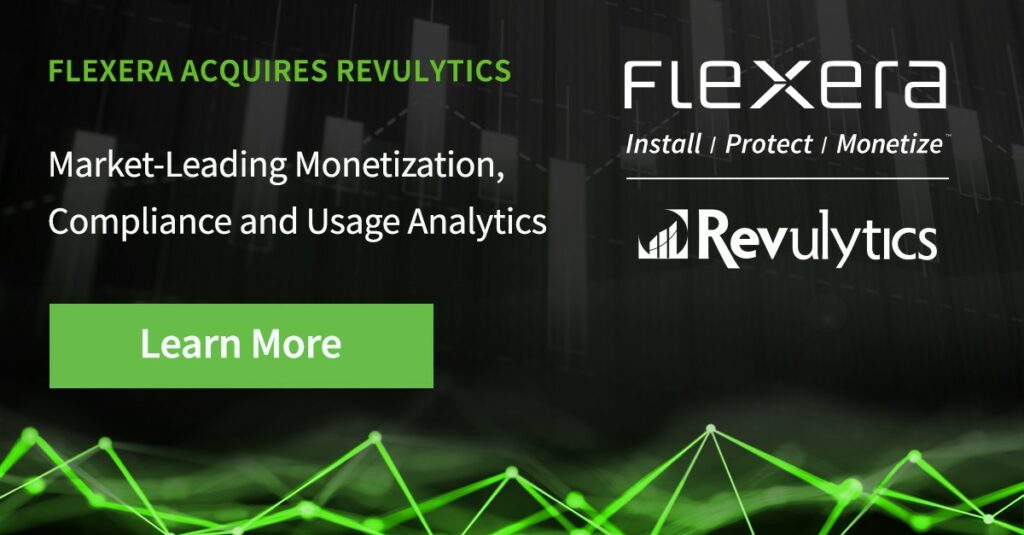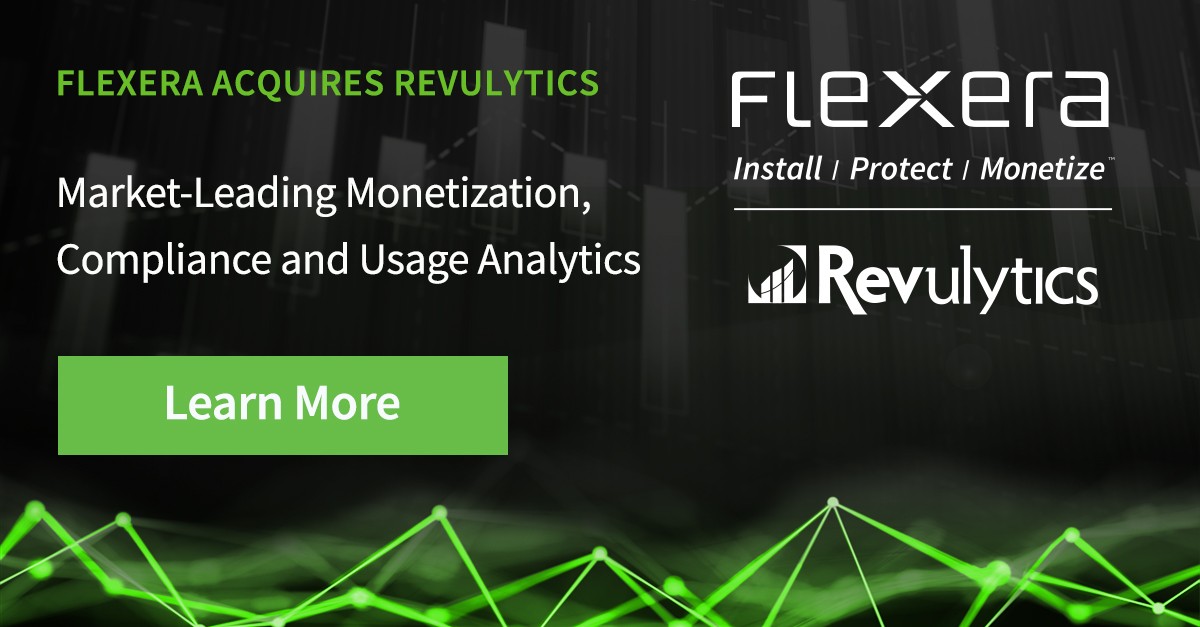 Combined Offering Expands Software Monetization Portfolio and Provides Software Suppliers with Industry-Leading Solutions for Monetization, Compliance and Usage Analytics
We have excellent news to share. Today, Flexera announced the acquisition of Revulytics, a recognized leader in Software Usage Analytics. "This acquisition is a game changer for software suppliers looking to derive more value from their software. I am excited to add another leading company to Flexera, after the acquisition of RISC Networks last year, continuing our excellent growth path," said Jim Ryan, President and CEO of Flexera.
What will you get from Flexera and Revulytics? – The technology you need to unlock the value of your IP and accelerate revenue growth.
Software usage analytics is a fast-growing space. As software companies evolve their business models, understanding product usage is a critical success factor. As highlighted in the Flexera Monetization Monitor: Usage Management and Insights, companies that understand usage are more confident that their price is aligned with value, but only 35% of companies can gather product usage data very well with on-premises software companies lagging further behind. With the acquisition of Revulytics, Flexera continues to expand its software monetization platform giving organizations more insight into the actual use of their products. Enhanced capabilities include compliance data analytics, user behavior and telemetry, and in-app messaging, providing software companies with the intelligence to make better pricing, compliance, roadmap and strategy decisions.
Revulytics, based in Waltham, Massachusetts, adds several core solutions to Flexera's existing monetization offerings, including:
Compliance Intelligence – Usage Analytics for Compliance Teams: Actionable insights into where pirated versions of software are being used, including data analytics with the scope, value and type of infringement. This enables compliance and audit teams to generate new license revenue from existing and prospective customers.
Usage Intelligence – Usage Analytics for Product Teams: In-depth insights on feature usage, analysis of customer behavior, and dashboards with install base analytics and telemetry. This helps drive roadmap and pricing decisions, identifies cross-sell and upsell opportunities, and identifies strong customer advocates.