Learn how software monetization drives success and what elements are included in the platform.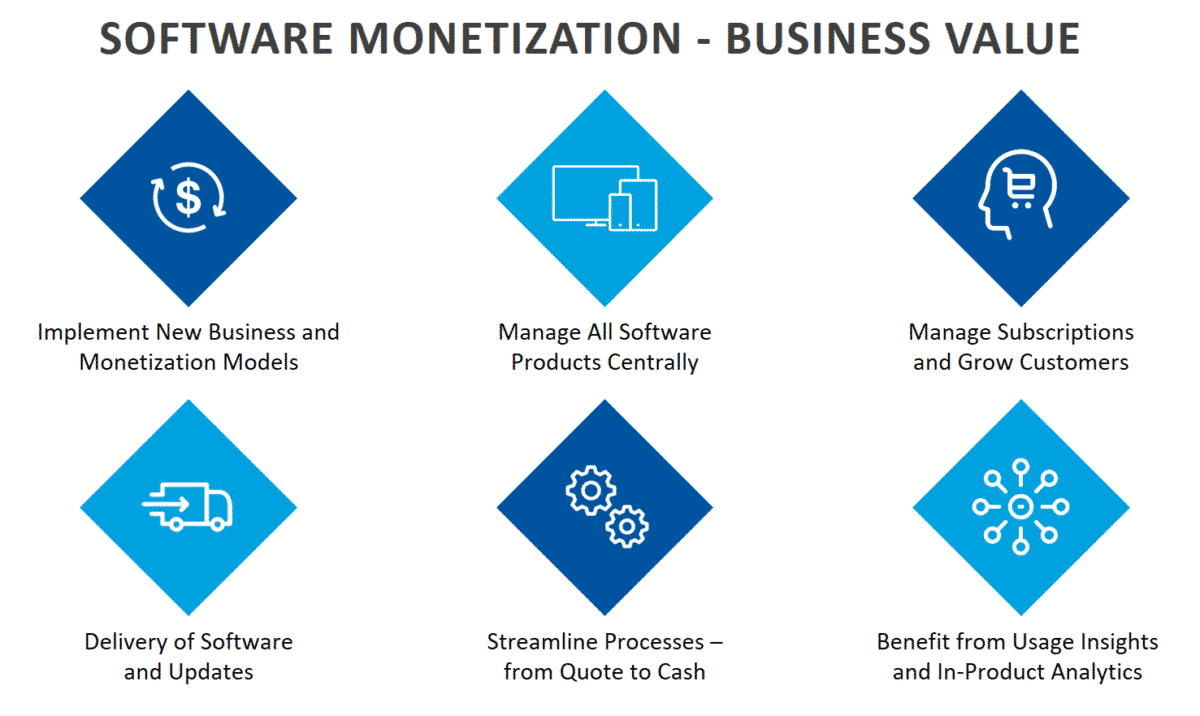 Software Monetization is the continuous process utilized by software suppliers to extract maximum value from their product and services while protecting their applications and their IP.
Software monetization drives success across four key strategic initiatives:
Embracing new business models.  As SaaS and IoT implementations continue to rapidly expand, suppliers require the flexibility to implement new business models.  A software monetization platform, unlike a basic licensing process, supports multiple licensing models in a single software licensing solution, so suppliers can quickly adapt as their markets change.
Maximizing revenue.  With software monetization there's more to revenue than the initial sale. New types of licensing models, such as subscription or usage-based can be offered, providing ongoing revenue streams.  This also gives customers more choice as to how they consume software.  A software monetization platform enables these innovative business models while controlling access to software, ensuring only eligible customers have access.
Streamlining back-office processes.  A back-office software licensing service manages several tasks including electronic software delivery, license and entitlement management, provisioning and creating product packaging and upgrade paths.  A software monetization platform automates these processes, cutting distribution costs, making sure customers receive what they're entitled to and protecting software IP.
Innovating quickly and effectively.  Insights gained from customers through software usage tracking is one of the key benefits of a software monetization system.  Understanding which features customers are using is valuable input for future development planning.  It also helps simplify software product packaging, aligning pricing with customer value and enabling the creation of new offerings to meet changing market needs.
An optimum software monetization platform not only delivers results for software suppliers, it also improves the customer experience by providing more transparency in the licensing process.  It also provides an end user portal, further enabling customers to self-manage and self-serve their products and processes. This balance of benefits fosters a more partner-oriented relationship between software suppliers and their customers.
A complete software monetization platform includes the following functional elements:
Software Licensing and IP protection.  This is the foundation for software monetization, ensuring only eligible customers can access and use the software.  It manages what can be used, how much of it can be used and for how long. For further insight, please read: What is Software Licensing?
Entitlement Management and Customer Insight.  Closely related to licensing, entitlement management keeps track of what customers are allowed to use and gives them access to what they paid for.  Understanding what customers are permitted to use versus what they are actually using lets suppliers recognize upsell opportunities.  It also lets them help their customers better manage their software usage.
Electronic Software Delivery and Updates.  Several events require the delivery of software, including the initial product delivery, updates and patches.  In all cases it's critical to track and manage which version each customer (or device) has and which updates they should receive, and this can be achieved via electronic software delivery.
Insights and Analytics.  A software monetization platform collects significant usage data from software users and devices.  This data includes the current software versions, feature usage and tracking of software downloads and updates. Suppliers use this information to help guide their feature roadmaps, monetize premium functionality or offer pay-per-use software monetization models.