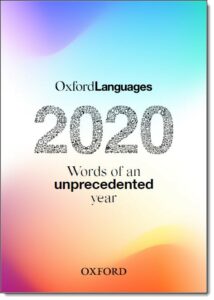 Oxford Languages releases its "Word of the Year" annually as a way to sum up the collective ethos, mood or preoccupations of that year. The word chosen is one that has lasting potential in terms of its cultural significance. In years' past, its choices have included words such as climate emergency, youthquake, selfie and even one non-word (the "face with tears of joy" emoji in 2015).
But 2020, Oxford says, could not be confined to a single word. Instead, the 150-year-old guide to the English language chose dozens of words and pointed to 2020 as a case study in how quickly we can collectively adopt an entirely new vernacular. Terms once reserved for science and medicine leapt into text messages between friends, old words took on new meaning and the speed at which language evolved mirrored the speed and intensity of how everyday life had changed.
"The English language, like all of us, has had to adapt rapidly and repeatedly this year," Oxford said in announcing its 2020 choice, to give us all a way of describing the virus, political and economic volatility, social activism, the environment and the rapid uptake of new technologies and behaviors to support remote everything. "Given the phenomenal breath of language change and development during 2020, Oxford Languages concluded that this is a year that cannot be neatly accommodated in one single word."
Oxford's words of the year always capture my attention because they are at the intersection of two of my passions – language and analytics. And the analysis in this year's report does not disappoint. There are pages and pages of data and visualizations supporting changes in word use over time, all evidence of the lexicographers "evidence-based, data-driven approach," as the report states, to language monitoring and data curation.
As I considered the central place analytics holds in helping us grasp the changes in the way we talk, I considered how analytics can apply to some of these things we're all now talking about.
The Rise of Remote Everything
In 2019, Oxford said that the most statistically significant noun collocates (a word that is habitually juxtaposed with another with a frequency greater than chance) of "remote" were village, island, control, location and monitoring. In 2020, they were learning, working, workforce, instruction and monitoring. The term "remote" now extends to so many things that we now have to place "in-person" with words that we never would have considered putting a qualifier in front of in the past.
As our restrictions on "in-person" gatherings, trade shows, meetings and more continue, how will you accomplish "remote work" with customers? Software usage analytics gives us a defined process by which to collect data to more deeply understand what users need, with the added benefit of allowing us to gather that information in a way that doesn't disrupt their work.
Which brings me to my next point.
Language Eclipses Boundaries
Terms used to describe scientific principles and common in safety-intensive industries moved out of their respective spheres to become adopted on a huge scale in an incredibly short time, creeping into conversation seamlessly. Analytics too is moving out of its sphere to become embedded as part of workflows that guide and inform work in near real-time. Gartner said back in October that dashboards would decline and that "dynamic data stories with more automated and consumerized experiences will replace visual, point-and-click authoring and exploration." Relevant insight will stream to users based on their context, role and use, Gartner says.
Given that analysis for how pervasive and embedded analytics will become, it makes sense that software suppliers would want software usage analytics to become more deeply embedded in their products. This is one way to see how users are moving through those workflows and to give data-driven insight on how to better package and sell the software they're using to accomplish their work. IDC says that by 2022, 45% of software companies will deploy commercial usage analytics solutions to improve the value of customer engagement, product bundling, discover value metrics and enable consumption/outcome pricing.
Hyper-Speed Ahead
Oxford said that what was generally unprecedented this year was the hyper-speed at which the English-speaking world amassed a new collective vocabulary relating to coronavirus and how quickly it became part of the language.
Businesses need to move at that same warp speed, with Microsoft CEO Satya Nadella saying on its quarterly earnings call in April that "we've seen two years' worth of digital transformation in two months, and that "from remote teamwork and learning, to sales and customer service, to critical cloud infrastructure and security—we are working alongside customers every day to help them adapt and stay open for business in a world of remote everything." The Wall Street Journal reported that Target built a new version of a mobile app that helped employees manage customers in stores in a matter of days and that Home Depot quickly developed a feature on its mobile app to allow for customers to pick up items in front of the store.
These agile processes that can push relevant and working software out at the speed consumers and customers demand also demands data. With rich insight on how customers are using the software, where they're running into issues, where to focus and what to build, engineering can develop functionality on a much faster schedule, and work toward embedding customer feedback into the development process.
Understanding and Talking to Users In 2021
Analytics helps us understand how we're using language – now leverage it to understand the needs of your users and use the best (and targeted) language to reach and educate them. TechSmith, has been leveraging software usage analytics to improve its customers' experience with onboarding and convert trial users to customers. Here's what TechSmith's Snagit Strategy Lead, Daniel Foster, had to say about shortening the time to value – be sure to watch our full conversation with him for more insights and details on how usage analytics can help.