Many Software producers spend a lot of time and effort on selling their products to new customers or up-selling and cross-selling to existing customers. A topic that doesn't get as much attention but might be equally important is software upgrades. Managing your software upgrades and the roll-out to customers tightly will not only make your customers happy but also increase your renewal rates.
Frequent Issues related to Software Upgrades
There are many steps and processes connected to the roll-out of a software upgrade, and each single one might sound trivial, but the orchestration of all these processes makes it tricky and many software producers are facing some or all of the issues below:
Finding out which customers are eligible for an upgrade is a manual and lengthy process
It is difficult to determine which version customers are currently using and to see if they could technically apply the new upgrade
Due to manual or disconnected processes, upgrades become available to customers that are out of maintenance or not on subscription anymore
Customers struggle to find the latest upgrade or don't apply critical upgrades because they are not aware that these are available
Customers question the value of their maintenance or subscription contract because they don't see the ROI
Managing the Software Upgrade process
As for every process issue, you can either spend more time and resources on it, which doesn't scale and still doesn't protect you from errors, or you can automate the process in your entitlement management system and create an end-to-end solution that enables you to stay in control. Here's how it can be done with FlexNet Operations:
Release a new product version and create it in the entitlement management system
Automatically create upgrade entitlements for all customers that are eligible and take maintenance and subscription end dates into consideration
Send automated email notifications to your customers and let them know when and where the upgrade will be available for them
Once customers are notified, they will also work through simple and connected steps:
Receive the notification that a new upgrade is available
Log on to the customer portal and immediately access the latest version available
Download and use the software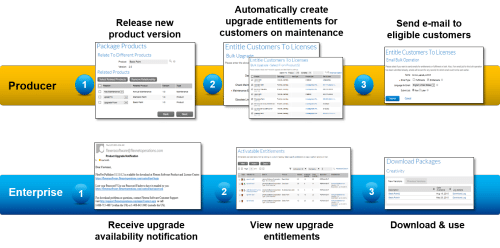 Why you should care
There are many reasons why upgrade management processes matter, let me just point out the two most important ones:
Keep Your Customers Happy
We all know how annoying it can be if we don't get notified about an upgrade, get lost in customer portals searching for the right one and then – when we think we finally found it – just run into the next frustration when we find out it is not compatible with our version or not part of our package. Spare your customers this experience by sending relevant information at the right time to the right contacts and by making it as easy as possible to download and apply your upgrades.
Increase Your Renewal Rates
Your software upgrade process has a direct impact on your renewal rates. Revenue leakage from maintenance is an under-reported issue and many software producers are losing a lot of money each year because they provide upgrades to customers that are already out of maintenance. Automating the upgrade process and delivering a positive customer experience will help increasing renewal rates and keeping them on a high level in the long run.
Readers also liked: