In our series about the software supply chain we shared ideas on how to take a software business to the next level. In this last and maybe most important tip, we look at the health and scalability of software operations and discuss how you get ready to scale your digital business.
Automate – Add Speed and Agility
Most software suppliers still operate with a high number of manual processes. These occur all over the place – electronic software delivery and provisioning, customer notifications or renewals, just to name a few. Sooner or later, manual processes will break. Especially when your business is growing and you add new products.
Entitlement management successfully builds the connection between software, devices and customers. You know who's allowed to use what product and which version. With this information in your bag you can drive value and efficiency throughout the product lifecycle:
Automate notification processes: Let your customers know about upcoming new releases, entitlements that near renewal and many other events
Add self-services: Make it easy for customers or their service providers to configure their products or to move them within the organization
Leverage usage data for detailed analytics, product insights and as a basis for pricing and billing
Drive recurring revenue by streamlining cross-sell, upsell and renewal processes
Bring new products and features to market quickly because you leverage existing software operations processes
Know the Customer Journey
The last step to success – which should actually be the first – is a customer-centric view. Look at your processes through your customers' eyes. Deliver what's needed when it's needed.
Onboarding: New customers should have everything they need at their fingertips when they start using a new product or feature. Automate provisioning and take out any roadblocks that might stop them from using your software.
Transparency and Visibility: Customers should be able to manage their own data and profit from usage insights – like you do. This will increase trust and avoid surprises.
Drive Value: Make sure customers are aware of the latest and greatest in your products and learn about new services and features that could be useful for them. This will drive their success and open the door for future investments.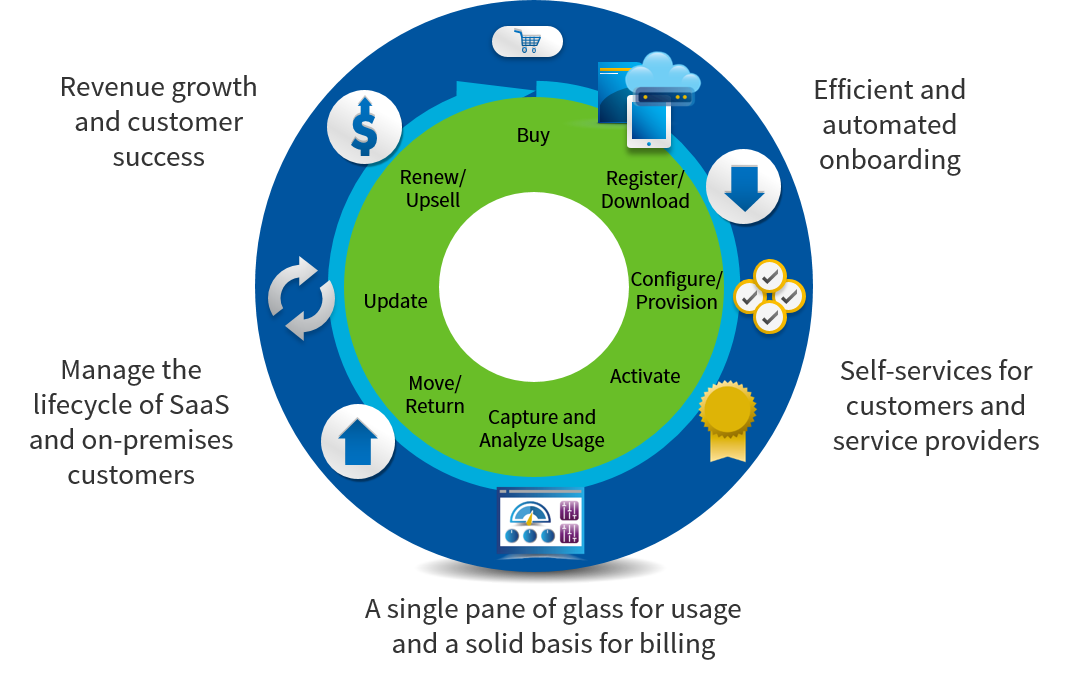 Establish yourself as a partner, not only a solution provider. Find the right balance between operational efficiency and top notch customer service. This will enable you scale your business and to develop your customers.
More tips for a successful software supply chain: