Revenera is pleased to announce the availability of the User Engagement report in Usage Intelligence. This report lets you analyze user engagement with your application, including the number of days they use your application, the number of times they launch the application, as well as the number of hours they spend interacting with the application.
The report comes with full filtering capabilities that enable you to look into specific user groups and identify trends between different types of users or product status. For example, you can find out whether trial users engage any differently than paying customers, or how usage patterns vary between power users and basic users.
This information is invaluable to gauge users' interest and loyalty to your product and will help you take important product decisions to improve user engagement, conversions, and retention. This info can also serve as a basis for you to build more effective ReachOut in-app messaging campaigns.
Accessing the Report
To access the new report, log in to Revenera Usage Intelligence and from the left navigation menu select User Engagement.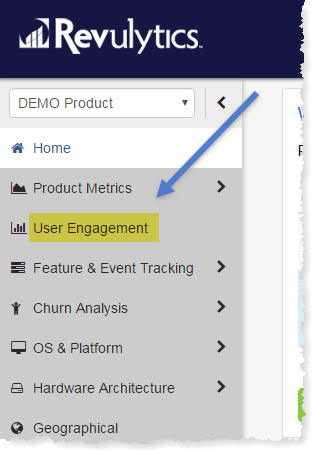 Once on the User Engagement report page, you will find the following charts that highlight how people have been using your application.
How to Calculate User Engagement
Number of Days Engaged with Application: See the number of days your users have run the application within the selected date range. For example, this chart will help you see if users are running your application just once a month or 3 times a week. By selecting a longer date range you will be able to tell whether your product is used intensively for a short project or if usage is distributed evenly across several months.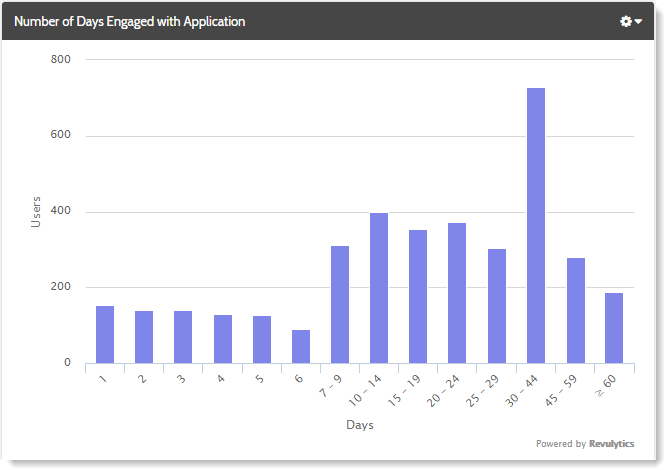 Number of Sessions: This chart shows you how many times users have launched your application over a given period.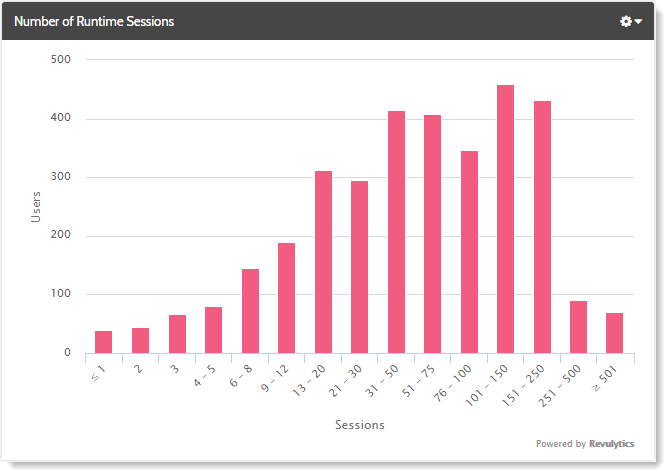 Runtime Hours Across All Sessions:  This chart shows you the number of hours users have spent interacting with your application. Are your users spending hours using your application, or do they use it for a short time and then lose interest?
The previous metrics show the number of days or runtime sessions by themselves, and do not necessarily show you how intensely users are interacting with the application. By viewing usage time in association with the previous charts, you can tell, for example, whether users are running your application 10 times a day for just 5 minutes each time, or maybe a few times a month but for a whole 8 hour session every time.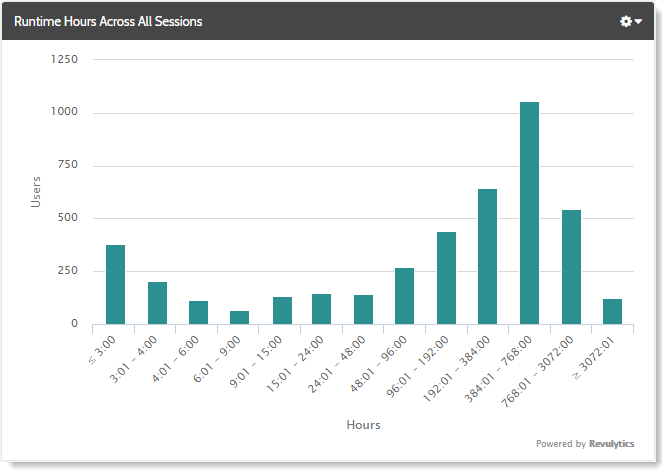 Investigating particular groups with drill-down functionality
The User Engagement report allows you to drill down into any chart to investigate each segment separately. You can click on each element in the chart to drill down on a specific user group. For instance, if you're looking at the Number of Days Engaged with Application chart and you click on the 30 – 44 days user group, you will be able to see the runtime sessions and hours distribution specifically for those users.