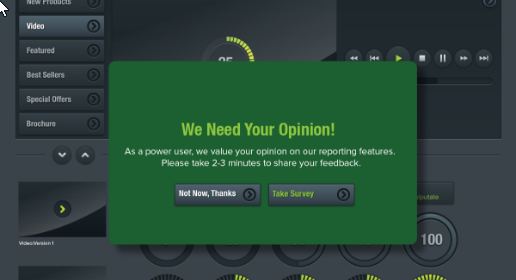 You're sitting in a meeting with leaders from marketing, sales, and a bunch of other important people, listening to the CMO detail the latest marketing trends within your product space. You keep your eyes locked on the screen as you reach for a bottle of water, all while displaying an expression you've brought to an art form over the years that balances the perfect blend of interest, impression, and skepticism. The question you've weaved together in your mind over the last 10 minutes is finally ready to leave your lips when all of a sudden, your phone yelps with several recognizable beeps, pushing you an Instagram notification.
As we seek ways to get our users' attention outside of traditional outreach channels like email, technology like push notifications is becoming more popular. Push notifications gain instant attention that email cannot, and can provide relevant information that would be lost in the hundreds of emails users receive daily. But on the flip side, they can be disruptive, and oh so irrelevant to our users' tasks at hand.
Contextually relevant messages delivered at the right time
There is another option that offers immediacy and impact, with the added benefit of ensuring relevance. In-application messaging offers the best of both worlds – giving you a new channel to reach the user, target outreach, and not only push but pull information from users in real-time, while they're leveraging your application.
By integrating data and insight gained through your use of software usage analytics with a messaging framework, you can customize and automate messages to unique user profiles and actions – sending messages based on user profile, license status, time elapsed since installation, frequency of usage, configuration settings and more – to ensure that the messages users receive are relevant, impactful and drive value for your business. You can automate and evolve campaigns without involving engineering, with the ability to trigger and change messaging based on a huge number of criteria.
As such, leveraging in-app messaging and usage analytics can boost conversion rates over email follow-ups by as much as 150 percent, according to information provided by Revenera's customers.
Let's take a look at how we can leverage in-app messaging to boost user engagement and design and deliver software that provides business value for your users.
Gathering information that informs customer-driven development
Getting time in front of customers is, of course, one of product management's chief challenges. And even when we do get time, it can be difficult to know if those customers' concerns are representative of the majority of the base.  As such, we often revert to using surveys or collecting feedback on customer or user group forums – which can fall short of giving us the deep context of the user experience that lends product insight.
By combining in-app messaging and usage analytics, we can segment outreach by a huge number of parameters to gain real insight into our most pressing questions. A broad question like "how do users like a new feature we released?" is much more relevant when directed to users who we've discovered through runtime analysis are leveraging the feature the most. What's more, we can pinpoint users who don't seem all that engaged with the new stuff, and leverage in-app messaging to figure out why.
Inform users of new releases or support packs
Even the most thorough, ambitious "sunsetting" campaigns can go ignored, and customers who have been messaged at events, through email and even through personal outreach from account reps still scramble on the week that software goes out of mainstream support. On the flip side, customers who have dutifully upgraded don't want to hear any more about the need to do so.
Usage analytics allows us to target only the audiences that are on the releases we need to target. We can perform analysis of the profitability of those still on older releases, and release offers for discounted upgrades through in-app messaging for maximum attention and effect.
And for those of us who make software for the enterprise and the consumer, in-app messaging lends a valuable way to message consumer users about software updates and patches that they're responsible for – while they're using the software.
Boosting sales, loyalty, and retention
Every product manager knows that the things we think are the coolest about our new product releases may not necessarily be recognized as such by our customers. What's more, some of the biggest challenges our customers face is getting more value out of the features they've deployed already. And doing that makes them much more likely to look to you for additional functionality.
In-app messaging is a great way to educate our users. By looking at data from usage analytics, we can figure out what they're using and what they're missing, and target outreach through in-app messaging that features content and advice on functionality they should check out. What's more, we can figure out what functionality users leverage the most, and send targeted, rich educational material on how to maximize use – including customer stories, how-to videos and more.
Perhaps most importantly, product usage analytics and in-app messaging allow you to evolve your user outreach as the data informs it – preventing zombie-like messaging that will at best go ignored and at worst distance you from your customer base. For more information on in-app messaging, be sure to check out our ebook, A Product Manager's Guide to In-App Messaging to Engage, Convert and Delight Users.