The software industry suffers from disjointed processes between suppliers and buyers. Often there's disagreement and confusion on what has been purchased, what is used and what is owed. Many of these disagreements are a consequence of a lack of transparency and visibility. Producers don't have enough visibility into how their products are being used, lack important information about their customer base and rely on manual processes to manage their software products. Enterprises on the other hand invest a lot to make sure they stay in compliance with software license agreements, keep their software secure and up to date and prevent wasting budget on assets they are not using.
Risk, waste and inefficiency are posing challenges to software producers and buyers. To become more efficient and more successful, many producers are working on a more consolidated and automated software business and are taking on more responsibility for their customer's success.
We have identified areas that are especially critical to the software supply chain. The Seven Tips that will be covered in this series of blog posts help software producers create a highly efficient and seamless software supply chain which is the backbone for business success.
Tip 1: Consolidate Your Software Business

Many software producers and intelligent device manufacturers today have different software product lines that are managed and developed in silos. Products are built on different platforms, use different licensing and protection technologies, and are monetized and distributed to customers in various ways.
This duplicates efforts in development, operations and customer support, makes the software business more vulnerable to security issues and leaves customers with a disjointed experience, especially when they are using more than one product. As a software producer you might find it hard to manage all customers and their entitlements across product lines, to control and report on compliance and to manage upgrade and renewal processes.This gets even harder as your software business grows – organically or through acquisitions – and new products are added.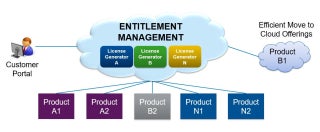 Consolidating the software business under the umbrella of a central entitlement management system helps mitigating these challenges. Whilst it doesn't require the consolidation of your software products as such, it instantly enables you to manage customers and entitlements across products and to integrate and automate licensing processes. New software products – on-premises or in the Cloud – can be included easily which shortens the time to market. And most importantly you provide a more consistent customer experience by providing enterprise customers with a central customer portal for all the products they are using.
In our next tip we'll discuss how you manage what's in your code and get a grip on Open Source and 3rd party software – Stay tuned!
Readers also liked: