Software producers often wonder whether they need a dedicated back-office application to facilitate software licensing and software entitlement management for the applications they sell in the marketplace. This blog explains where software entitlement management fits within an application producer's IT portfolio.
Implementing an entitlement management system
There is no denying that software entitlement management is a specialized and complex process. If entitlements are not managed well, it may give rise to severe revenue and customer satisfaction implications including IP leakage, license overage, and the possibility of significant service overheads. You can implement entitlement management software system processes in various ways:
Extend a ERP, CRM or service application

Develop a ground-up homegrown application

Buy a COTS (commercial off-the-shelf) application
The entitlement management process
Software entitlement management, irrespective of what implementation path you choose, is a critical, independent and integrated component in your IT application ecosystem. It deserves the rightful treatment in terms of investment and executive attention that would typically extend to a Tier I IT application.
The following illustration shows a generic Order to Entitlement process software application producers may employ. The diagram depicts how entitlement management systems play a prominent role throughout many stages. Your specific scenario and IT application portfolio mix or directory may or may not resemble this entitlements process flow exactly, but probably has some parallels.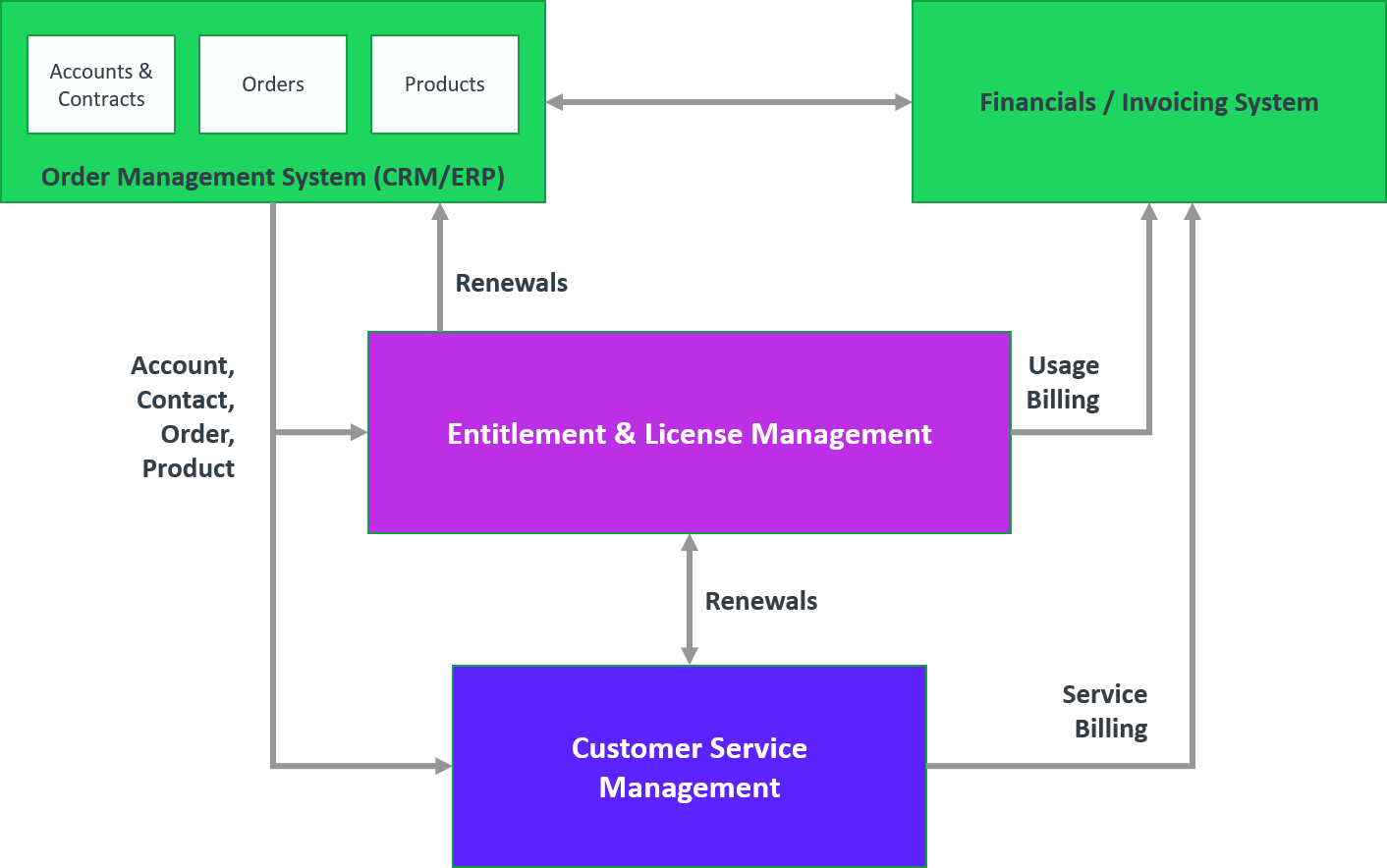 The Order to Entitlement management process starts off in the Order Management system (CRM or ERP) where a sales order is booked when the customer buys the product. The order is transferred to the Entitlement Management application along with account and contact details, where necessary entitlements are created for customers to perform software downloads, and control activation and lifecycle activities. Similar information may also be transferred to the Customer Service application so that customers are registered for the service they are eligible for.
If you have a product lifecycle management (PLM) application where you maintain products and product hierarchies then you can load the product data into the entitlement management system via web services or a file-based upload. Product data can be manually entered and maintained in the Entitlement Management application as well.
If your company offers usage-based or subscription-based software licensing, the Entitlement management application sends usage information (in particular, entitled versus actual) to your Financials application for invoicing/billing. The Customer Service application interacts very closely with the Entitlement Management application during entitlement fulfillment, and more prominently, for maintenance renewals or upgrades. In some cases, renewal information is also sent to the Order Management application for creation of service orders.
Manage entitlement like SCM software licensing
Business process flows across enterprise applications may have variations depending on your specific business requirements. By and large, the entitlement management application holds a key set of information pertinent to customer entitlements and absolutely needs tight integration with other major enterprise applications.
In short, Entitlement Management facilitates business functions similar to a conventional Supply Chain Management (SCM) software for application producers. Entitlement Management Software can either co-exist with your SCM application or provide basic SCM-like functionality on its own. Hence Entitlement management should be given the equivalent management focus and investment you would provide to your supply chain application. This is true whether your company is an Independent Software Vendor (ISV) or an Intelligent Device manufacturer (IDM).
Revenera offers the world's leading software licensing solutions and Entitlement management solution that has evolved over several decades just like SAP or Oracle in the SCM field and encompasses industry-specific best practices from years of experience in the highly specialized licensing domain.
We have published several posts about software licensing and software entitlement management. Check out this list for some of the relevant reading on these topics.
Common Software Entitlement Questions
What is an entitlement management system?
An entitlement management system manages a user's access to specific resources. When used to manage software, an entitlement management system works in conjunction with a license management system, and ensures that software licenses are properly issued, enforced and revoked where necessary. An entitlement management system converts orders into entitlements consisting of license rights that customers can then consume, transform and manipulate – within the terms of the purchased license rights.
What are entitlements in software?
In general, an entitlement is the right to something. When it comes to software, an entitlement is the right to use and/or access software. A software entitlement is typically purchased for the use of particular software, and enables software vendors to manage software usage, monitor license compliance and maintain product data. Entitlements are a record of license use rights or rights to a service, as defined through agreements between a software user (or recipient of service) and a software producer (or service provider).