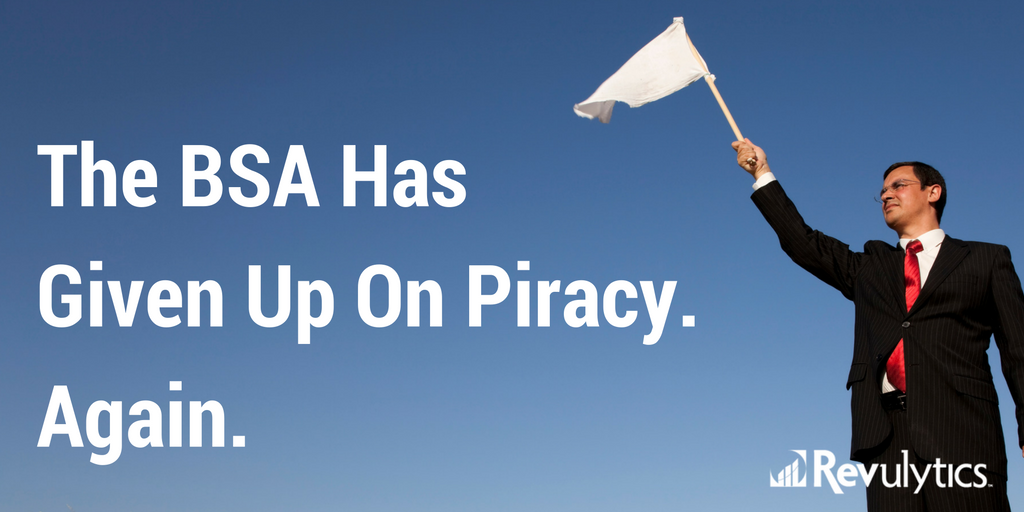 Thoughts on the May 2016 BSA Global Software Survey
Feel free to pregame for this blog post/rant by reading my response to the last global software study published by BSA | The Software Alliance in June 2014.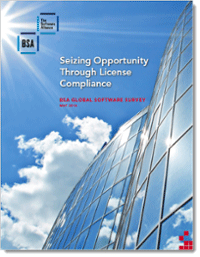 Still here? Good. I assume you have also seen the latest BSA Global Software Survey and were left scratching your head, too? For the second survey in a row, the (once?) cornerstone research from the BSA never uses the word piracy and spends a good deal of editorial capital talking about cybersecurity and the benefits of software asset management.
OK, I get it. The term "piracy" has fallen out of favor and "unlicensed software" is more inclusive (covering both piracy and overuse). But after reviewing the methodology section, it looks like the formula is the same one that the BSA used to measure piracy rates – making me wonder if their use of the term "unlicensed software" is more restrictive and only covers pirated software.
Why am I (seemingly) getting hung up on semantics? It's because the title of survey, "Seizing Opportunity Through License Compliance," had initially raised my hopes that the BSA had seen the light and was finally taking the same stance that Adobe (and our customers) have taken: piracy is an opportunity to grow your customer base.
Instead, the BSA employs FUD (fear, uncertainty and doubt) around cybersecurity and malware (see iTWire's "BSA Still Peddling Tired FUD About Piracy" for an interesting assessment of the malware angle). It also shifts the burden of effort and responsibility onto users to suss out the authenticity of their software by focusing on software asset management and employee education:
"Not only are enterprises incurring unnecessary [cybersecurity] risk by failing to manage their software assets closely, they're also missing out on cost savings. The potential efficiency gains associated with careful management of software assets can be significant. Studies have shown that properly managing software can lead to real cost savings — as much as 25 percent — by driving out hidden inefficiencies from over-licensing applications or  harboring unused software." (emphasis in original)
Seriously? Adobe can alert users that their software is unlicensed. Our CodeArmor Control customers can also use in-app messaging to alert users to this fact, and our CodeArmor Intelligence customers use the data they collect to reach out to infringing organizations. All of these vendors are reaching, educating, and converting these users of infringing software into paying customers. They recognize that 83 percent of pirates in mature markets are legally-inclined victims of piracy who will pay vendors for their software.
Combine this with BSA's calculation that the commercial value of unlicensed software in use in Western Europe and North America is $20.5 billion, and there is tremendous opportunity for software vendors (by comparison, Asia-Pacific tops all regions in the commercial value of unlicensed software in use at $19.1 billion). In the process, they are also providing value to customers: replacing infringing software with licensed copies reduces their cybersecurity risk and they have a more accurate assessment of their entitlements (from which they can identify inefficiencies).
One more point. I'm all for education (isn't that why I write these blog posts?), so I agree that the industry should engage in awareness campaigns to educate users about unlicensed software. An educated consumer is an empowered consumer, and we want our customers to make informed decisions about software.
So what about the actual numbers from the survey (which used to be prominently featured on the first page of the survey and are now found on page 5 after the cybersecurity discussion)? Here are the findings:
"A modest decrease in unlicensed software use" dropping from 43 percent to 39 percent
"Accompanying the global decline in the use of unlicensed software was a corresponding drop (4 percent in constant-dollar terms) in the commercial value of unlicensed software to $52.2 billion" (the May 2014 report cited a commercial value of $62.7 billion)
Bonus Fun Fact: The United States has the lowest piracy rate (17 percent) but the highest commercial value of licensed software ($9.1 billion)
I've always viewed the numbers from the BSA's reports as useful, big picture metrics for the industry. In that regard, it seems like progress is being made in reducing the use of pirated software. But individual software vendors need to measure the impact (and opportunity) for themselves, and adding software intelligence to their efforts enables them to do just that.