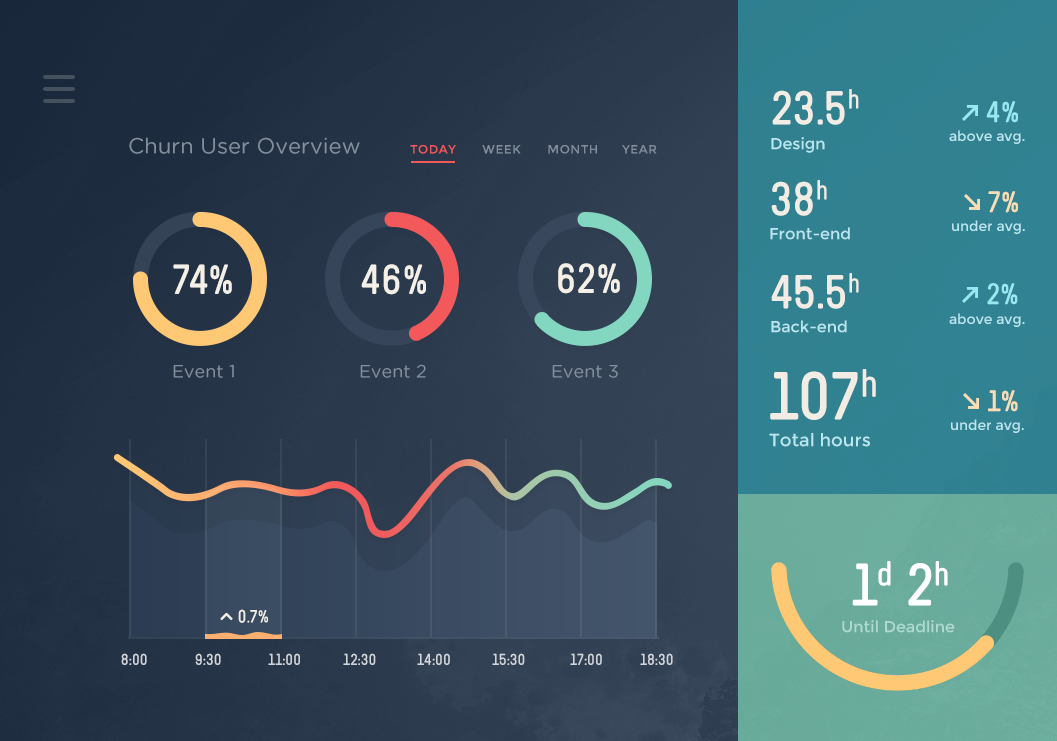 Having an efficient mechanism to measure churn (a.k.a. User Attrition), and learn about what is triggering users to move away from your product is crucial in improving your conversion and retention rates. With Trackerbird's new Churn reports you will now get detailed Churn and Engagement analysis related to lost users.These new reports are designed to help you understand how sticky and/or attractive your software is with various user groups and which product features are falling short of satisfying customer needs. You can use this intelligence to identify trends and usage patterns leading to lost users. This will help you identify and focus on problematic areas to improve your churn rate and monetize on lost users.
The great thing with using Usage Intelligence is that once you integrate the basic SDK with event tracking (which typically involves less than 1 hour of development time), all the Churn and Engagement metrics are collected automatically and presented in out-of-the-box specialized reports within the Business Intelligence dashboard.
Here is a brief overview and screenshots of the 3 brand new reports which are immediately available to all customers via the new Usage Intelligence dashboard:
Churn and Engagement Report

How long does it take users to walk away from your product?

Churned User Profile Report

Who were your lost users and what platforms and machine type were they running?

Churned User Activity Report

How intensely were they engaged and what Features did they use before walking away?
All Usage Intelligence customers can immediately benefit from these reports by logging .
1 – Churn and Engagement Report
This report analyses the day by day engagement of all your lost users from when they install your software until they churn. This will show you at what stage in their evaluation/lifetime users are dropping off. By splitting data by various properties you can use Cohort Analysis to identify how Churn and Engagement trends vary by region, edition, version, language, license type or other user & hardware properties.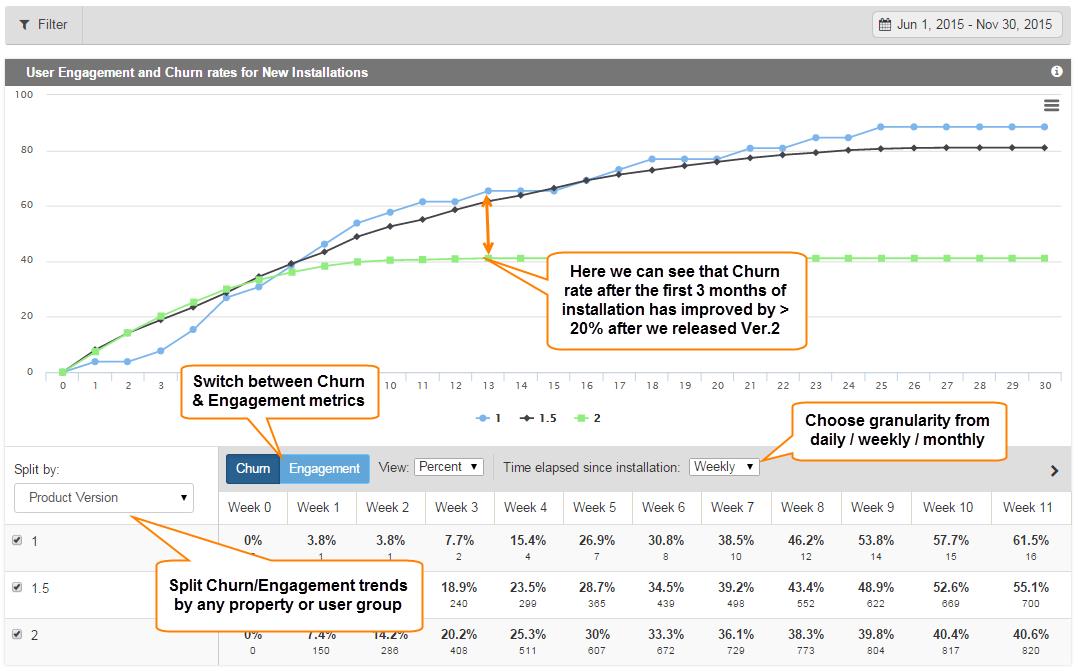 2 – Churned User Profile Report
This report gives you detailed profile information about your lost users. When you select a date range, Usage Intelligence will analyze each and every one of your users who were declared lost (churned) during that daterange and gather all the latest known profile information from those users before they went missing. All the data is presented in a single combined report showing:
What version, edition and build number of your product they were running.
What type of machine they were using together with their OS platform and Language
The last known geo locations of these lost users
The license type and license key status
Architecture details related to CPU type, Memory, Monitors and Resolution
If you make changes to your product and want to see how your change affected the churn rate of a specific version or build you could use Filters to drill down into specific user groups. This information will help you easily identify patterns making up your lost users so you can immediately focus on tackling the problematic areas.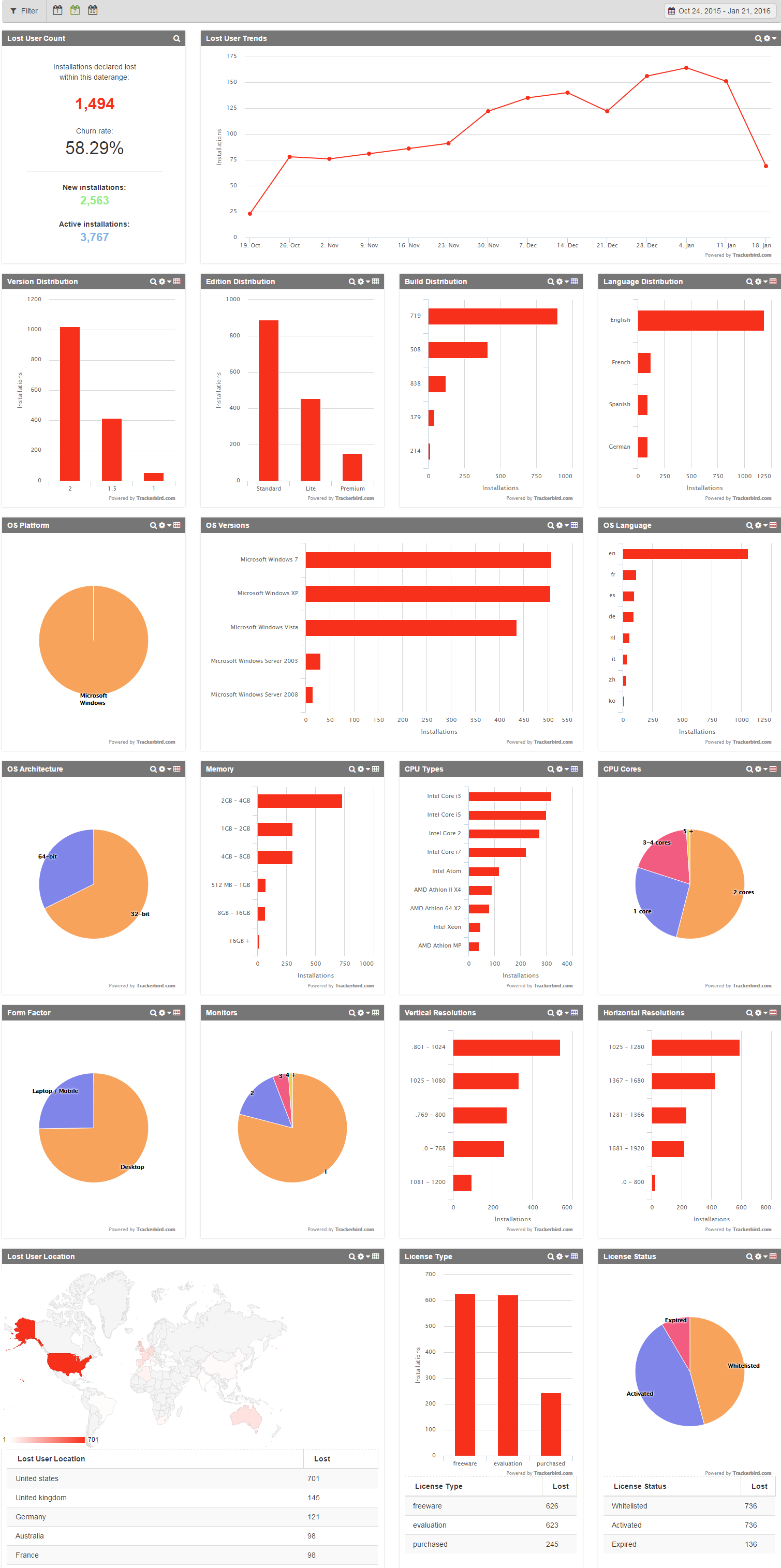 3 – Churned User Activity Report
The aim of this report is to identify what type of activity and usage trends are common among lost users. Amongst other things it relies on advanced event usage tracking to answer the following questions:
How often do users run my software application before dumping it?
How many days/sessions/hours of runtime does it take a typical evaluation user to dump my software?
Which features are heavily used by Churned users?
Which features are never discovered or used by Churned users?
Knowing exactly what causes users to turn down your product will give you the power to improve your product's failing points increase your conversion rates and in return monetize potentially lost business.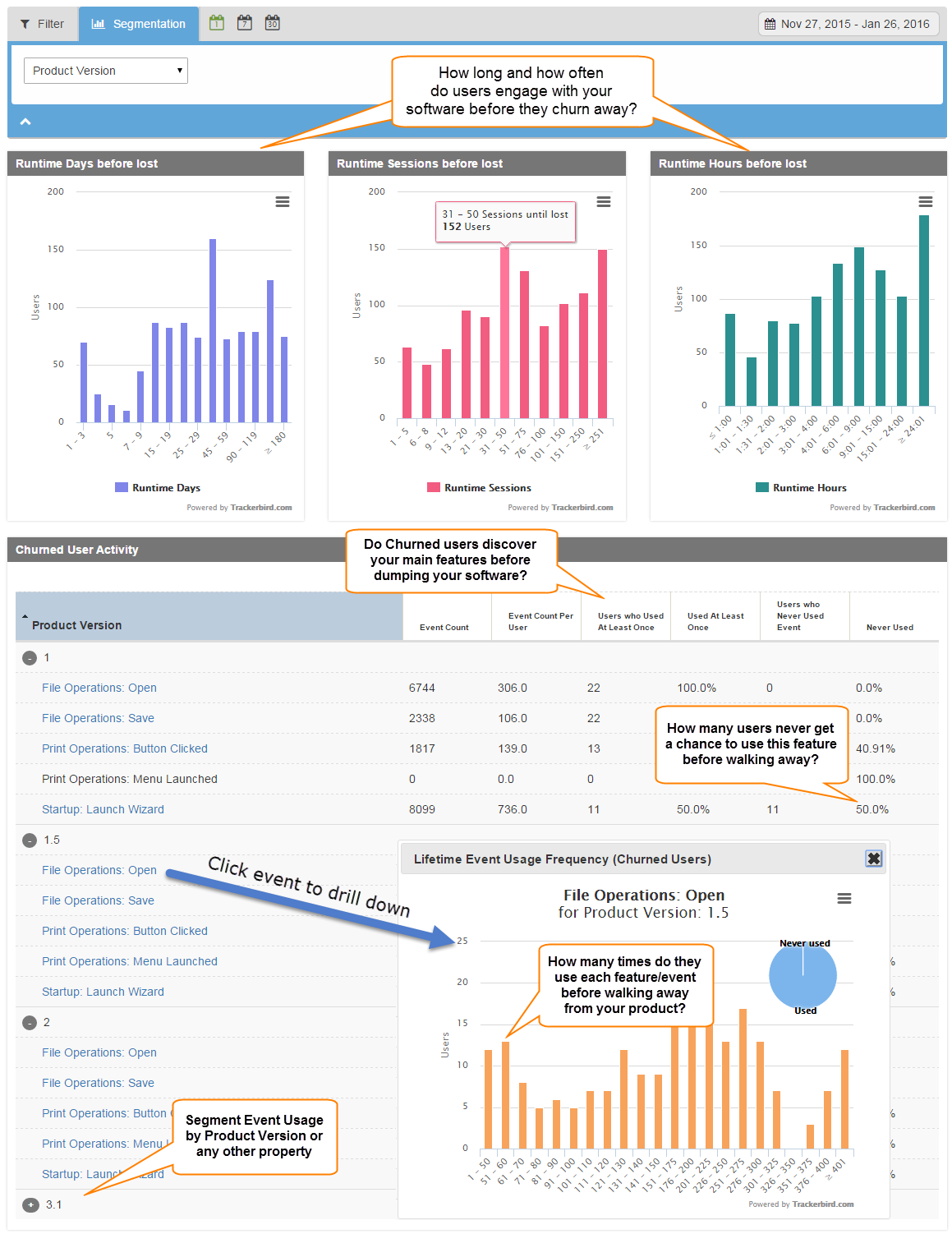 Monetize lost conversion revenues via Reachout™ in-app Marketing
Once you have drilled down into the churn metrics to identify usage and conversion patterns, it is time to  take advantage of ReachOut in-app marketing and messaging framework in order to boost your conversions and monetize lost revenues.
Register a Free Usage Intelligence Account
In order to benefit from these Software Churn Analysis reports and other software analytics and runtime intelligence dashboards, all you need to do is register a free Usage Intelligence account and integrate the Usage Intelligence SDK with your software. We guarantee you will be up and running in less than 1 hour and if you need any help our efficient Support Helpdesk is just a click away!