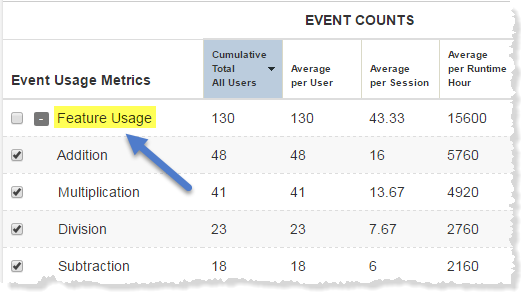 Lifetime Event Usage is a measurement of the number of times that a user generated an event throughout their lifetime, i.e., starting from when the tracked application was installed until the last time that the user was active. The aim behind this is to gain an understanding of users' awareness and interest in a particular feature while engaged with the software.
In this blog post we will provide an overview of the Lifetime Event Usage report and discuss how this report can be used to analyze user activity based on their lifetime event usage.
Lifetime Event Usage Report
The Lifetime Event Usage report can be accessed by logging in to the Revulytics Usage Intelligence Dashboard and navigating to Feature & Event Tracking > Lifetime Event Usage.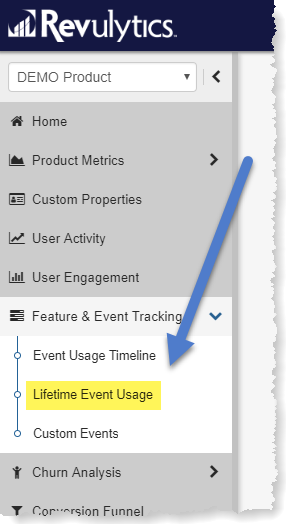 An important aspect to keep in mind when using this report is that it reports on those users who were active in the selected date range, but the statistics are based on how much an event is used during those users' lifetime. Through this report you can see:
The percentage of unique users who generated the event vs. the number of users who never generated the event.
The total number of times that an event has been generated by all users.
Out of the users that generated the event, how many times the event was generated in their lifetime as well as average daily, weekly and monthly statistics.
Data is presented in a tabular view as shown below, with the ability to drill down on selected events to build a graphical view of the event usage distribution.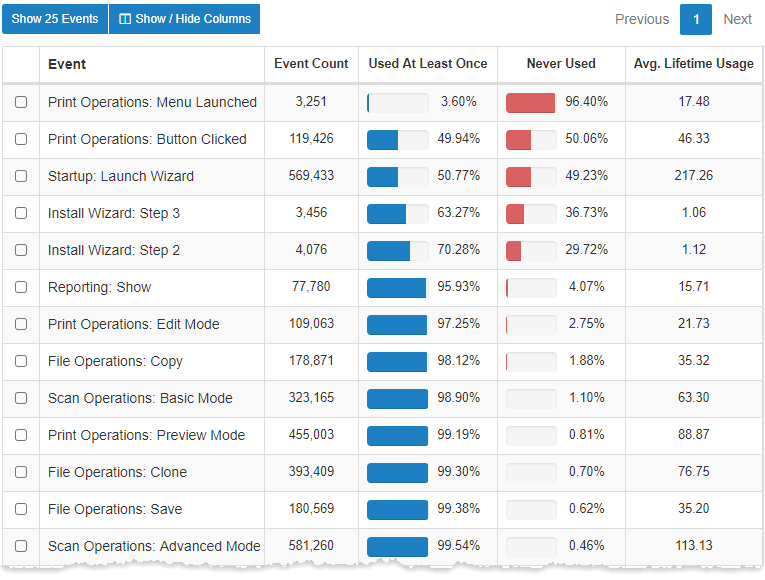 These statistics are available for all the events enabled for standard tracking. You can manage which events are being tracked by going to the Admin page from the top menu and under Product Settings click on Event Tracking Whitelist Management.
Furthermore, the report supports both filtering and segmentation. This allows you to analyze event usage for different cohorts and help you to identify usage trends among your users.
Here are some simple use case examples for using this report:
Example 1 – Your product has two ways of opening a file, either from the 'File Menu' or by using a shortcut. Using this report, you can compare both events to find out which of them is more popular as well as what portion of users never actually find out about or use the shortcut option at all.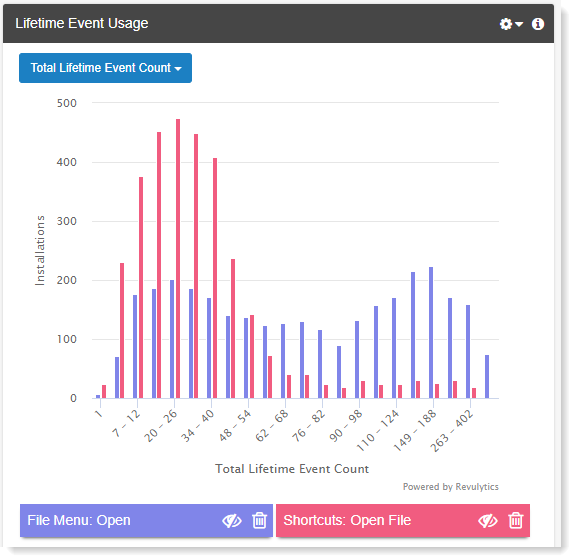 Example 2 – The latest version of your product included UI changes to make the export functionality more visible. Through this report you can gauge how effective these changes were by grouping the events related to export and comparing usage statistics of the current version with the previous one.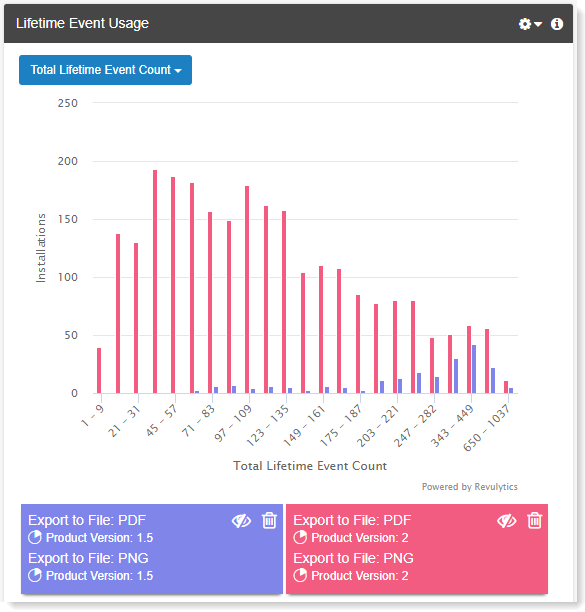 Example 3 – You may also compare event usage based on different properties, such as users who have a freeware license with those using the Lite edition of your product.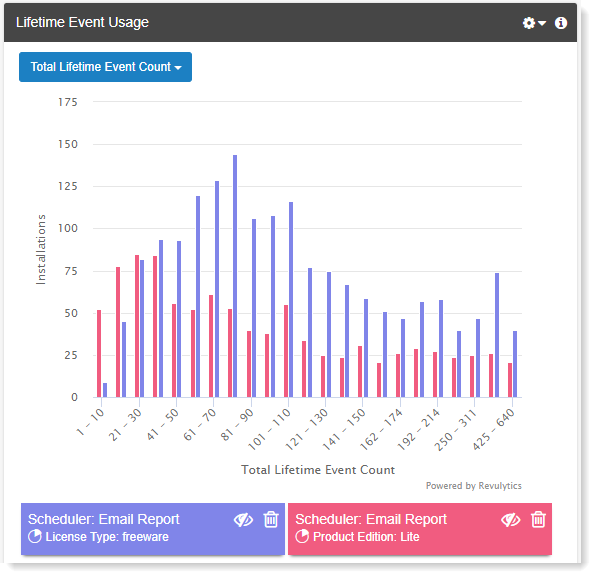 Report Customization
The Lifetime Event Usage report comes with various settings that allow you to customize your view of the report. To access these settings, open the widget context menu and select Report Settings.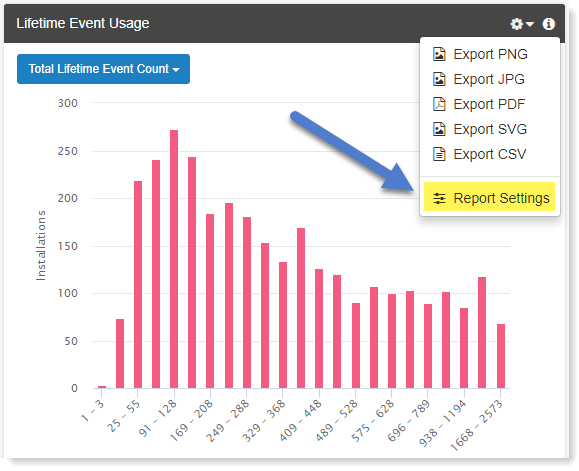 The Report Settings include:
Choose between a flat view which displays the category with each event or a hierarchical view which groups events by their category.
Sort events and segments alphabetically, by the number of unique users that generated the event, or by the total event count for all users.
Select which events to include in the report. This is useful when you want to focus on a set of events only. Selecting a category will automatically add all events that fall under it.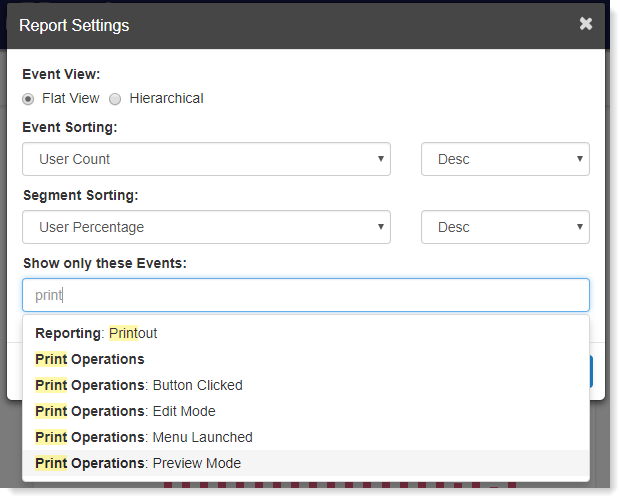 Lifetime Event Usage for Churned Users
The Churned User Activity report makes use of the same lifetime event usage concepts described in this blog post but applies exclusively to lost users, i.e., users who have stopped using your application. This allows you to analyze event usage trends for churned users and helps you gain an understanding of users' behavior before they are declared lost.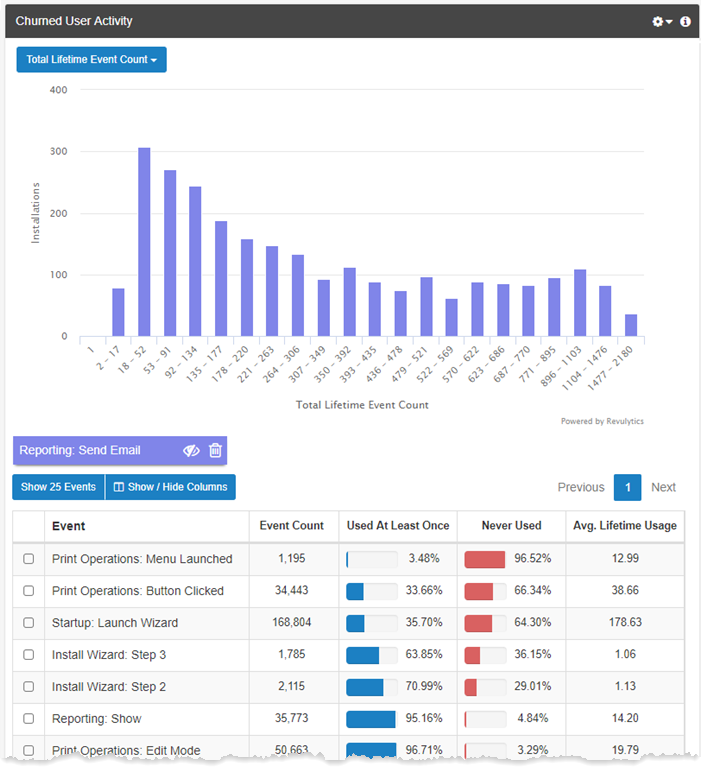 This report can be accessed from the Revulytics Usage Intelligence Dashboard by going to Churn Analysis > Churned User Activity.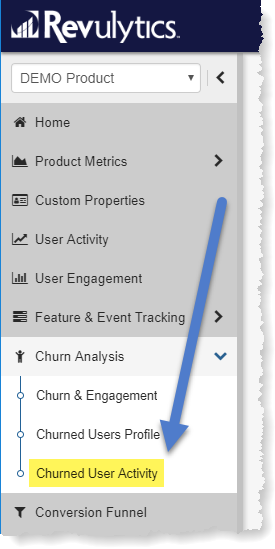 Explore Lifetime Event Usage Analytics
Sign up for a free account to gain access to a Demo Product and explore these reports using sample data.
Need further information? Contact us and we would be happy to walk through your questions or schedule a demo.