You've reached an archived blog post that may be out of date. Please visit the
blog homepage
for the most current posts.
What's the most pressing challenge that puts a crimp in the average application developer's workday? Impossible deadlines? Pesky distractions? Not enough caffeine? A recent survey, conducted by the third-party research service TechValidate, asked InstallAnywhere users to rate the top challenges they faced when building multiplatform installers (hint: lack of caffeine didn't make the list).
Top 5 Challenges 
Here are the top 5 challenges and concerns reported by application developers prior to implementing InstallAnywhere to create their multiplatform installers: 
Spending too much time creating custom installers for each platform
Inconsistent or unreliable installation experience for customers
Spending too much time building installs versus building product features
Inability to stay on top of changing requirements for new technologies and platforms
Pressure to get software applications and updates to market faster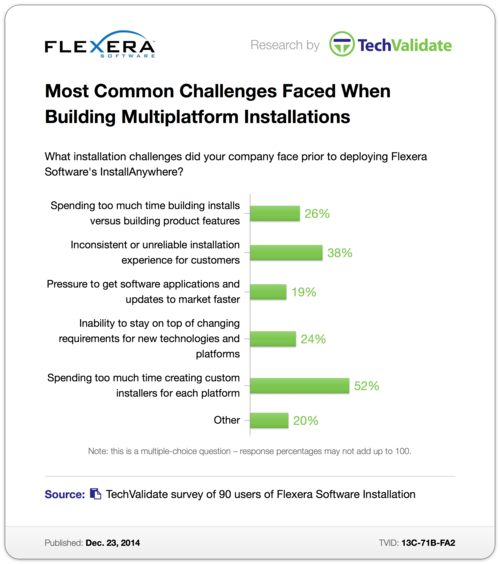 Do you agree or disagree? Let us know how your experience with InstallAnywhere compares to the survey results. 
InstallAnywhere is the leading multiplatform development solution for application producers who need to deliver a professional and consistent cross installation experience for physical, virtual and cloud environments. From a single project file and build environment, InstallAnywhere creates reliable installations for on-premises platforms – Windows, Linux, Apple OS X, Solaris, AIX , HP-UX, and IBM iSeries – and enables you to take existing and new software products to a virtual and cloud infrastructure.  Get your free trial of InstallAnywhere or contact us for more information.
InstallShield® is the world's leading Windows installation development solution. InstallShield is designed to enable development teams to be more agile, collaborative and flexible when building reliable InstallScript and Windows Installer MSI installations for desktop, server, Web, virtual and traditional applications. The software installer of choice for today's sophisticated application producers, InstallShield is the only software installer that can directly convert MSIs to Microsoft App-V virtual packages. Get your free trial of InstallShield today or contact us for more information.