Frost & Sullivan analysts have published a new study into the changing landscape of software license enforcement, and how solution providers are helping software producers adapt to increased demand for SaaS deployments and intelligent devices.
The software enforcement market is forecast to more than double over the next six years, as software suppliers transition from homegrown licensing to specialist third-party integrations that can improve entitlement management and monetization strategies.
The following have been identified as key drivers in the rise of software license enforcement:
Hybrid Workforces: The post-pandemic shift to the 'new normal' of remote work has increased the need for publishers to ensure easy access to correct versions for authorized users
Value Chain: The ability to offer flexible deployment and entitlement options is crucial to growth, while usage analytics can support renewals and highlight upsell opportunities
Industrial Transformation: The evolution of automated manufacturing and the Industrial Internet of Things (IIoT) has created demand for advanced license management
Ultimately, adopting electronic license enforcement allows you to future-proof your product; customers expect solutions to fit emerging use cases so you need to be adaptable, while usage analytics can provide actionable insights to strengthen revenue operations.
For most, the debate isn't whether or not to embrace modern software license enforcement, but whether to build or buy your solution. While some software companies may find it counter-intuitive to outsource a component that could be developed in-house, the forecast suggests publishers will increasingly turn to mature third-party tools so in-house teams can focus on core competencies.
Here's a preview into other findings from the Global Analysis Report:
Breaking Down Barriers
Although the outlook is bright for Software License Management (SLM) vendors, some near-term challenges need addressing before publishers start adopting purpose-built enforcement solutions at even greater pace.
One of the most revealing insights from the study is how difficult it can be for software development teams to get executive approval for technology investments, especially when there's a lack of ownership surrounding the product monetization strategy.
Siloed initiatives across engineering, operations, and leadership can stall progress, and advocates for a commercial licensing system can find it hard to get voices heard and decisions made.
However, the report suggests key stakeholders are far more likely to take positive action when your proposal outlines a clear return on investment, so it pays to be armed with relevant case studies if you find yourself in this position.
(Hint: Our Software Monetization Case Studies make for compelling reading.)
While caution may persist among those who currently operate homegrown licensing, legacy systems are notoriously expensive to maintain, so concerns about the upfront cost of third-party integrations are expected to fade within the next few years.
Software License Enforcement Trends
The evolution of software license enforcement should see hardware licensing (i.e., dongle enforcement) continue to decline, with software enforcement expected to equate for 76.6% of the market by 2028.
While dongles still have a presence – particularly in emerging markets such as Asia and Latin America – software enforcement will continue to eat away at this segment as audiences become more familiar with the benefits on offer.
For example, when it comes to adding a new licensing model to homegrown systems, a whole development cycle can evaporate on this single initiative, putting pressure on engineering teams, impacting roadmaps, and delaying product releases. However, specialist enforcement tools are much more agile – allowing you to implement changes with relative ease.
Additionally, chip shortages and post-pandemic supply chain issues have caused major disruption to the manufacture and delivery of dongles, with delays of 3-6 months common in some parts of the world, whereas software enforcement doesn't entail such physical challenges.
Primed for Growth
Somewhat surprisingly, the report states many SaaS publishers have been slow to adopt software enforcement, even in the mature regions of North America and Europe, but this is predicted to be fertile ground as SLM vendors continue to educate on the value of increased flexibility, scalability, analytics, and how entitlement management can support the move to SaaS.
As the global device manufacturing, cloud services, and software industries are primed for growth – even in otherwise uncertain economic times – the demand for electronic software enforcement is only set to become greater.
Market Leadership Award Winners
As part of their 2022 Best Practices Awards, Frost & Sullivan announced Revenera as Global Market Leaders in the software enforcement segment of the software license management industry.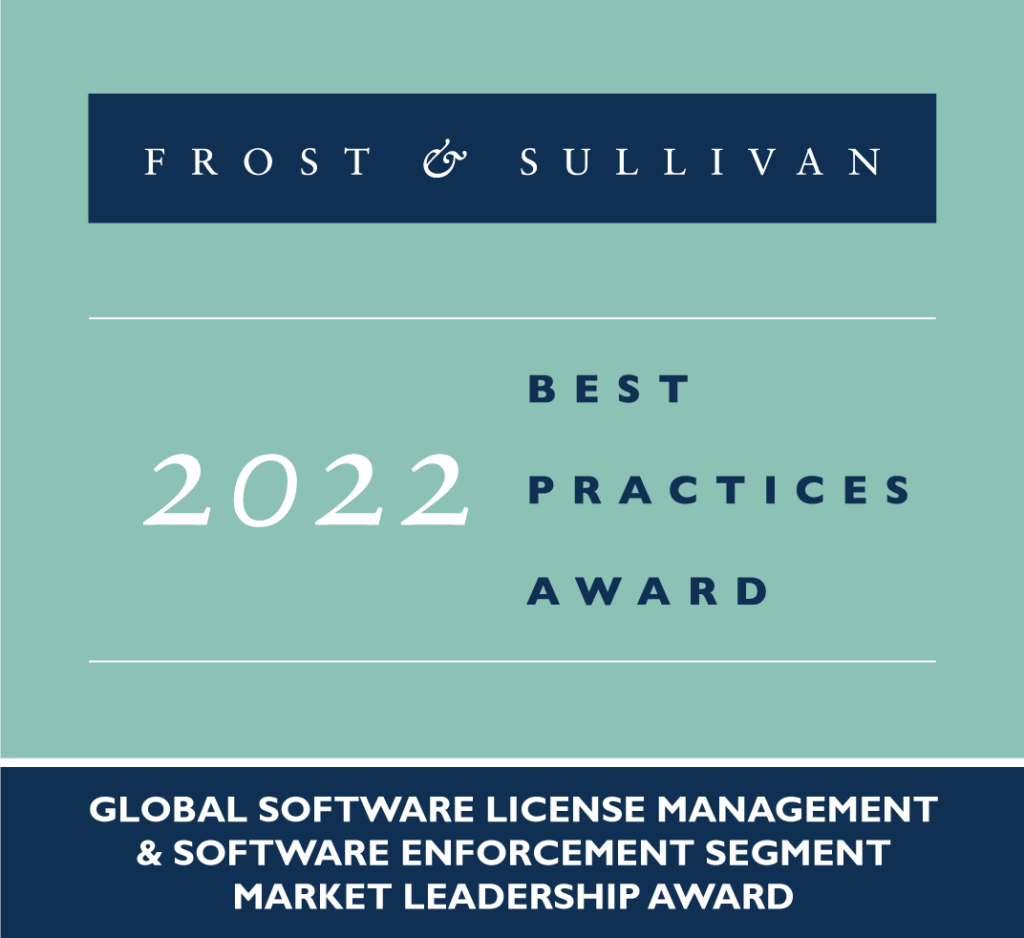 Revenera earned the Market Leader Award by excelling in the following key areas:
Implementation Excellence: A flexible monetization platform that meets changing customer requirements as suppliers move from on-premises deployments to SaaS, and from perpetual licensing to subscription and usage-based models
Product Differentiation: Allowing suppliers to gain control of their customers' license compliance and measure usage patterns, enabling greater understanding of user behavior and easier implementation of new business models
Customer Service Excellence: Acting as a partner for customers throughout each stage of the implementation process and maintaining strong ties with the customer community
To learn more about how Revenera earned the 2022 Global Market Leadership Award and what the future holds for software license enforcement, you can read both the Global Analysis and award reports.