As producers are moving to subscription software licensing models and hardware vendors are starting to sell software maintenance, keeping high renewal rates is the next challenge. I worked with large software vendors in the early 2000s and helped them increase their renewal rate from less than 40% to over 85% in about 5 years, adding close to $1B in bookings per year!
I recently was working with a software producer that was worried about "maintenance leakage" where they find that more of their customers have the latest version than customers on active maintenance. They estimated a yearly revenue leakage over $200M – these aren't insignificant losses!
One important lesson I learned is that there isn't one silver bullet – instead, getting to higher software licensing renewal rates requires some specific actions. As the first of a multi-part series, I've provided some factors to consider for your software licensing renewal management process and some tips within each to help you drive revenue and improve customer satisfaction with higher renewal rates. First up are product and purchase factors:
If you have a low initial maintenance purchase, then renewing 90% of a 20% adoption isn't going to lead to piles of gold. So the first task is to ensure that all your customers purchase maintenance.
Tip #1: Provide a Valuable Product
You may follow every step below I'll prescribe in this series and have the best renewal process in the world – but none of that matters if your product doesn't provide value.  Sometimes product managers and executives seem to forget this important rule.
Tip #2: Clearly define maintenance
Bundle "support" and "upgrade" together under maintenance. Don't offer support separately to avoid customers just purchasing support but not maintenance.
Tip #3: Make maintenance purchase "automatic"
There are a number of tricks to make this happen:
List price includes the license and maintenance (they aren't separated)
Ordering tools automatically add maintenance products in the shopping cart. Users must delete the maintenance line items (if you don't want to mandate maintenance-just encourage it)
Tip #4: Co-terminate on additional purchases OR at next purchase OR at renewal time
There is nothing more confusing to a high-volume buyer than to receive software license renewal notices every few weeks or months for different purchases. Several approaches avoid this "renew everything at different times":
Co-terminate to the first end date for each subsequent order. This is pretty common. It does require some type of "contract #" or "initial purchase #" with each purchase so sales can find that original date. The disadvantage is that each subsequent order is smaller.
Move the date of the previous purchases to the new purchase. This does require that each additional purchase include a "renewal" for the previous purchases. The advantage is that each order is a little larger.
Don't try to co-terminate on subsequent orders – only co-terminate at renewal time. Doing it at renewal time is more flexible but requires great entitlement/data tracking. The process needs to be done every year.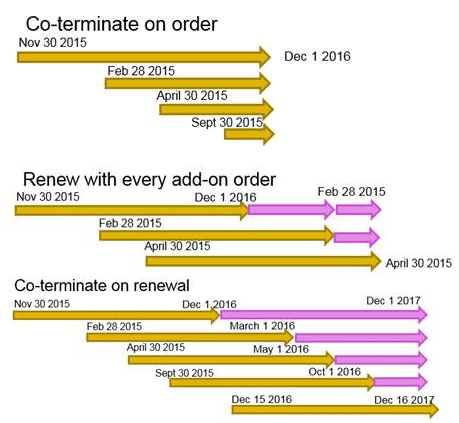 Tip #5: Make maintenance/renewal dates available for self-service so end customers can budget for them
To avoid the "but I didn't budget for this renewal and my fiscal year is in 2 months, can you just push out the renewal until then," it is critical that maintenance end dates are visible to the customer in a self-service mechanism. Showing something like this is important: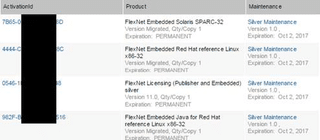 Tip #6: Consider making maintenance information as part of your license so end users can be notified
Consider making the maintenance end date part of your licensing technology so that end users or IT administrators can be notified in the product that their maintenance is expiring.
For consumer-style products, we've seen some success in making the consumer aware that their maintenance is going to expire soon.
For products that are expensive and often purchased centrally by people other than the users, this approach may be detrimental as notifying the end user instead of the IT or central purchasing, may upset your customers.
If you do go with this strategy – remember that you will need to get new licenses to the product upon renewal – which makes the software licensing solution a critical component for good customer satisfaction.
We've recommended that producers generate "product maintenance" license features which carry the expiration date. This avoids accidentally turning-off a product or preventing an upgrade when some procedural error or except needs to occur.
Want More? Watch "Best Practices for Ensuring Success with Software License Renewal Processes"
Continue reading – Part 2 of this series.