Protect Your Project From OSS Vulnerabilities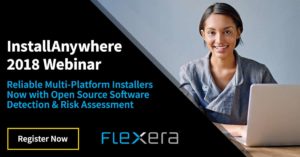 In this complimentary webinar, learn about the latest enhancements to InstallAnywhere 2018. This release showcases InstallAnywhere 2018 as your first line of defense against OSS security and IP compliance risks with a quick scan of your project.
NEW Open Source Software Detection and Risk Assessment*
Make InstallAnywhere your first line of defense against Apache Struts 2 and other known OSS vulnerabilities. One fast, automated scan identifies OSS components in your project. Know your license obligations and make informed ship/no-ship decisions.
NEW Be Java 9 Ready
Easily create robust installations with advanced support for Java 9. Be more efficient. Quickly detect and automatically run Java 9 VM on the host or create and bundle Java 9 VM packs.
NEW Completely New Designer Interface
You said you needed a better user experience and we listened. InstallAnywhere has a fresh, modern look to give you the engaging and professional experience you've come to expect from a software leader.
ENHANCED Save Time on Upgrades or Modifications
Create installers that can use a combination of upgrade, maintenance, and instance management functionality. On a machine with multiple instances, choose which operation to perform for each one– upgrade existing versions or run maintenance to add/remove features.
And now InstallAnywhere 2018 is one single edition. That means Pro and Premium customers will gain ALL of the powerful features of Premier – Virtualization and Cloud pack.
*InstallAnywhere includes a free, one-year subscription to FlexNet Code Aware.