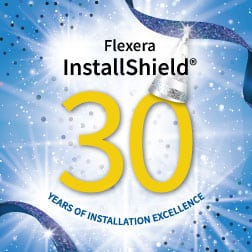 With the pace of technology today, what we're commemorating is pretty amazing.
InstallShield — 30 years of anticipating technology changes.
Today's InstallShield enables developers to build installers that support Microsoft's Desktop Bridge, the Universal Windows Platform and Windows Store.
And it all started with Viresh Bhatia and Rick Harold, working nights and weekends in an old library in the Chicago suburbs.
When the product was created in 1987, it focused on a simple but complex problem.
"As Windows emerged, the installation process on the Microsoft platform was complicated," Bhatia says. "Users had to read pages and pages of the manual before they could get their software up and running. We recognized a problem as an opportunity, so we developed a solution." – Meet the Original InstallShield Wizards, Chicago Tribune, March 1998
The business went from a part-time startup to a stellar success. When Microsoft endorsed it for use in Windows 95, expansion continued. According to Wikipedia, the company estimated that it was being used in 85 to 90 percent of all software products written for Windows.
Today, as part of Flexera Software, InstallShield remains a core tool for many development teams worldwide. Remaining one step ahead of technology, InstallShield's many milestones include:
Support for complex web/server applications
First solution to include application virtualization suitability testing
Ability to build suite installations
Ready for the transition to the Universal Windows Platform
With FlexNet Code Aware, identify potential OSS and IP security vulnerabilities
InstallShield continues to deliver the supreme experience in installations, making it easy for developers while providing a great experience for end users. We're proud of this global installation standard, used on 500 million PCs worldwide.
Join us in wishing InstallShield a huge happy birthday!