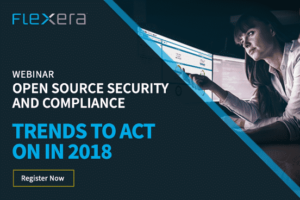 Open source technology is the engine behind artificial intelligence, the Internet of Things, blockchain, SDN and other new technologies that disrupt the way we do business. Successful companies manage to incorporate the code and culture of open source into their organizations actively and safely – and they benefit from innovation and a shorter time to market.
As organizations mature in their management of open source assets, there is more emphasis on how open source management teams work and how they fit within the larger organization. Join Amy DeMartine from Forrester and Flexera's Jeff Luszcz, as they discuss what 2018 will bring and what you should prepare for!
Software development is business development: Open source is an important business lever, manage it well.
IoT is everywhere: How to address security challenges in 2018.
Security compliance will get serious: Regulators are clamping down on security practices that put customer data at risk.

Jan 10, Wednesday – 10 AM CT (US)
Jan 17, Wednesday – 2 PM (Australia)
Jan 17, Wednesday – 3 PM (UK)
Register today to hear Flexera and Forrester Research as they discuss what's shifting in open source security and compliance in the coming year. Flexera will also discuss how the next generation of their Software Composition Analysis sets you up to be safe, efficient and ahead of Security and License Compliance.