View all press releases
For the Fourth Year, Flexera Software Named a Chicago Tribune 2016 Top 100 Workplace
Company's global success helps fuel Chicago's reputation as a technology innovation hub
---
Itasca, IL - November 21, 2016 Flexera Software, the leading provider of next-generation software licensing, compliance, security and installation solutions for application producers and enterprises, today announced it has been awarded a 2016 Top Workplaces honor by the Chicago Tribune.  The Top Workplaces lists are based solely on the results of an employee feedback survey administered by WorkplaceDynamics, LLC, a leading research firm that specializes in organizational health and workplace improvement.
Flexera Software employees were asked to complete a confidential survey on a variety of workplace satisfaction issues, and those results were benchmarked against the responses of the rest of the participating companies.  Several aspects of workplace culture were measured – including Alignment, Execution and Connection.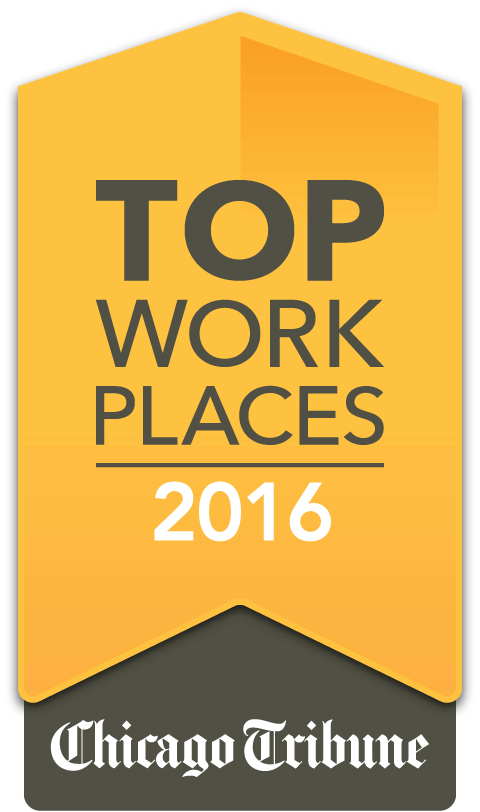 "Flexera Software represents what is great about the Chicago tech sector and the smart people working here.  With 900 employees worldwide, we have grown from start-up phase to become one of the largest and most successful privately held software companies headquartered in the region.  To achieve this success, we are serious about our products, people and culture, and we are very pleased to be recognized by the Chicago Tribune with a Top Workplaces award for the fourth time," said Jim Ryan, Chief Executive Officer at Flexera Software.  "The best part of this award is that only our employees influenced the results.  That truly speaks volumes as to what a great place Flexera Software is to work, grow your career and hone your skills."
Flexera Software is repairing the dysfunctional software supply chain, revolutionizing how software is bought, sold, managed and secured. The company's Software Monetization, Software Composition Analysis, Installation, Application Readiness, Software License Optimization and Software Vulnerability Management solutions, used by more than 80,000 customers worldwide, help software ISVs, Internet of Things (IoT) manufacturers and enterprises save tens of billions of dollars per year while reducing their license compliance and security vulnerability risks.
"The Top Workplaces award is not a popularity contest.  And oftentimes, people assume it is all about fancy perks and benefits," said Doug Claffey, CEO of WorkplaceDynamics.  "But to be a Top Workplace, organizations must meet our strict standards for organizational health.  And who better to ask about work life than the people who live the culture every day – the employees.  Time and time again, our research has proven that what is most important to them is a strong belief in where the organization is headed, how it is going to get there, and the feeling that everyone is in it together.  Without this sense of connection, an organization does not have a shot at being named a Top Workplace."
Follow Revenera
About Revenera
Revenera helps product executives build better products, accelerate time to value and monetize what matters. Revenera's leading solutions help software and technology companies drive top line revenue with modern software monetization, understand usage and compliance with software usage analytics, empower the use of open source with software composition analysis and deliver an excellent user experience—for embedded, on-premises, cloud and SaaS products. To learn more, visit www.revenera.com.
About WorkplaceDynamics, LLC
Headquartered in Exton, PA, WorkplaceDynamics specializes in employee feedback surveys and workplace improvement.  This year alone, more than two million employees in over 6,000 organizations will participate in the Top Workplaces™ campaign—a program it conducts in partnership with more than 40 prestigious media partners across the United States.  Workplace Dynamics also provides consulting services to improve employee engagement and organizational health.  WorkplaceDynamics is a founding B Corporation member, a coalition of organizations that are leading a global movement to redefine success in business by offering a positive vision of a better way to do business.
View all press releases
* All third-party trademarks are the property of their respective owners.