Unlicensed software is a multi-billion dollar problem for the software industry. Despite this, companies that take a pro-active approach to identify the users of their unlicensed software have a significant opportunity to recover revenues and add to their top-lines. KPMG recently surveyed 31 software companies representing more than 50% of the total software industry revenue. Almost 90% say their software license compliance program is a source of revenue and nearly half of the participants said their compliance programs contribute 4% or more of their companies' software revenues. If you're currently not generating revenue from unpaid software use you could be leaving considerable money on the table for your organization.

Wins in Emerging Markets are Crucial to Driving Next-Level Revenue
Focusing on easier-to-convert regions like North America and Western Europe can absolutely help you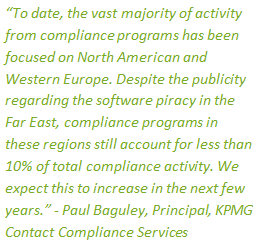 drive new license revenue fast (according to our CodeArmor Intelligence data, the United States is a top three offender for unpaid software use), but if you want to drive next-level revenue, you need to have a revenue conversion plan for emerging markets. Propelled by an increase of PC shipments to emerging economies, piracy rates in those countries (including the BRIC countries – Brazil, Russia, India, and China) have grown to 68% with software pirates in these regions installing nearly four times more software per new PC than their counterparts in the developed world*. If you want to take your compliance program to the next level, you need to have a recovery plan for these markets. This includes having the right partners, the expertise, and localization.
You Need An Escalation Process That Gets Results
We often say that you want to approach your customers with a carrot, not a stick. By creating an escalation process, you can minimize any negative impact on the relationship. No one wants to go to court; in the end your goal is to have a happy paying customer. Understanding how to approach each company and region is important. In the United States and Western Europe, this can include starting with localized warning letters clearly detailing the infringement. This softer approach allows your customer to true up without having to get the legal system involved. In BRIC countries, engaging with a letter is less effective, so getting your legal team involved from the start may be necessary. Having a defined process on how to engage and then escalate is required, but in order to escalate you need to a balanced coverage model to move infringers to the next step.
You Need a Balanced Coverage Model
Not every infringing organization should be approached the same way. There are different ways to respond to unlicensed use, and understanding each scenario and how to proceed is essential. There are several different pieces that can make up your revenue recovery ecosystem.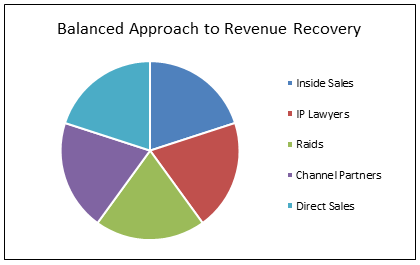 The first includes your internal team, both inside sales and direct sales. Direct sales already owns the relationship with the customer, which can be good and bad because they have a good rapport with the contacts already, but do not want to damage the relationship with reports of misuse. Your inside sales team can handle infringement leads at a much higher volume. They are highly educated on your message and reach out to infringing organizations with a soft approach. Because localization is so key, having a global network of outsourced partners like regional channel partners and IP lawyers are a necessary piece to deal with infringement leads that your internal team cannot handle. They are more equipped to handle the local language and local law. Lastly, a more formal process like a raid may be required in difficult to recover APAC countries to search the infringing organizations to find evidence to misuse. And speaking of raids…
Sometimes You Have to Raid
Carrying out a successful software compliance raid can sometimes require mountains of paperwork and an understanding on how to navigate the legal waters of each region. Although the process for planning and completing raids is an arduous one, the results are significant. Being onsite increases the chances of finding actual evidence of misuse monumentally. It eliminates the ability to deny illegal use, ignoring requests for discussion. Because it's a third party carrying out the raid, it has less potential for a negative effect on the relationship with the direct or channel sales representative. A recent raid headed by our partner, Software Compliance Group, of a Vietnamese apparel maker netted a multi-million dollar opportunity for the software company they represented.