You've reached an archived blog post that may be out of date. Please visit the
blog homepage
for the most current posts.
Despite the massive growth and evolution of the enterprise software industry, independent software vendors (ISVs) have largely failed to implement automated software licensing and software entitlement management systems across their product lines, and their failure to modernize is hurting business. This is the conclusion of a new Flexera Application Usage Management Report prepared jointly with IDC, which surveyed more than 750 respondents from software vendors, intelligent device manufacturers and end-user enterprises on all aspects of managing the software license lifecycle. The report details vendors' progress in modernizing their licensing and entitlement management with automated systems, and the consequences of failing to do so. According to the study, only 35 percent of ISVs have adopted third-party technology for managing licensing, and only a quarter have done so to manage entitlements.
According to Amy Konary, Research Vice President – Software Licensing & Provisioning, IDC:
"Effective software licensing and entitlement management is the gateway to revenue for software vendors. ISVs should strive to make it as easy as possible for customers to license their enterprise applications, pay for their software, and manage their entitlements. Homegrown licensing and entitlement management systems are often not flexible enough to adapt to changing market conditions, and can leave ISVs at a competitive disadvantage. ISVs should consider moving beyond homegrown and adopt industry-standard technology that is designed to simplify and improve the license and entitlement management process and support flexible monetization options."

– Automation, Quote-to-Cash, and the Customer Experience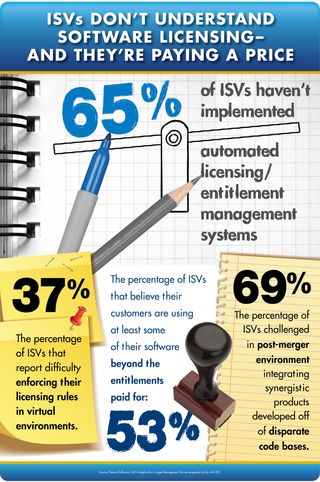 By integrating licensing, entitlement management and software delivery solutions with quote to cash process, application producers are able to perform electronic software delivery, provide a consistent customer experience and accelerate revenue recognition by distributing software licenses faster and more efficiently to paying customers. Licensing and entitlement management technology also enables vendors to more quickly and flexibly productize, monetize and protect their intellectual property (IP).
In light of the failure of most vendors to implement automated software licensing solutions, the Application Usage Management report shows vendors suffering the consequences. For instance 39 percent or respondents report difficulty enabling customers to manage their own software entitlements. 30 percent report difficulty protecting their IP and rebundling/repackaging their code to create different product versions for differing market needs. 28 percent report difficulty supporting "try-and-buy" and evaluation licenses.
ISVs also report licensing and entitlement management difficulties post-merger/acquisition. For instance, 68 percent report challenges after such an event integrating synergistic products from disparate code bases. 55 percent report difficulty creating unified licensing across all products post-merger or acquisition. 43 percent report difficulty maintaining disparate licensing systems.
At a time when ISVs require maximum flexibility and agility to quickly adapt business processes as well as new revenue and monetization models, they can no longer afford the drag of legacy, homegrown licensing and entitlement management systems. The burden of maintaining disparate licensing and entitlement management systems that are not integrated with quote-to-cash processes is daunting and impacts both top and bottom-line profits and the customer experience.
Software Vendors Losing Revenue from Virtualization
According to the survey, vendors are underestimating their risk of revenue leakage associated with virtualization. Virtualization risk arises from the ease with which enterprises can create instances of an application for use in a virtualized environment – like a public, private or hybrid cloud – without paying for that use. Though most vendors now have specific rules in their licensing agreements around virtualization, without adopting a compliance policy and using licensing technology to enforce that policy, they are powerless to capture revenues from virtualized use.
Close to 65 percent or respondents see great opportunity in Virtualization. While only a small percentage, 9 percent, perceive great risk – the survey also reveals that revenue-leakage from virtualization is, in fact, already a big problem. More than half of ISVs – 52 percent – report that customers are using their software in virtualized environments beyond what was paid for. 29 percent said they didn't know whether or not their customers were using their software beyond their entitlements.
Creating software licensing policies around virtualization is of little benefit to software vendors if they do not have the ability to enforce the policy. The good news is that vendors have options. They can choose to prevent use in virtual environments altogether, ensuring no revenue leakage. Alternatively, they can monetize based on value by capturing customer usage in the virtualized environment and then charging for what was actually used. Best of breed software licensing solutions and entitlement management software solutions have solved the revenue-leakage problem associated with using software in virtualized environments. However because so few ISVs have adopted this technology, they're losing out on a critical revenue stream from virtualization.
Revenera FlexNet Operations enables you to monetize software effectively and manage compliance and customer growth. It manages the dynamic nature of software entitlements to support all monetization models—from more traditional perpetual models to flexible subscription and pay-per-use models.