You've reached an archived blog post that may be out of date. Please visit the
blog homepage
for the most current posts.
In a recent studiodaily article, Autodesk to End All Perpetual Licensing in July 2016, it is reported that Autodesk will end all perpetual software licensing because new customers are opting for subscriptions. Autodesk CEO, Carl Bess stated that it represents a "more sustainable, less volatile business model." Read the entire article here.
Amy Konary from IDC published the, IDC MaturityScape: Subscription Business Model Management, in December of 2014, in which she states that 'one of the best aspects of the subscription model is that it enables a company to build a strong relationship with its customers'. As the subscription model continues to gain prevalence and more companies introduce a subscription licensing model into their software monetization strategy there are several considerations to keep top of mind.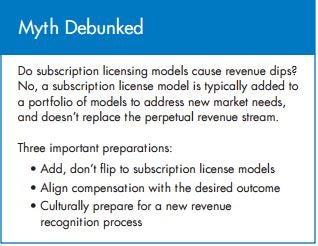 Application producers that are rethinking their software monetization strategy need a clear definition and comparison of software monetization models, they need to understand the business case for adopting or adding new models well as the pros and cons, and lastly, they need to realize the operational considerations and impacts. 11 questions they need to ask themselves include:
How will we handle pricing?
What will the impact be on product numbering?
When should the subscription period begin and end?
What is involved in the renewal process?
How will co-termination work?
How will revenue recognition change?
What product changes need to be made?
Do changes need to be made to license key generation?
What key areas of the legal agreement should be reviewed?
Does sales compensation need to be adjusted?
What is the best approach to roll out to customers?