ENTITLEMENT MANAGEMENT SOFTWARE
Track Entitlements and Manage Renewals with a Centralized Solution
Streamline the quote-to-cash process, automate delivery, and manage compliance with a single system for on-premises, SaaS, and embedded software deployments.
Entitlement Management Solutions
Improve operational efficiency with centralized entitlement management software that provides a 'single pane of glass' view into customer use rights and transaction lifecycles.
FlexNet Operations supports all monetization and deployment models, allowing you to consolidate disparate entitlement systems into a single, holistic solution that gives complete transparency into what customers have paid for versus what they're using – enabling you to proactively manage compliance, monitor churn risk, and look for upsell/cross-sell opportunities.
Automated, entitlement-driven updates and self-service capabilities boost the customer experience, while the agile framework can rapidly accommodate new pricing and packaging options with instant delivery and revenue recognition, simplifying the quote-to-cash process with seamless integrations into back-office infrastructure.
annual software revenue protected
We wanted better insight into our customer base, offer flexible and scalable monetization models and add the automation needed to run our growing software business. Revenera is the strong partner we need to deliver on these strategic goals.
MIKE TRESH PRODUCT MANAGEMENT DIRECTOR, THINGWORX
Revenera Entitlement Management
Regardless of how your software is deployed – on-premises, cloud, SaaS, or embedded in devices – Revenera's Entitlement Management software solutions empower technology companies and their channel partners with:
A central system of record for who is allowed to use what and who is using what

Automated fulfillment and enforcement of customer use rights

Rapid revenue recognition through automated delivery of software

Control for product management teams to make changes to packaging and monetization models independent from Engineering

A robust solution for software operations for fast and simple management of delivery, fulfillment and revenue recognition events

Automated renewal management

Customer self-service
On-Premises Software
Revenera's state-of-the-art technology enables you to provision users, change their use rights, and activate or deactivate software. Customers can even manage these tasks directly through a self-service portal.  
You'll provide a great user experience and gain insights into usage while streamlining the quote-to-cash process via seamless integrations with business platforms (ERP or CRM) and billing systems for renewals. 
SaaS
The transition from on-premises to SaaS deployments continues at pace, with widespread adoption across consumer, business and IoT products. Revenera's market-leading entitlement management software enables suppliers to run a successful SaaS business by:
Facilitating flexible and hybrid monetization models, based on users, module and feature usage, transactions, and more.

Accelerating time-to-market for new packaging and pricing models.

Streamline processes for provisioning and fulfilment across product offerings
Revenera enables you to provision users and their use rights directly in-app, using a secure and easy-to-use web services framework, while updating your software monetization back-office instantly with up-to-date user and consumption data.
Embedded Software
Software is a primary driver of value and differentiation in intelligent devices and IoT, and many organizations are now transitioning from a hardware-to-software business model. 
Revenera empowers you to leverage software to monetize devices from the edge to the cloud. That means IoT platform vendors monetizing access to their solutions and device vendors managing and generating revenue from the growing number of intelligent devices. 
Revenera solutions enable you to do securely realize the earning potential of IoT, supporting all levels of connectivity and business – from start-up suppliers to some of the world's biggest Industrial IoT, medical and intelligent device manufacturers.
Revenera's FlexNet Operations entitlement management software allows you to manage devices, customers and their usage.  You can automate processes like version upgrades, customer notifications and software delivery, all based on customer entitlements. Control all monetization models for your software products and devices – connected or disconnected – in a central place, regardless of deployment model
Image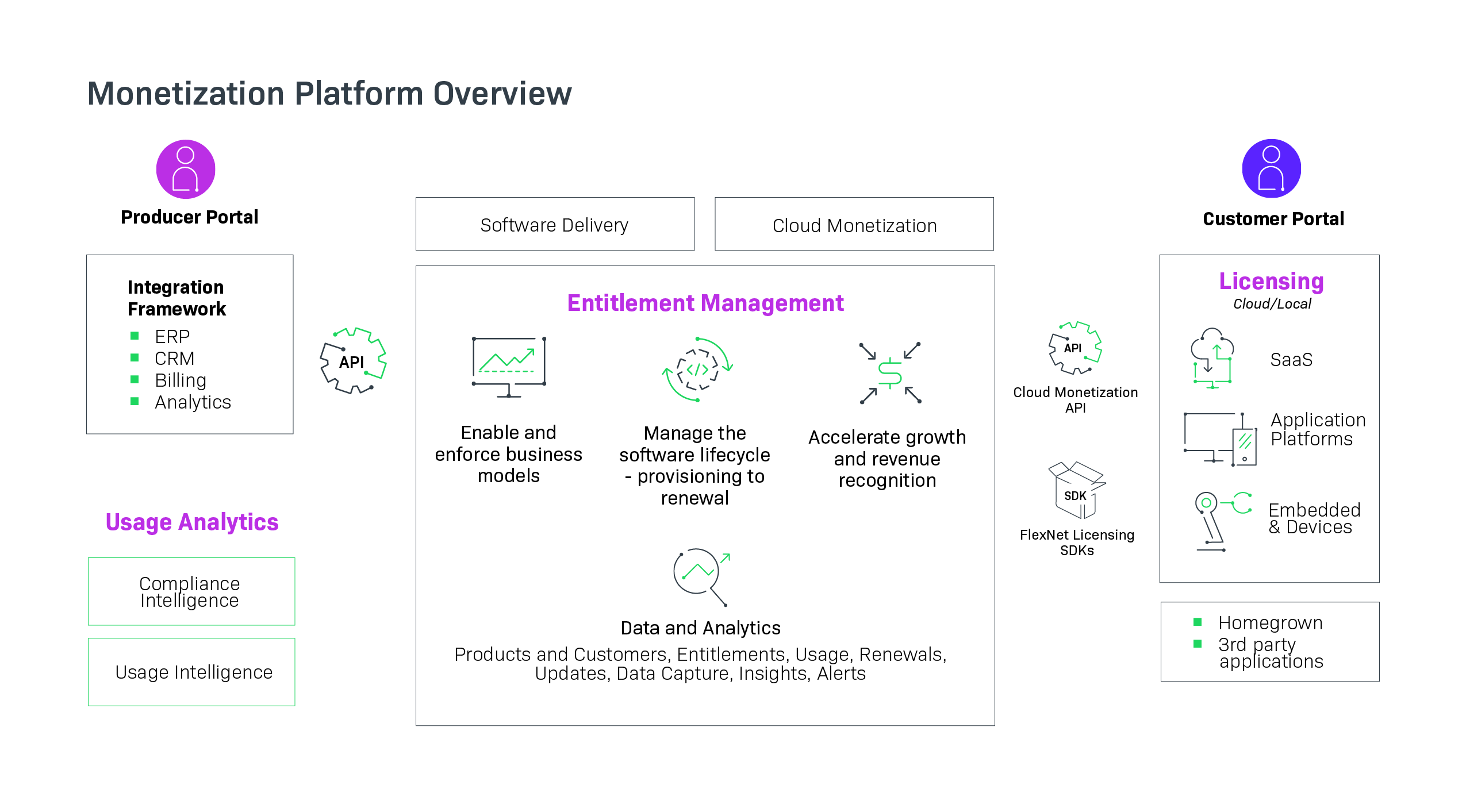 Revenera s Entitlement Management Software Solution – license, deliver, update and analyze your products based on customer entitlements.
WHAT CAN REVENERA ENTITLEMENT MANAGEMENT SOFTWARE DO?
GROW SOFTWARE REVENUE:
Capitalize on new revenue opportunities
Optimize the trial-to-buy process
Maximize revenue from upgrades and renewals
Reduce churn and drive upsell/cross-sell initiatives based on usage insight
RUN A SUCCESSFUL SOFTWARE BUSINESS:
Manage your on-premises, cloud, SaaS, virtualized and embedded apps with a centralized software monetization platform
Track and manage license compliance and measure usage
Dynamically create product configurations (like standard and lite versions) and change features on demand
Make strategic decisions for future product development and pricing based on customer and product insight
Streamline operational processes and automate transactions, notifications and reports
Our clients make a significant investment in our solutions; their user experience is extremely important. We needed a partner with monetization expertise who could help us deliver the access and control our clients wanted, while allowing us to focus our resources on high-value features. Revenera has turned out to be the ideal partner for this.
PAUL ACTIS SVP, RESEARCH & DEVELOPMENT, SUMMIT HEALTHCARE
REVENERA ENTITLEMENT MANAGEMENT HOSTING OPTIONS
FlexNet Operations is a cloud solution managed by Revenera. We offer hosting options in North America and Europe, in Revenera data centers or on AWS. Our offering is tailored to the needs of global software suppliers, delivering on your data residency, performance and scalability requirements. To find out more, contact us.
Monetize What Matters
See how software suppliers benefit from a central view of their customers, across all products - SaaS, on-premises or embedded.
Play Video