You've heard the (debunked) myths about software piracy and read all the stats, but you're still not convinced about building a software license compliance program? Let's start with a change in perspective: software piracy and license compliance is not a problem, it's an opportunity – one that benefits software vendors and customers alike.
Growth Opportunity
I'm sure you have seen the BSA's most recent Global Software Survey in 2018 that revealed that 37 percent of software worldwide is unlicensed. While this number is down slightly from previous years' reports, unlicensed or pirated software is still a serious issue – a point underscored by the BSA's estimate that the commercial value of unlicensed software worldwide is $46.3 billion.
But what do those numbers mean to building a license compliance program? The BSA pegs the commercial value of unlicensed software in North America and Western Europe is $19 billion. The interesting takeaway here is that this number represents 41 percent of the global number, despite these regions having lower than average piracy rates (16 percent and 26 percent respectively). This is a significant opportunity for revenue generation in regions where the rates of converting pirates to paying customers are high.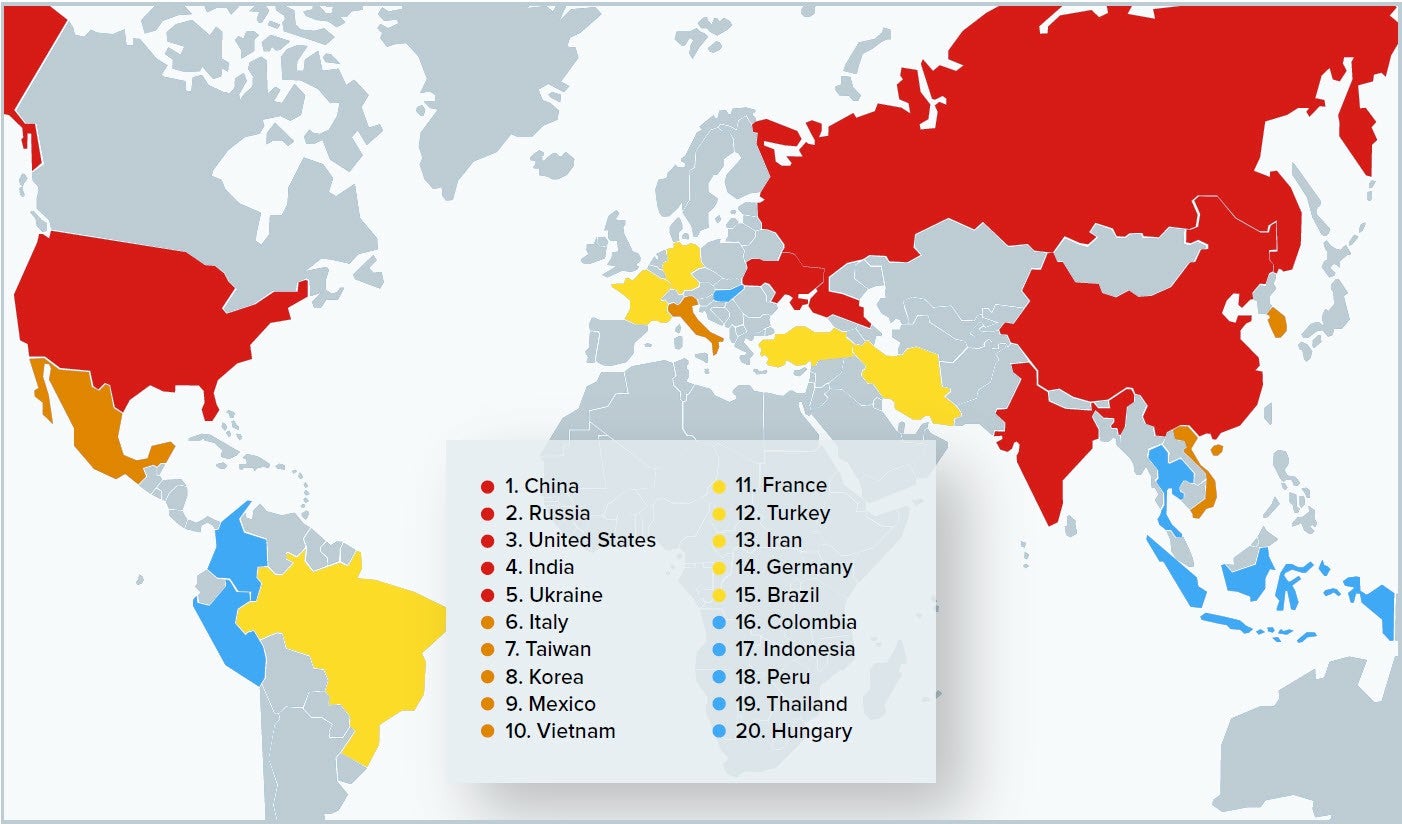 Top 20 Countries with Software License Misuse and Piracy
(Source: 2019 Revenera Compliance Intelligence Data)
The BSA rates are based on estimates, market statistics, forecasts and calculations done by the BSA working with IDC. The BSA numbers are interesting from an industry perspective, but what do they mean to individual software vendors? The Top 20 list in the image above is different. It's based on aggregate data from Revenera Compliance Intelligence customers. Compliance Intelligence enables software vendors to detect and report on the unlicensed use of their software, so this Top 20 is different because it's based on the actual use of unlicensed software. While it may not be surprising to see China and Russia on top of the list, you may be more surprised to see the United States in the #3 position. Based on the BSA's estimates for the countries appearing on Revenera's Top 20 (based on actual use of unlicensed software), there is a $13.5 billion opportunity for software vendors in these countries in North America and Western Europe.
Microsoft and Adobe research reveals up to 83 percent of pirates in these mature markets have high conversion potential for becoming paying customers and software vendors are using license compliance analytics data for years to track, engage, and settle cases amicably. In fact, Revenera Compliance Intelligence has supported customer compliance programs generating more than $2.8 billion in new license revenue since 2010.
Win-Win
Your customers prefer to avoid the risks associated with pirated software including malware, financial exposure and reputation damage. The bottom line is that customers (whether they have actually paid you or not) have selected and are using your software for specific reasons. Approaching them properly with strong evidence can provide a productive opportunity to build or strengthen the relationship.
In many cases infringing organizations are not even aware that they are using pirated or unlicensed software. Approaching C-level contacts with the goal of making them valuable, long-term customers – instead of taking an emotional and punitive approach – has benefits for both parties. Over the past decade, no Revenera customer has experienced their customer switching due to being confronted with pirated use, and many appreciate being alerted to their risk and exposure.
Leveling the Playing Field
Finally, when your customer's competitors are using pirated or unlicensed software, they have a competitive advantage. Lower operating costs translate to lower margins, and your customer is at risk. In addition to all the reasons noted above, software vendors owe it to their customers to implement an effective software license compliance program that levels the playing field by making everyone pay for the software they are using.
Interested in learning more? Be sure to watch our recent webinar, Building an Effective Software License Compliance Program, for more details and an in-depth discussion of how to build an effective program.
Common Software License Compliance Questions
What is software compliance?
Software license compliance is the use of software in accordance with the contract terms of the software license agreement.
What is license compliance?
Software license compliance is a broad term to describe whether or not software is being used within the bounds of a software license as established by the license agreement or the software entitlement the customer purchased.
Which product helps manage software license and compliance risk?
Software suppliers can manage software license and compliance risk though a layered approach. License enforcement methods that software producers employ are not a one-size-fits-all approach. Revenera offers an array of products to manage software license and compliance risk. Compliance Intelligence provides software vendors with actionable intelligence on the unpaid use of their applications to generate new license revenue. FlexNet Licensing technologies – FlexNet Publisher and FlexNet Embedded – are the de-facto standard for software licensing and compliance management.