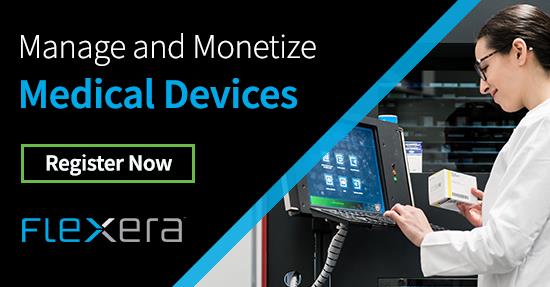 Connected medical devices offer many exciting opportunities. Patients enjoy new freedom to have their care monitored at home. Hospital IT staffs can track the status and configuration of devices while doctors and nurses have improved access to patient data. And device manufacturers can drive new revenues from the software that controls these devices.
So how do you take advantage of new revenue opportunities? Flexera's Software Monetization Platform can help you build a successful digital business
Know your code. Open source or off-the-shelf code may introduce vulnerabilities. Eliminate these vulnerabilities and create an FDA-required Bill of Materials.
Increase profits. By turning features on and off electronically you can reduce SKUs and their associated production costs and make it easier to sell new features.
Manage updates. Know which version of your software is running on each of your devices, even the disconnected ones. A software monetization platform will help you build a distribution mechanism, manage and track updates, and maintain an audit trail.
The transformation of healthcare being enabled by connected medical devices is still in the early stages. Software monetization should be a cornerstone of your strategy from the start. Plan your hardware SKUs and software packaging to maximize revenue and customer value. Gain the flexibility to implement new business models as new devices and use cases emerge. Stay ahead of your competition.
That's how you build a healthy device business.
In this 30 minute webinar, Matthew Dunkley, Senior Director, Product Management at Flexera, will explain how a focused approach to software monetization can help increase your profits. He will also highlight how you can address key FDA requirements and deliver a secure product.
Join us:
Wednesday, August 8th at 10:00am CT, or
Thursday, August 9th at 10:00am BST (UK)