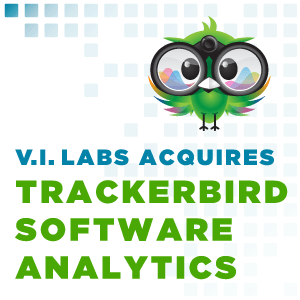 Today we are excited to announce V.i. Labs' acquisition of Trackerbird and to welcome our combined customers to a wider and deeper range of software intelligence capabilities. Today's acquisition supports our growth as a company and our vision of expanding our leadership in software usage analytics that spurs innovative change through data-driven decision making.
License compliance powered by software usage analytics was innovative when we introduced it in 2008, and has been proven to be a game changer for our customers over the last 6 years, enabling them to drive over $1.4 billion in new license revenue. Based on feedback from our customers, we saw an unmet need in the market and found Trackerbird – a great company doing some great things.
V.i. Labs' Trackerbird Software Analytics solutions provide much needed intelligence across the customer and product lifecycles:
Product Development Optimization: Usage tracking and analytics help guide where R&D can focus its efforts by answering questions like "What are the key features being used?" "What platforms and versions are safe to sunset?" "Are products and features providing ROI?"
Trial Conversion Improvements: Software vendors offer trials and freemium products to help drive customer acquisition. They can leverage usage analytics to understand exactly how the trials are used and to trigger in-application messaging and offers to ensure strong engagement during the trial. For example, the results of A/B testing on marketing campaigns provide insight into the best offers to drive upgrades.
New Business Model Definition: Feature usage analytics can help define and support new licensing model introduction. For example, many ISVs and their customers are exploring the move to a subscription licensing model or consumption-based model. Usage analytics will support business case and license model detail.
For almost a decade, software usage analytics has given a competitive edge to our customers' sales and compliance teams, and Trackerbird delivers the same level of innovative insight and action for product management, sales, and marketing teams. In fact, there are already a number of customers reaping the benefits of both CodeArmor and Trackerbird to optimize product development, increase trial conversion rates, define new business models, and generate new license revenue. The acquisition also accelerates V.i. Labs' vision supporting software usage analytics capabilities in multi-platform environments including desktop, mobile, and SaaS applications.
Our customers will see benefits right away:
Partnering with a single vendor that can deliver both breadth and depth of insight, based in the US, profitable since 2012, and investing in product development and support services
Experience supporting very large customers with complex data collection, analytics, and services requirements
Access to our Customer Success Team of analysts to provide expertise to ensure optimal deployment and to leverage the intelligence
We are excited to provide high-value software usage analytics products and services to even more customers and today's acquisition is the next step in that journey.