Strong, trusting, long-term relationships between software suppliers and their customers are essential. They move business forward. One of the best ways to create them is through transparency in software usage. Transparency into usage allows end-users to know exactly where they stand and exactly what they get from their subscriptions.
 The Flexera Monetization Monitor: Monetization and the Customer Relationship showed that some software suppliers (20%) provide customers with full transparency into their software usage. There's also a significant desire for more, with 48% of suppliers indicating that they know that their customers want more transparency. Customers are looking for indicators like when maintenance or a subscription will expire (with automated warnings in advance of those dates); lists of licensed users (and their most recent login); lists of license entitlements (permanent & subscription); and the devices which contain licenses.
Meeting customers' needs—providing that transparency—is necessary in order to move business forward.
Suppliers Know Most Customers Want Usage Transparency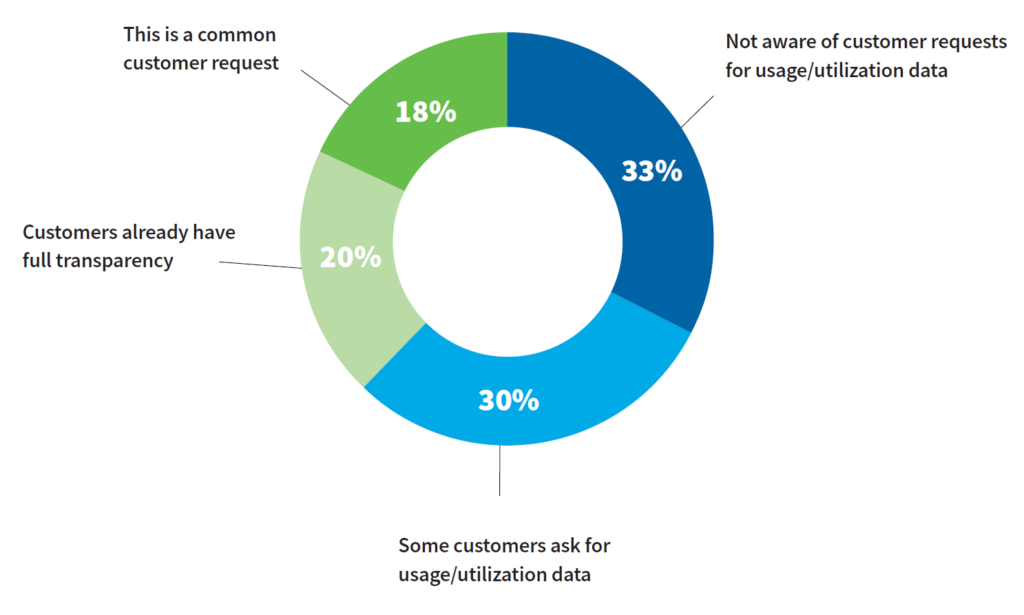 Software usage data transparency:
Supports strong relationships. Open, transparent communication strengthens interactions between supplier and customer. Clearly defining terms of use (e.g., number of users, volume of service, sign-ons, etc.) helps provide that clarity. Resources, like a customer portal that provides customers with the insights and services they need, also support this goal.
Eases the hesitation that's present when business models change. Customers may resist new subscription and usage-based models; clarity about the customer-facing benefits (e.g., flexibility, varied pricing options) can address any customer concerns.
Can help reduce unintentional overuse. When customers have a clear view of what usage is allowed and how much they've used, they're in a position to work closely with their supplier to know what appropriate use is—and to avoid the honest mistakes of unintentional overuse, which can dip into a supplier's bottom line. Audits and pricing meters are among the mechanisms available to control overuse.
 Help yourself. Help your customers
Software suppliers can take actions that primarily help themselves, while also meeting customer needs, adding capabilities, and ultimately supporting strong customer relationships. For example, processes that provide market insight for the supplier allow them to better understand customer usage and ultimately make product decisions that map to their customer's needs. Functions that directly help providers include tracking customers and entitlements/use rights, seeing product/software versions per customer, and monitoring maintenance renewal dates.
Process automation can also simplify things for customers, while allowing the supplier to reduce costs and increase efficiency.  Among the automated processes that can simplify purchasing and updates for customers are auto-upgrade capabilities for those who are eligible for software renewals, auto-update capabilities for devices that are only intermittently connected to the internet, and auto-provisioning of features to devices or users (if customers order premium features).
Software usage transparency is the future. What steps has your software business taken to prepare?