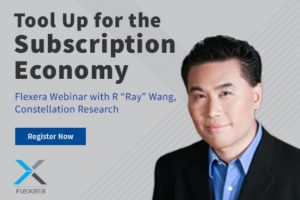 The subscription economy has arrived. In order to benefit, software suppliers need the right business models, systems and processes. Software monetization is a driving force on the road to software business growth. It's not only about licensing and IP protection anymore – it's also about recurring revenue and customer success.
Deployment models have changed – According Gartner, the "Cloud Shift" – movement from traditional IT to cloud services (SaaS, IaaS and PaaS) – will impact more than $1 Trillion in IT spend by 2020. Are you planning for your move to cloud-based SaaS but concerned about the journey? You're not alone. It is critical for software suppliers to prepare for a smooth transition with zero business disruption.
Business models have changed – Subscription revenue is on the rise and will soon have outpaced the traditional license and maintenance business. Have you defined what a healthy subscription business looks like for your and are you prepared to run one? In order to thrive, today's suppliers must deliver an excellent user experience and increase the number of subscribers.
Customer relationships have changed – You deliver a great software product but application users expect an immediate experience, transparency and a short time to value. Do you know if your customers are getting enough value? Would you know if a customer used your products less and less?  It is critical to determine if you have the necessary data to grow your customers, evaluate attrition risk and measure their success.
Join Constellation Research and Flexera for a complimentary webinar that covers the new role of Software Monetization.

Nov 14, Tuesday – 10 AM CT (US)
Nov 15, Wednesday – 2 PM (Australia)
Nov 15, Wednesday – 10 AM (UK)
We will discuss:
The move to SaaS and subscription without business disruption as products transition to services
The importance of the customer lifecycle and actionable insights on growth potential and attrition risk
Delivery of an immediate UX in SaaS applications and the role of a central monetization back office
The new release of the Flexera Software Monetization Platform and how it supports all of the above