Like most sales leaders, I'm always looking at our funnel and trying to find ways to improve our conversion rates.  As a company providing software vendors a new way to add new top line license revenue, you would think our meeting-to-opportunity conversion rate would be through the roof. We are literally finding a new channel of untapped revenue and driving millions of dollars in new business for software companies every year (and over $1 billion since 2010). Yet our conversion numbers after the presentation stage needed a boost. Time to reboot!
So this week I have been focusing on our pitch and how our current presentation is affecting our sales process.
The Story Pattern
In the process of rethinking the flow of our pitch, I came across a great TED talk by Nancy Duarte called The secret structure of great talks (on a side note, if you don't watch at least 1 TED talk a week for inspiration on a problem you are trying to solve, you are missing something).
Nancy analyzed several famous (and very different) presentations.  She overlaid these presentations, including Steve Jobs' 2007 launch of the Apple iPhone, and Martin Luther King's 1963 'I have a Dream' speech, and had an 'aha' moment:  there were striking similarities between the two, in what she called the "shape" of the presentation.  This was the pattern each used to convey their big ideas.  Here is the shape she found: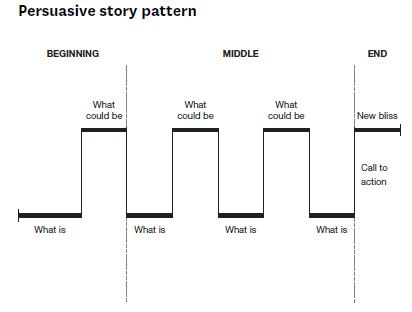 (source:  https://hbr.org/2012/10/structure-your-presentation-li)
In a nutshell, each set the current baseline, and then showed their vision for what could be.  She explains that if the audience accepts this gap it will throw them off balance, jarring them out of complacency.  The balance of presentation is used to show the audience how to bridge that gap.
So what does it mean for my pitch?
I started by taking a step back and defining the "what is:"
Software companies experience 30% revenue leakage per year due to unpaid use.
Then I defined the "what could be:"
Software companies that can identify and convert unpaid software use in even just the easy-to-convert regions like North America and Western Europe can add 10% top line license revenue growth.
How do I "bridge the gap?"
Use actual customer data that shows viral growth of unpaid use, and case studies that show how our customers have been able to convert that use to new revenue.
I think we had all of this information already in our presentation, but we definitely had room for improvement in how we structured it to create a more powerful story.  I'll be keeping an eye on our funnel to see if our conversions improve!
Does your corporate sales presentation follow this same structure?  If you're a software company and want to judge for yourself how our V.i. Labs presentation looks, contact me and I'd be happy to show you.