Back in August, The New York Times ran a nice article on GE and its transition into a software company. Just a month later, the news about GE and Bosch teaming up to build an IIoT platform hit the wires. And there is more, like PTCs move to connect product lifecycle management, electronic design automation and computer-aided design software with an IoT device management platform to allow traditional product designers to integrate telemetry data from hardware in the field into their designs. Last but not least, we see Bosch, PTC and Siemens building alliances with SAP to enable fast data processing for their Industry 4.0 and IoT solutions by using the in-memory database solution SAP HANA.
These articles once again highlight the growing trend towards "software eating the world", the Internet of Things (IoT) and "everything-as-a-service." They also highlight the emerging software maturity model for hardware vendors.
As we've seen in the networking space, many manufacturers will start their journeys towards becoming software producers by first delivering desktop software or by connecting their hardware to the cloud to allow basic telemetry or SKU reduction or feature clipping strategies. As they mature, they may enable subscription models or pooled capacity licensing. Over time, we expect to see "software defined IoT" emerge with virtual appliances and device "app stores" and new types of function virtualization and elastic computing use cases. In the final stage, the manufacturer becomes a service provider and offers outcome-based models.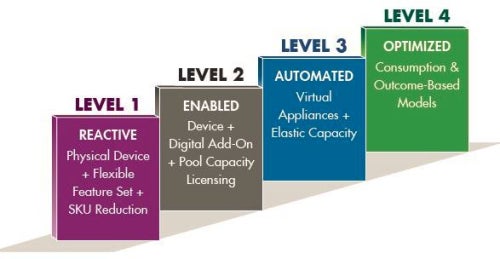 GE is actively investing to move up the maturity curve, from simply instrumenting its devices to aggressively shifting towards "as-a-service" models. With new packages built of device, data and digital solutions based on the Predix IIoT platform, GE is rapidly modernizing the way products are introduced to the market and sold to customers. For example, they have just taken their more than 100 years old lighting business to the next level, now delivering "energy-as-a-service". Linking device telemetry with design software becomes a critical differentiator for the manufacturer, along with linking device management/telemetry and its business management systems.
As IoT solutions grow and mature, it is important for manufacturers to grow their software monetization maturity level with them:
In an "Everything-as-a-Service" world, managing subscriptions and usage will be central to the success or failure of a business model
Within the complex ecosystems that we see on the market, producers need an exact view on all customers and their actual usage of the products they have purchased – hardware or software
Licensing and security is essential for IoT solutions to work and create revenue, and automated end-to-end processes that guarantee a flawless user experience will be vital for any IoT application
For IoT solution providers, mature software monetization processes are as inevitable as they are for traditional software producers. IoT providers that implement processes and solutions for licensing, entitlement management, usage management, automated software/firmware updates and collecting telemetry data for in-product analytics in their IoT solutions early on have a competitive edge when it comes to managing devices, analyzing usage and ultimately monetizing their solutions.
Learn more: