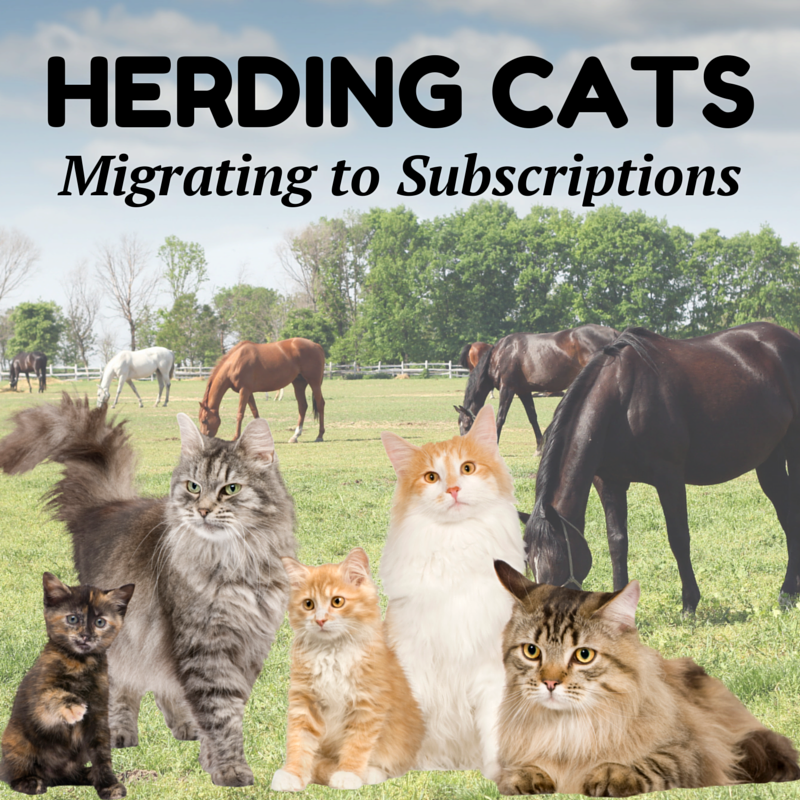 Recently there have been a number of high profile packaged software vendors making the transition from perpetual based licensing to a subscription model (Microsoft, Adobe and Autodesk come to mind).  Predictable cash flow is a main driver for the switch, but there are other very good reasons to do so, not the least of which is to try to combat revenue loss due to piracy (costing Adobe 1/3 of its annual revenue, according to Adobe's CFO Mark Garrett).
Clearly it's working.  In its first year, Microsoft's Office 365 Home Premium grew to 3.5 million paying customers, each paying $99.99 for a 12-month subscription.  Adobe now has 8 million paying customers for Creative Cloud, and is now generating more revenue from subscriptions than selling Photoshop and Illustrator outright.
Why is it working?  For one, sheer market muscle.  Tactics like dropping discounts on perpetual licenses, eliminating the channel's ability to sell perpetual licenses, making new features only available on the subscription based versions like cloud collaboration (for example, A360 from Autodesk) and sunsetting support for older perpetual versions can speed things up.
Secondly, pricing strategy.  A perpetual license for Adobe Creative Suite Master Collection is $2,599/seat, compared to $49.99/month for Creative Cloud ($29.99 if you are upgrading from a previous version).  This puts Creative Cloud within the reach of individual contributors, students just out of school, and (perhaps most importantly) for companies in emerging markets.  Ecommerce leader cleverbridge makes an interesting case that the piracy problem for many companies is actually just a result of poor pricing strategy in this blog, and steeply discounting pricing in emerging markets is the answer.  Subscription based licensing is just another way of lowering that pricing barrier to entry in all markets.
Lastly, communication strategy.  In-product communication and messaging is the best way to drive users to upgrade to your subscription based versions.  This becomes even more critical the larger the size of the unlicensed user base you have, which for a desktop software vendor can reach five unpaid copies for every legal copy you sell.  It is hard enough to migrate perpetual users to a paid subscription license, much less those that download and use pirated versions your software.  Treating them as trial users, politely marketing your new subscription features in product, target spot pricing offers for specific geographies, and measuring the effectiveness of your conversion campaigns are critical components to a successful migration.  These tactics are nothing new – these tactics are the mainstay for successful campaigns in the Freemium market for years.  If you are not communicating with your users within your product like the big guys you absolutely need to start now.
Been through a migration from perpetual licensing to subscription and have a story to share?  Have an opinion on the right way to do it?  Please share and comment below.