You've reached an archived blog post that may be out of date. Please visit the
blog homepage
for the most current posts.
By Ripin Checker
I hope I am not the only one that believes in the notion that technology can be truly disruptive when it can not only demonstrate cost efficiencies and optimization but showcase new software licensing and business models for existing use cases or enable completely new user experiences. One example that fits the above equation is server virtualization and the evolution of Cloud Computing.
Recently at Open Networking Summit (ONS) many companies like Google, Yahoo, NTT, Nicira, Dell, Cisco, Extreme Networks and Universities like Stanford, Princeton made a case that technologies like OpenFlow and Software Defined Networking (SDN) could have the potential of disrupting the computer networking industry. The disruption potential is huge and Greg Papadopoulos put it in very simple terms during his presentation @ ONS 2012, "The cost to connect has gone down exponentially but things to connect has increased exponentially. The computer network is the nerve system central of connecting things." A disruption in the network nerve system central could enable a bigger change than server virtualization.
If you would like a more technical understanding of OpenFlow/SDN please check here. Here's my attempt to simplify what OpenFlow/SDN means… take a scissors and cut a router (or switch) into two halves – top half being the software/control plane and bottom half being the hardware/data plane. Then modularize the software into standalone applications and use standards-based API's to communicate with commercial off-the-shelf hardware and virtualization to enable multi-apps and optimal resource usage…the result—you get an OpenFlow/SDN enabled communications network.
What was very exciting in the discussions @ ONS 2012 was the parallel drawn between how Software Defined Networking (SDN) can enable an "App store" for computer networks similar to how Google Android (or Apple IOS App ecosystem) has enabled multi-vendor ecosystems for apps development and a new user experience to mobile/connected users.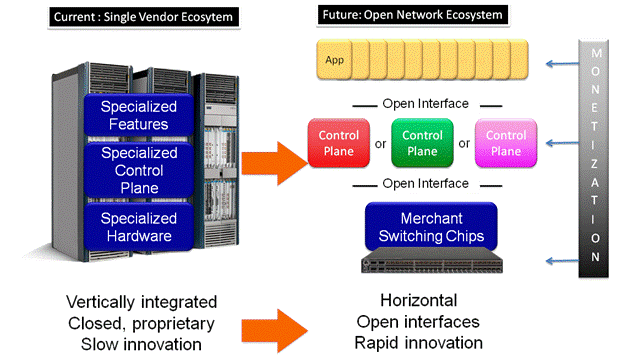 Figure: Slightly modified version of slide that Nick McKeown presented @ ONS 2012.
In the figure above Nick McKeown, professor @ Stanford University shows how OpenFlow/SDN changes the current computer networking ecosystem from a vertically integrated closed proprietary system to a horizontal open interface based ecosystem that facilitates rapid innovation.
This shift opens up doors to new software licensing, monetization and business models:
Networking applications will become modular and independent. These applications can be licensed and monetized individually or as a solution offering with a bundle of applications.
Similar to server virtualization, with network virtualization multiple control planes (decision engines)for specific markets can be developed and monetized as virtual appliances independent of the physical network and hardware. One of the operators I met at ONS mentioned he would like to pool all the control software in mobile networks in one place (mobile computing) instead of distributing the intelligence in the different network elements. This will not only help reduce infrastructure cost and make management of network easy but bring together mobile analytics and big data mining technologies to enable new business models.
License and monetize different capacities in the physical network in an on-demand pay-as-you-grow electronic licensing model. This enables better service elasticity and better utilization of network resources.
During the last couple of years the industry has been skeptical about Software Defined Networking (SDN) but this year when different vendors (HP, Dell), carriers (NTT) and over the top providers (Google) showcased real world production deployments the industry feels confident that disruption is quite viable. Flexera customers like Vyatta and Cisco are leading and capitalizing on the opportunities in Software Defined Networking with innovative business models using entitlement management and software licensing solutions.