You've reached an archived blog post that may be out of date. Please visit the
blog homepage
for the most current posts.
Recently published success story reveals how Siemens leveraged Software Monetization to drive revenue, efficiences from their device software.
Today's devices are more intelligent and interconnected than ever before – which means the software on those devices has become increasingly valuable. Unfortunately some device manufacturers don't monetize that valuable software – but Siemens wasn't going to make that mistake.
Siemens (Siemens Building Technologies) recognized the need to leverage the software on their devices to create strategic advantage and drive revenue. Specifically they needed to:
License their software to secure higher margins and create new revenue streams
Deliver better visibility and reporting of margins from value-added partner distribution channels
Replace homegrown licensing technology with a single, standardized software licensing technology
Create a Software Monetization platform for generating new and incremental revenue from new business and service models
So what did Siemens do?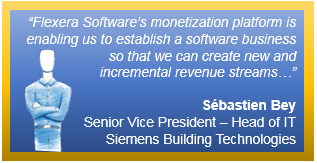 Faced with the above challenges and the associated complexity of global scale, Siemens needed more than just a vendor – they needed a partner.
Siemens partnered with Flexera to leverage a single Software Monetization platform. They implemented FlexNet Licensing and FlexNet Operations solutions that were then integrated with their existing ERP (enterprise resource planning) solution to eliminate manual processes and drive new revenue streams.
Addressing their challenges has translated into Siemens gaining assurance that their relevant software is protected and monetized with standard software licensing technology, improved and automated operating and ordering processes and has afforded them the ability to adopt new business and licensing models when selling software and services to customers.
Read the Siemens Success Story to learn more!
Related
Interested in hearing more stories like these? Register today for the premiere Software Monetization event, SoftSummit Europe! Information below:
————————
Siemens AG (Berlin and Munich) is a global technology powerhouse that has stood for engineering excellence, innovation, quality, reliability and internationality for more than 165 years. The company is active in more than 200 countries, focusing on the areas of electrification, automation and digitalization. The Siemens Building Technologies Division (Zug, Switzerland) is the world leader in the market for safe and secure, energy-efficient and environment-friendly buildings and infrastructures. As technology partner, service provider, system integrator and product vendor, Building Technologies has offerings for safety and security as well as building automation, heating, ventilation and air conditioning (HVAC) and energy management. For more information, visit www.siemens.com/buildingtechnologies.