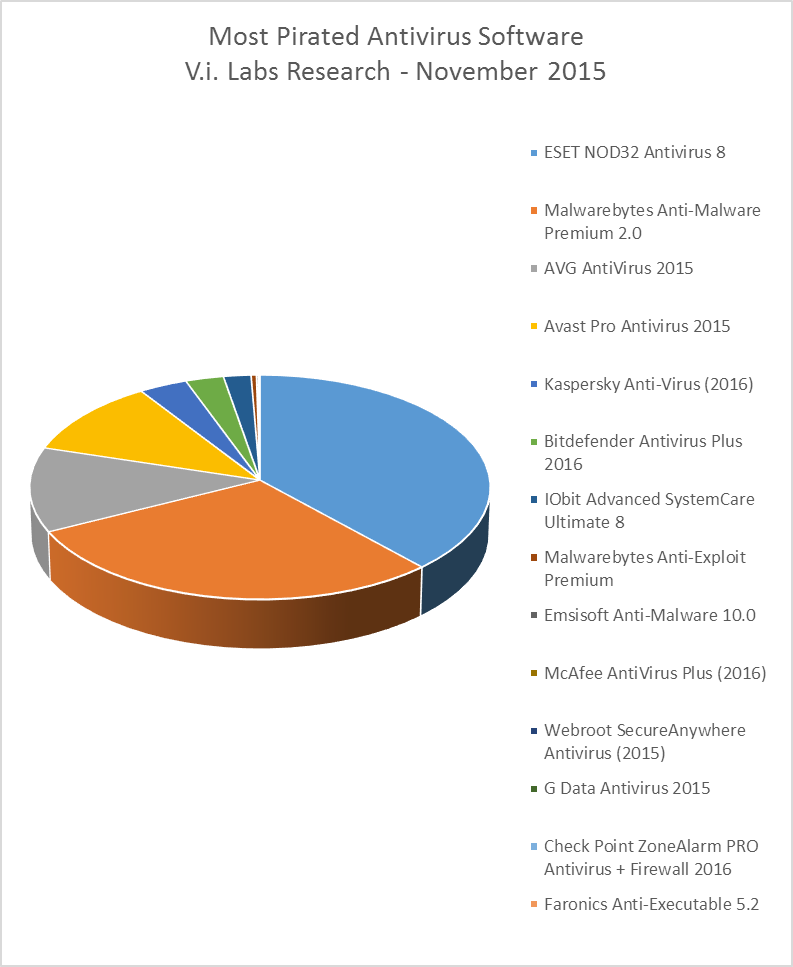 There's an antivirus software product out there surging in popularity – and you would never know it from looking at its legitimate market share.
ESET Nod32 Antivirus Version 8 ranked as the most pirated antivirus software in an analysis by V.i. Labs. Meanwhile, an analysis by OPSWAT doesn't show a single ESET product among 2015's most popular.
At the same time its popularity soared in the pirated category (it ranked 8 out of 11 last year), ESET itself lost legitimate market share. It claimed 8.1 percent of the antivirus market behind Microsoft, Avast, and AVG in 2014, and this year slipped to the 7th spot, claiming 4.2 percent of market share, according to this year's data from OPSWAT, which sells services and products to manage and secure IT infrastructure.
Could the uptick in piracy of its marquee product be a factor in this reversal? On one hand, it's worth nothing that Symantec's market share also dipped slightly in this year's OPSWAT analysis, yet it dropped off V.i. Labs' list of most pirated software applications altogether. One the other hand, ESET, which released a new version of Nod32 Antivirus software in mid-October, barely registered on V.i. Labs' most pirated list last year.
The piracy channel is a viral sounding board for new products and features, so it makes sense that ESET would see a surge in popularity having just released a new version.
Are There Patterns in Antivirus Software Theft?
Antivirus software consistently ranks among the most pirated applications– perhaps because it is needed by such a wide range of users. Well-meaning users may be prompted unsuspectingly to download pirated antivirus software from those meaning to do harm to their systems, while those wishing to trade in unlicensed software need it to protect their own machines. That, and there's the line of thinking that even the most honest users are reluctant to pay for insurance or something they may use sparingly.
Last year, V.i. Labs ranked the most pirated antivirus applications, looking at the availability (the number of seeds) of different antivirus products on several torrent sites, and weighing that against the popularity of those sites (highly visible vs. underground). We used the same methodology for this year's analysis.
Last year's leader – Kaspersky – dropped to five, while Symantec and Avira dropped off the list altogether, making way for newcomers to V.i. Labs' 2015 list (IObit and Emsisoft) to round out the top 10.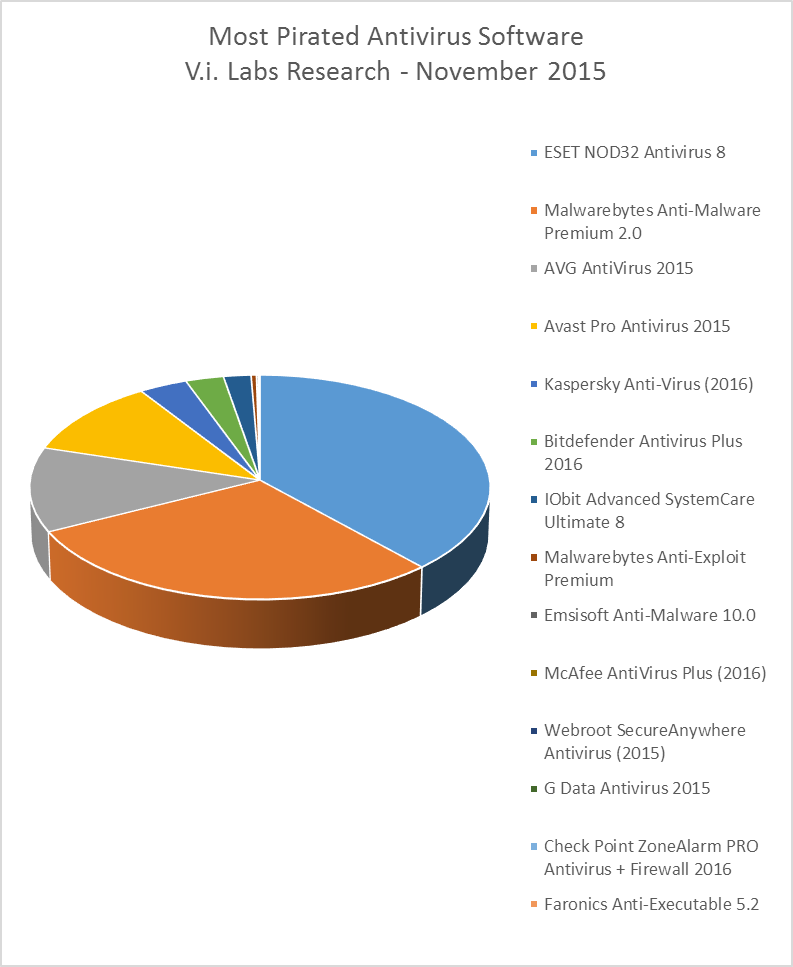 What's apparent is that those leveraging illegitimate licenses pay no mind to whether those licenses are free or not. While ESET Nod32 Antivirus retails for $39.99, the next two most pirated antivirus products on the list – Malwarebytes Anti-Malware Premium 2.0 and AVG AntiVirus 2015 – both offer free downloads of their software.
One reason for this is the difficulty well-intentioned users face when searching for the best price on software online. They are often confronted with a wide and confusing assortment of authorized and illegitimate sources. Because so many of the illegitimate sources are virtually indistinguishable from the authorized channels, many users end up paying for pirated software (for more details on this scenario, be sure to watch our webinar "How Adobe Protects Customers From Software Piracy" with Adobe's Corporate Director, Global Piracy Conversion Team, Richard Atkinson).
Microsoft, Avast Reign Supreme, McAfee Surges in Market Share
Microsoft and Avast consistently dominate market share for antivirus vendors. Avast took the top spot from Microsoft this year, with OPSWAT noting in its analysis that Windows Defender was not included this year because it is now embedded in Windows 8 and 8.1. McAfee gained market share, surging from 3.5 percent in 2014 to 6.2 percent in 2015. Spybot joined the ranks for the first time, claiming 2.1 percent of the market.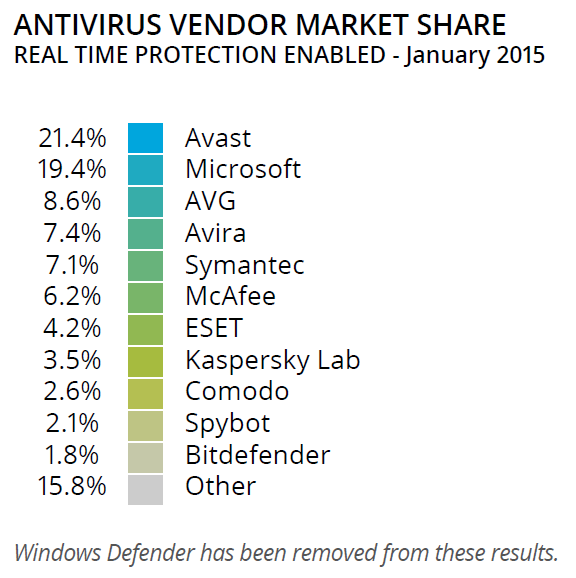 Source: OPSWAT, "Market Share Analysis of Antivirus & Compromised Devices" (January 2015)
Aside from the addition of Spybot Search and Destroy to the most popular products, and the drop-off of ESET products (which measured as having less than 1.8 percent market share) there were few significant changes in the product category year over year.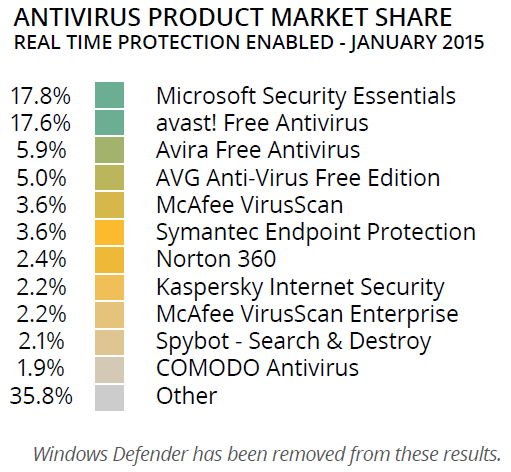 Source: OPSWAT, "Market Share Analysis of Antivirus & Compromised Devices" (January 2015)
Does Popularity Encourage Piracy?
ESET did quite well in terms of market share in OPSWAT's analysis last year, with both the vendor itself and two of its products (Nod32 Antivirus and  Smart Security) ranking amongst the most popular antivirus applications. The software has a strong reputation in the market, driven by its visually appealing and user friendly UI. Plus it's fast and non-resource intensive – it can run in the background without disrupting the speed of other applications in use.
In turn, both Avast and AVG consistently make up two of the top three in terms of market share, while their products AVG Antivirus 2015 and Avast ProVirus 2015, rank three and four in V.i. Labs most pirated products.
Popular products are pirated products – but on the upside, will also be a source of previously undiscovered revenue once the vendors can reach, educate and convert these well-intentioned victims of piracy.