As a software provider, how well do you understand how customers are using your products?  Is what you know based on anecdotal feedback or actual usage data collected from your customers?  Developing a strong knowledge of product usage is a best practice for all software companies and a requirement if you plan to move to consumption-based monetization models.  It also gives Product Managers the insights they need to effectively manage a data-driven software business.
In our latest report, Flexera Monetization Monitor: Usage Management and Insights, we look at where companies stand when it comes to gathering and utilizing usage data.  The research reveals that while most companies recognize the importance of usage data, their ability to collect it and the extent of what it reveals varies widely.
Key findings include:
Interest in usage data is strong and continues to grow
91% of all respondents either already collect usage data or are planning to collect it in the next 24 months.
Notably though, only 35% indicate they do this very well, suggesting a gap in capabilities or planning.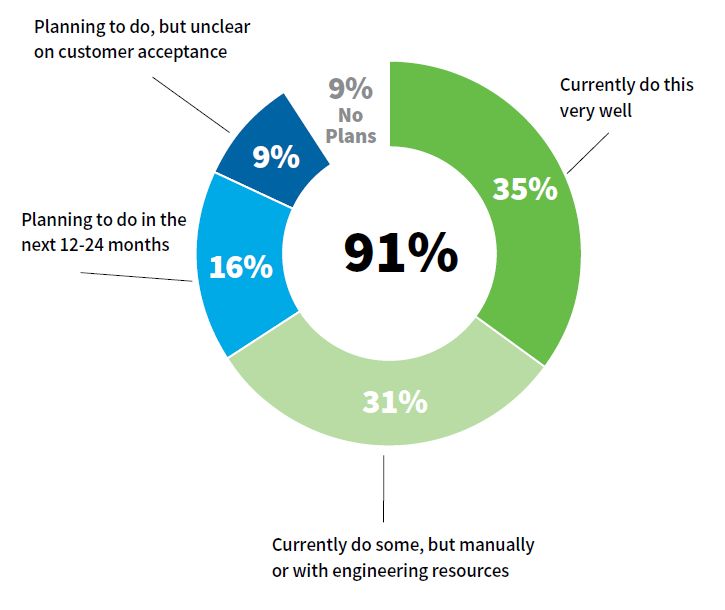 Visibility is still limited
Usage data is about more than whether or not your software is being used.  It's about diving deeper to understand feature usage and identify trends that indicate if customers are heading for a successful renewal or if your future revenue from them is at risk.  This is where many respondents have challenges.
Only 51% of respondents said they could see the most basic metric: if customers are using their software at all.
Even fewer said they could see which features are being used or if usage is increasing or decreasing.
15% admitted they are essentially flying blind, with no insights into usage at all.
Usage data builds pricing confidence
The report reveals a strong link between understanding usage and the ability to align pricing with the value delivered to customers.  One third of respondents cited a lack of usage insights as the most significant hurdle to achieving this alignment.
Overall, just over half of respondents feel their pricing is aligned with the value they provide.
However, for companies that have already made the move to usage-based monetization models, this indicator of pricing alignment climbs to 67%.
Regardless of how you license or deploy software, usage data is emerging as a required tool to manage your business.  Download the report now to learn more.
Also, don't miss our earlier report based on this survey, Flexera Monetization Monitor: Monetization Models and Pricing that revealed how software suppliers balance multiple approaches to monetization and software deployment models.