In our recent webinar, Monetize the IoT – From the Edge to the Cloud, Ray Wang examined several emerging IoT business models and explained why they're successful. We learned that future-proof business models are built using advanced analytical insight to make the right business decisions. In the new post-sale, on-demand economy, he stressed the critical importance of keeping customers front and center, giving them what they need when they need it. This is the true path to driving revenue growth.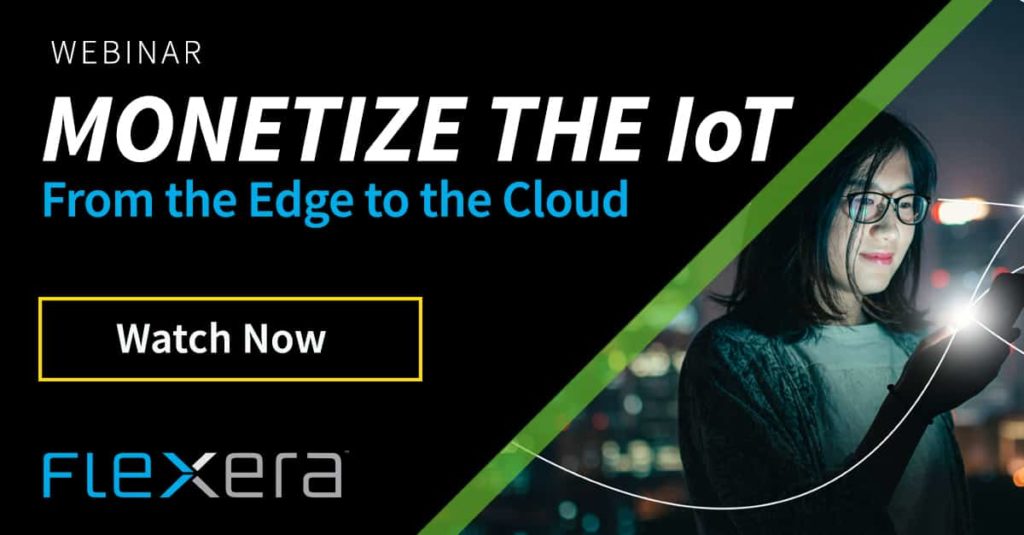 It's clear the gap between knowing the right steps to take and being ready to get started can be huge. John O'Donnell, Senior Solution Engineer with Flexera's Software Monetization team, works with software suppliers and device manufacturers and helps them implement solutions for better management and monetization. Based on his firsthand experience with device manufactures, John shared some insights from the field.
Q:  With the shift to IoT connected devices, what's top of mind for companies who are changing their monetization models?
A: I work with organizations of all sizes and industries that are facing accelerated market demands for services via mobile and cloud connectivity. They are trying to maintain their current customer revenues while adding more predictable, innovative, subscription based services for a sprawling IoT portfolio.
For example, large equipment manufacturers have traditionally provisioned their products with static software that would remain on that product for its lifetime. Purchasing additional features required customers to acquire new costly hardware. In today's IoT world, manufacturers can better address the customer's needs by making dynamic software that's capable of remote activation of new features on their existing appliance. Suppliers are now building on-demand metering of those features for, monthly subscriptions. Doing so provides huge value to customers and generates new revenue streams.
Manufacturers are eager to learn how Flexera's solutions provide automated and on-demand control that allows incremental intelligence to be added to standard hardware platforms or applications. We're able to show them how Flexera supports and manages the IoT monetization lifecycle from trial  to end of life.
Q: From your field perspective, can you talk about the importance of customer and product insights to monetize what matters in IoT?
 A: The value of data and usage insights from IoT devices and applications is vast and growing. We encounter many use cases like the ability to understand what data is being consumed by one device or even a fleet of devices that are located all over the world.
IoT device manufactures are using insights provided by the Flexera IoT Monetization Platform for remotely tracking utility consumption (electric, water, etc.) or detecting consumption trends of power, water, cooling changes in commercial HVAC systems.  Others need the ability to add more capacity – such as enabling more data storage or end point connections in an enterprise. Capturing and analyzing a variety of data insights enables device manufacturers to apply predictive maintenance, helping them to respond more proactively to customers.
It's all about being flexible and agile. IoT manufacturers must manage applications, devices, features and updates electronically and know which customer is using what. With the Flexera IoT Monetization platform, we bring the processes and tools to help them achieve these goals.
Questions about moving your IoT Monetization toward success?   Contact us!