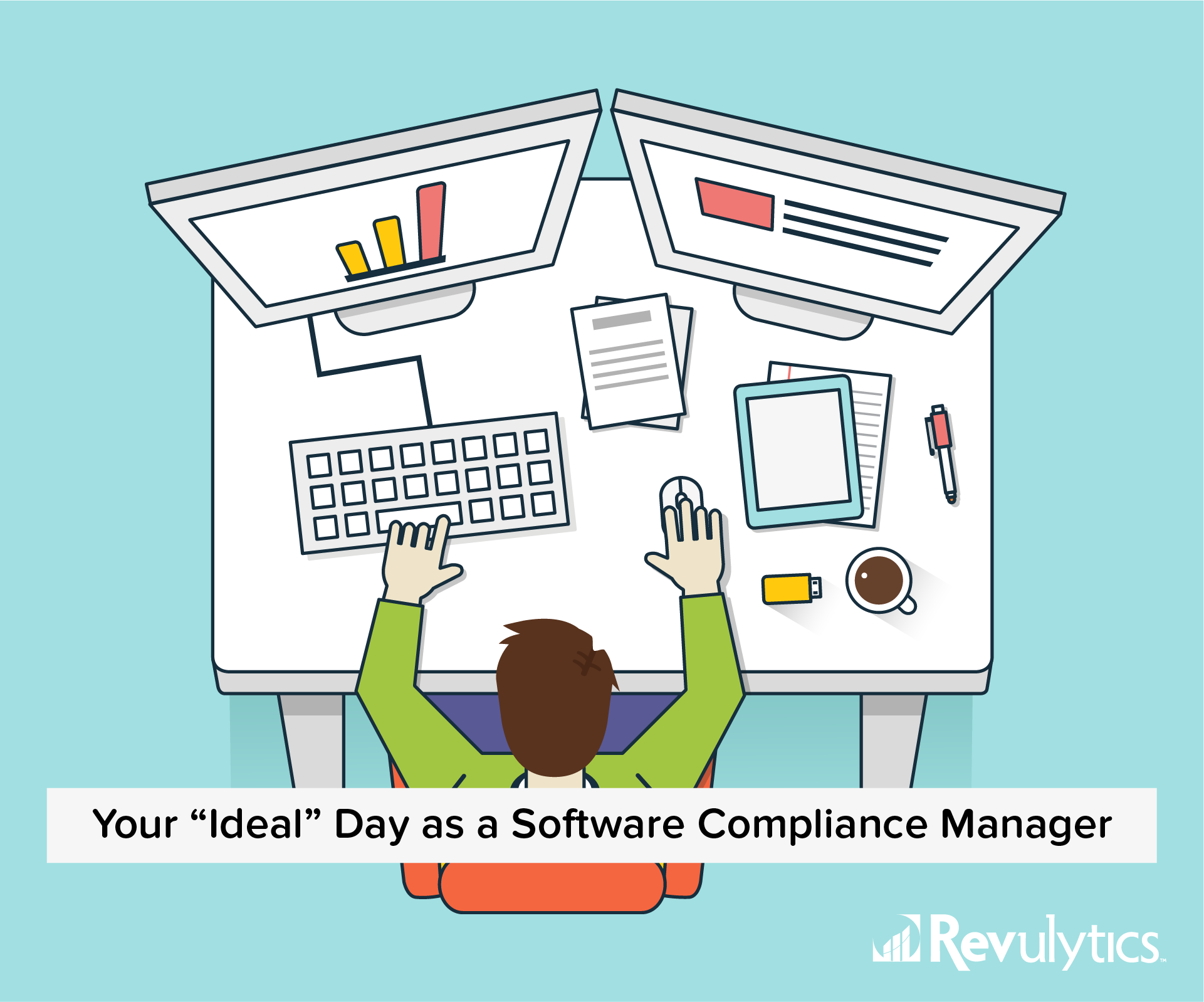 So far, we've been guiding you through your "ideal day": the compliance manager's state-of-the-art experience. In our first three posts, we talked about streamlining and automating the process of uncovering infringement you can monetize. Then, in Part 4, we showed how to efficiently move cases to action. But, of course, your "ideal" day doesn't end with assigning a lead: it ends with booking revenue. So, in the final post of this series, we talk about efficiently converting your lead to cash.
By now, Compliance Intelligence has collected all the data you need to identify a substantive case of infringement, and helped you analyze it. We've already talked about the straightforward mechanics of assigning your new lead from Revenera, but it's worth spending a moment on strategy for your first contact.
Making your best first contact
Your first goal is usually to confirm that the devices you're tracking are owned and operated by the company – not by a temporary supplier, contractor, or intern. Your prospect's IT organization should be able to tell you this very quickly. Often, you're already quite confident about the answer: infringing devices may follow a naming scheme that clearly identifies them as company property.
Before you engage, however, make sure you're clear-headed about your ultimate goal. If business value has been gained from pirated software, you have a right to monetize that, but feelings of betrayal and anger rarely help you achieve this. Wherever possible, you want to rapidly understand the business needs that led the infringer to piracy, meet those needs with your paid-for technology, and move forward. This is why many compliance organizations choose to make contact through an outside compliance service partner like Software Compliance Group that will engage the organization at the CIO or comparable level, and uses proven best practices to efficiently address the issue.
If, however, you already have a customer relationship with the infringer, it's not uncommon to make first contact through your salesperson. Or, if you make the contact yourself or via a third-party, your customer will likely quickly call his account rep.
In these scenarios, salespeople may be tempted to trade off your rights in exchange for a vague promise of future business, or a small favor on a current project. Moreover, their contact may either be the infringer or his supervisor: he may be more concerned about protecting himself or his direct report than protecting your interests. In these situations, getting what you want starts by knowing what you want – e.g., up-to-date, paid licenses and maintenance contracts.
Once you have a clear goal, templates available in the Revenera dashboard using Conga Composer simplify and streamline your communications with the client. This content will include only the specific infringement information you want the client to know you know at this stage: for example, MAC addresses implicating specific devices, or known-pirated licenses in use. If someone other than your salesperson will make first contact, Revenera's templates can help you brief them on what's coming and what role they'll be expected to play. (If you choose, you can give them access to selected information through a limited Revenera dashboard. More often, you'll simply generate PDFs for them within Revenera: they won't need access.)
Deciding what to do next
After first contact, Revenera also provides crucial insight for deciding what to do next. You've reached out. Now you want to see what happens – and, with Revenera, you can refresh your infringement report about the client in just seconds.
Did the pirated use stop immediately after your contact? In that case, the CIO told his employee to stop using the unlicensed copy, the machine was wiped, and they might be hiding their tracks. But you also know they found the machine on their network, and you're even more confident the piracy was real. If, however, the piracy is continuing two weeks later, the executive may have quarantined the information and may be conducting a legitimate investigation. This, too, is information you can leverage.
Depending on the market and company, the CIO may come back to you and admit piracy – though he might try to minimize its significance. Working with Revenera, of course, you usually know its full extent in space and time. You can now use this information to demonstrate the falsehood and negotiate a higher payment.
Of course, if your contact stonewalls, Revenera makes it easy to package all the information needed to escalate within the company, involve your local legal representatives, or even request a raid from local civil authorities.
Tracking your progress
Revenera's tight integration with Salesforce.com means that you can track all compliance-related sales activities from within your compliance tool. You can use Salesforce.com's Chatter feature to receive and provide updates on new events associated with any case, access dynamic forecasts, and measure sales performance.
Sales made through your compliance program flow through your company's systems the same way any other sales would. But without leaving your Revenera dashboard, you can see conversion rates, rollups of revenue for specific channels or products, or any other relevant Salesforce report.
In short, you can see the growing revenue streams you've created… and your executive management team can see them, too. And that is the ideal ending to the ideal day.
Read the entire Imagining Your "Ideal" Day as a Software Compliance Manager series