Did you watch the Emmys Sunday night? While Amy Schumer fans (me included) were not surprised to see the hilarious and thought-provoking Inside Amy Schumer win for best sketch comedy series, the first line of her acceptance speech was much more jaw-dropping.
I'll pause here so you can play the video above and watch (at the 0:40 mark) as Amy Schumer delivers this amazing first line: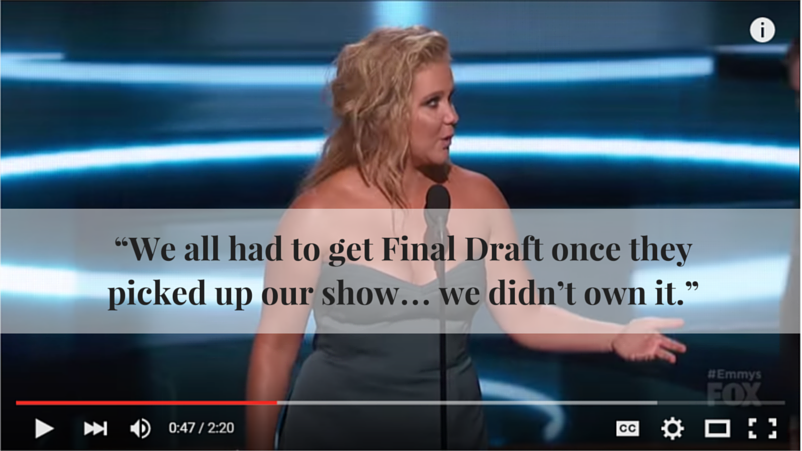 Well, the show is called Inside Amy Schumer, and that was definitely an inside joke for the many writers in the audience and watching at home who rely on industry standard screenwriting software Final Draft.
Of course, in addition to being a comedy nerd, I'm a software nerd, so I also had another reaction similar to writer Kelvin Lai's on Twitter:
Amy Schumer admitting to pirating Final Draft. Amazing. #Emmys2015

— Kelvin Lai (@kelvinmklai) September 21, 2015
So did Amy Schumer really just out herself for pirating Final Draft or was this just another joke about being "newly famous" and able to buy the software now? I'm sure Amy and her team are all licensed users.
But comedian Russell Jordan Poole's tweet does point to a perception that underscores the wide availability (and presumably heavy use) of Final Draft in pirated form:
It's okay @amyschumer I don't still don't own final draft. That shit's expensive!

— Russell Jordan Poole (@Pooleparty528) September 21, 2015
Adobe and Microsoft have talked about how software piracy is often the result of a marketing failure and setting pricing that a market cannot support. Adobe's Richard Atkinson highlighted this issue in our recent webinar as did former Microsoft anti-piracy lead Alex Kochis in a webinar from 2014. Both Richard and Alex noted that software piracy is a form of competing against yourself, but pricing issues can also drive legally-inclined users to seek less expensive alternatives from your competitors.
In this case, it looks like Final Draft has been addressing the pricing perception in the market. As of the time of this blog post, Final Draft is on sale on its website for $169.00 (compared to a list price of $249.99). The company also offers educational pricing, addressing the pricing concerns of that market segment as well.
The good news for our CodeArmor Intelligence customers is that they are able to gather actionable intelligence on the pirated use of their applications so they can generate insight and action to recover revenue and drive broader business decisions. Our CodeArmor Control customers also have the ability to directly reach, educate and convert unpaid users through in-application messaging.
So while it is highly unlikely that Amy Schumer actually pirated Final Draft, software vendors can take some lessons from her Emmy acceptance speech:
Pricing is a crucial part of the equation when it comes to building and growing a software business – Adobe's Creative Cloud and Microsoft's Office 365 are two interesting models aimed (in part) at addressing pricing perceptions
Most users are legally-inclined and will pay for software even if they have unknowingly (or knowingly) used unlicensed software in the past, but it's a matter of timing and messaging