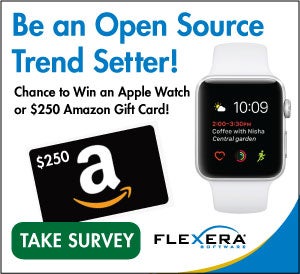 Twenty years ago if asked what percentage of Open Source Software (OSS) is used within software applications, you would have heard none, 5% or maybe even as much as 10%. Fast forward to today and Gartner says 95% of IT organizations leverage OSS in their mission critical applications.
Give Us 5 Minutes and You Could Win an Apple Watch or $250 Amazon Gift Card
Flexera invites you to take part in a brief 5-minute survey to share how your organization uses, tracks and manages open source software. In return, you'll receive a free copy of the completed report and as a special thank you for your participation, you can register for a chance to win an Apple watch or a $250 Amazon Gift Card.*
Add your voice to the OSS conversion! Take the survey now!
The survey closes January 30.
Thank you!
*Contest participation optional, must participate in the survey to be eligible.
Winners chosen at random.